Featuring the highlights of Japan, the Golden Route takes you to a breath-taking trip around Japan. Starting from Tokyo to Kyoto, following the route of the old Tōkaidō road. Juxtapose Japan's most famous spots like Mount Fuji and Hakone too. Succumb in its magic and fall in love with the traditions of deep-rooted culture, captivating sceneries and panoramic views. Going through the "Golden Route" is the best way to get to know Japan and relish in its culture and palatable cuisine.
The Sights You'll Visit:
Tokyo
Tokyo is one of the 47 prefectures of Japan.Tokyo is in the Kantō region on the southeastern side of the main island Honshu and includes the Izu Islands and Ogasawara Islands. It is the capital of Japan, the center of the Greater Tokyo Area, and the most populous metropolitan area in the world. It is also the seat of the Japanese government and the Imperial Palace, and the home of the Japanese Imperial Family. Tokyo Metropolis was formed in 1943 from the merger of the former Tokyo Prefecture and the city of Tokyo.
The Tokyo Tower
The Tokyo Tower at 333 meters tall, is 13 meters taller than its model, the Eiffel Tower of Paris, and the world's tallest self-supporting steel tower. It was completed in the year 1958 as a symbol of Japan's rebirth as a major economic power and serves as a television and radio broadcast antenna and tourist attraction.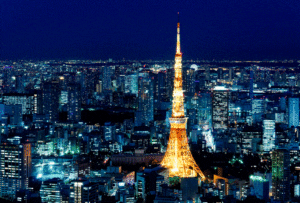 Happo-en (Tea Ceremony)
View nature from every angle at the garden of eight views, which has carefully preserved the beautiful Edo ambiance throughout the centuries and enjoy a traditional tea ceremony.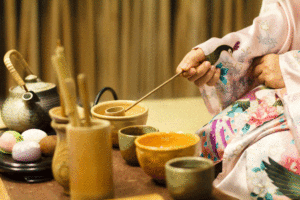 Imperial Palace Plaza
The current Imperial Palace is located on the former site of Edo Castle, a large park area surrounded by moats and massive stone walls in the center of Tokyo, a short walk from Tokyo Station. It is the residence of Japan's Imperial Family. We will only have access to the East Garden.
Sumida River Cruise
Pass beneath a total of 12 bridges on the journey down the historically significant Sumida River, starting at Hinode Pier and ending at Azumabashi on Tokyo Bay.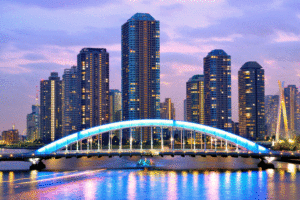 Asakusa Sightseeing
Asakusa is the center of Tokyo's shitamachi (literally "low city"), one of Tokyo's districts, where an atmosphere of the Tokyo of past decades survives. Asakusa's main attraction is Sensoji, a very popular Buddhist temple.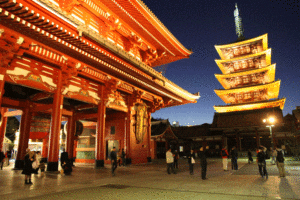 Nakamise Shopping Street
The Nakamise shopping street stretches over approximately 250 meters from Kaminarimon to the main grounds of Sensoji Temple. It is lined with more than 50 shops, which offer local specialties and the usual array of tourist souvenirs.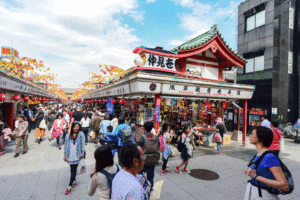 Ginza
Drive through Tokyo's most uptown, classy, and luxurious shopping district, filled with towering department stores and a vast variety of brand name shops.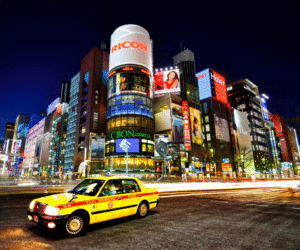 Hakone
Hakone is part of Shizouka Prefecture, less than 100 kilometers from Tokyo. It is famous for its hot springs, outdoor activities, natural beauty and the view of nearby Mt. Fuji. Hakone is one of the most popular destinations among Japanese and international tourists looking for a break from Tokyo.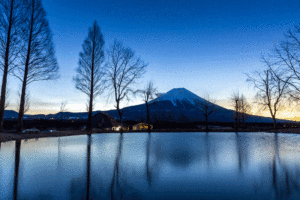 Mt. Fuji 5th Station
Mount Fuji (Fujisan) is with 3776 meters Japan's highest mountain, making It is no surprise that the nearly perfectly shaped volcano, has been worshipped as a sacred mountain and experienced big popularity among artists and common people.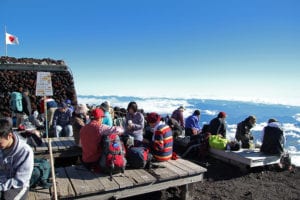 Lake Ashi Cruise
Lake Ashi or Hakone Lake, is a scenic lake in the Hakone area of Kanagawa Prefecture in Japan. It is a crater lake that lies along the southwest wall of the caldera of Mount Hakone, a complex volcano. The lake is known for its views of Mt. Fuji and its numerous hot springs. A number of pleasure boats and ferries traverse the lake, providing scenic views for tourists and passengers.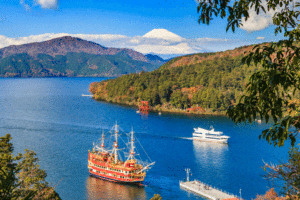 Mt. Komagatake Ropeway
The Central Alps Komagatake Ropeway, which opened in 1967 as Japan' s  first mountain ropeway line, runs up to the Senjojiki Cirque directly below Mt. Hokendake. Chuo Alps Kanko celebrated its 50th anniversary in 2013. From the top of Mt. Komagatake (elevation: 2956 m, 9698 f t.), the main peak of the Central Alps, you have access to exquisite views of not only Mt. Fuji, but also of the Southern Alps, Mt. Ontake, Mt. Norikura, and the Northern Alps. The area is also famous for being home to a treasure trove of different rare alpine flowers and other alpine plants. Take a ride on the Central Alps Komagatake Ropeway and enjoy experiencing one of the greatest expanses of natural scenery in Japan.
Kyoto
Formerly known as Meaco, is a city located in the central part of the island of Honshu, Japan. It has a population close to 1.5 million. Formerly the imperial capital of Japan for more than one thousand years, it is now the capital city of Kyoto Prefecture located in the Kansai region, as well as a major part of the Kyoto-Osaka-Kobe metropolitan area. One historical nickname for the city is the City of Ten Thousand Shrines.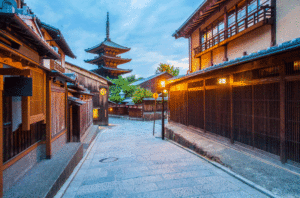 Nijo Castle
A UNESCO World Heritage Site. Tour the historical castle completed in 1626, which was built to provide lodging for Tokugawa Shogun and as a palladium for Kyoto Imperial Palace.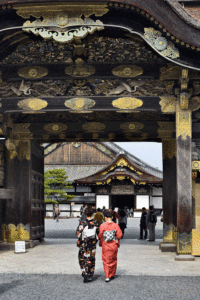 Kinkaku-ji Temple
A World Heritage Site, also known as the Golden Pavilion. The wooden architecture is covered in thin layers of pure gold and is surrounded by a beautiful lake.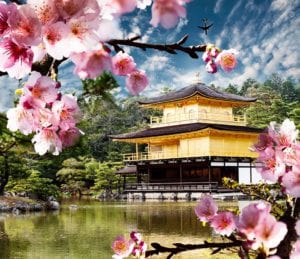 Kyoto Imperial Palace
Rich in tradition, Kyoto Imperial Palace preserves the look and ambiance of the Palace as it had been in the time of Japan's ancient imperial dynasties. The current Palace was rebuilt in 1855 and comprises several structures–including the Shisinden, the Seiryoden, the Kogosyo, the Ogakumonjyo, and the Otsunegoten–that reflect the architectural styles of various periods.
Kitano Tenmangu Shrine
This shrine's main hall is a designated national treasure and is famous for housing the God of scholarship. The shrine is especially great to see during the plum blossom and autumn leaf seasons.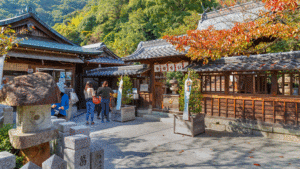 Nara Park & Todai-ji Temple
This is the symbol of the Nara Period and one of the world's largest wooden structures. Its huge main hall and bronze Great Buddha are impressive to behold.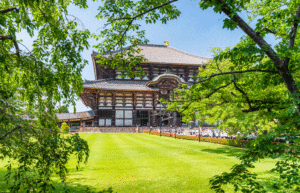 Kasuga Taisha Shrine
This Nara Period shrine is designated as a World Heritage Site. The deer of Nara Park is thought to be the shrine messengers.
Nara Nagomikan
The largest souvenir shop in Nara. Enjoy yourself in this spacious shop and look for the perfect souvenir.
Namba Yasaka Shrine
Namba Yasaka Shrine has long been worshipped as the tutelary deity of the Namba district. The shrine was once flourishing, possessing shichido garan (seven standard buildings of a Buddhist temple complex) and 12 attached temples. However, it declined due to wartime fires.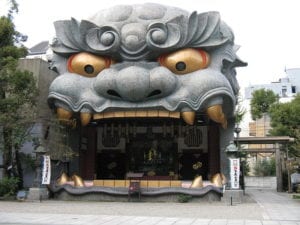 Osaka Central Public Hall
In central Osaka, located at one end of a row of impressive buildings that includes the city office and the library, is a particularly eye-catching building featuring pale red bricks and a bronze dome roof; this is the Osaka City Central Public Hall. Built as a public hall for local citizens and completed in 1918, it has become as much a symbol of Osaka as Osaka Castle.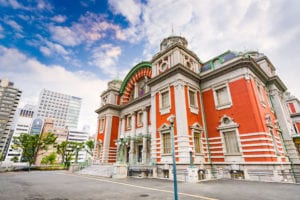 Osaka Castle
The construction of Osaka Castle (Ōsakajō) started in 1583 on the former site of the Ishiyama Honganji Temple, which had been destroyed by Oda Nobunaga thirteen years earlier. Toyotomi Hideyoshi intended the castle to become the center of a new, unified Japan under Toyotomi rule. It was the largest castle at the time.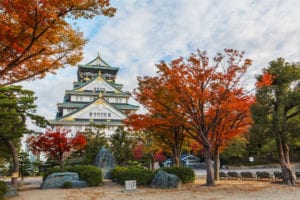 Sumiyoshi Taisha Shrine
Osaka's Sumiyoshi Taisha "Sumiyoshi Grand Shrine" is one of Japan's oldest shrines. Founded in the 3rd century before the introduction of Buddhism, it displays a unique style of shrine architecture, called Sumiyoshi-zukuri, that is free of influence from the Asian mainland. Only two other shrine architecture styles are also considered purely Japanese: Shinmei-zukuri as seen at the Ise Shrines and Taisha-zukuri as seen at Izumo Taisha.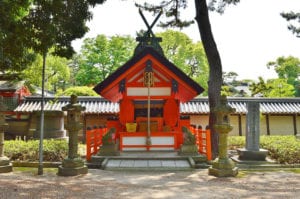 Daiso Park Japanese Garden
A Japanese style garden where has gross area 26,000 square meters. Sakai was flourished as a base of foreign trade in middle ages. A skill of a garden which is a source of a Japanese style garden is said to have originated when a variety of technique and culture came in. The garden in Daisen park has been used in creating a garden technique of a traditional Japanese style garden. Gather the forest old, go to the round style garden pattern.
Hamono Museum
The museum display sells cutlery and offers visitors a chance to view all the manufacturing processes performed by professional craftsmen, including smithing, forging, and sharpening. Visitors can learn to sharpen the cutlery themselves on Saturdays and Sundays.
Dress Code

Casual. Comfortable athletic clothing, hiking shoes, hat, light jacket.

Include

5 Star Accommodation

Personal Guide

Airport Transfers

Breakfast

Not Included

Departure Taxes

Entry Fees
1
DAY 01: Arrival Tokyo
Arrive in Japan – The Land of Rising Sun. Upon arrival at Narita/Haneda Airport, receive a warm welcome. Transfer to the hotel in coach. Check into the hotel. The rest of the day is free for leisure. Have dinner at your own and stay overnight at your booked hotel in Tokyo.
2
DAY 02: Tokyo City Tour
Have your breakfast at your hotel. After breakfast, gather at designated location to board the bus bound for Hamamatsucho Bus Terminal. The tour will proceed from Hamamatsucho Bus Terminal. Visit Tokyo Tower, head to Happo-en for the traditional Japanese tea ceremony and have your Japanese style lunch. After lunch, the tour will proceed to the Imperial Palace Plaza, Niju-bashi Bridge, Sumida River Cruise, Asakusa Kannon, shop at Nakamise and drive- by Ginza. The tour ends at Tokyo Station. The second drop will be at Hamamatsucho Bus Terminal. Transfer to your hotel on your own and stay overnight at the hotel.
3
DAY 03: Tokyo – Mt. Fuji- Lake Ashi
Breakfast at the hotel. Check out and depart from Hamamatsucho Bus Terminal. Head to Mt. Fuji 5th Station by bus. Upon arrival to Mt. Fuji (subject to weather conditions), start with the Fuji Visitor Center, then Mt. Fuji 5th Station, and Lake Ashi Cruise. Have your lunch on your own. After lunch enjoy Mt. Komagatake Ropeway and depart Hakone. The tour will disband at Odawara Station. Check into the hotel. Have dinner on your own and overnight stay at the hotel in Hakone.
4
DAY 04: ODAWARA-KYOTO
Enjoy your breakfast at your hotel. After breakfast, leave for a full-day excursion to Kyoto (the rest of the day is free for leisure). Stay overnight at a hotel in Kyoto.
5
DAY 05: Kyoto & Nara Tour
Take your breakfast at your hotel. After breakfast, gather at Kyoto Station Hachijo exit. Proceed to Nijo Castle, Kinaku-ji Temple, Kyoto Imperial Palace, Kitano Tenmangu Shrine, Nara Park & Todai-ji Temple, Kasuga Taisha Shrine, Nara Nagomikan. The tour ends at a hotel in Kyoto. Have your dinner on your own and stay overnight hotel in Kyoto.
6
DAY 06: Osaka City Tour
Enjoy your breakfast at your hotel. After breakfast, proceed to Namba Park and head to Nambayasaka Shrine, Osaka Central Public Hall, and Osaka Castle. Have lunch at Shin Sekai area. Take the tramcar from Ebisucho Station to Sumiyoshi Toriimae Station, Sumiyoshi Taisha Shrine, Daisen Park Japanese Garden, and Hamono Museum. The tour ends at Namba Station. Upon arrival check into the hotel. Have dinner on your own and overnight stay at the hotel in Kyoto.
7
DAY 07: Kyoto
Take your breakfast at the hotel. Check out the hotel and transfer to Kansai Airport for your international flight.