OSAKA – THE CITY OF GASTRONOMY
The Osaka Prefecture is at the center of the Kinki region and the Midwest of Japan. It has the third-largest population after Tokyo and Kanagawa. It may be Japan's third-most populated city and yet it is most often overlooked by tourists.
Osaka is a gathering place located between the river and sea routes. As the years went by, it progressed and became a gateway for travelers to Japan and all over Asia.
Osaka is one of the most popular tourist destinations in Asia. It has a rich history, vibrant culture, and numerous captivating places. Along with that, you can enjoy a lot of things ranging from sightseeing to shopping down to food. Whatever your thirst may be, you will surely enjoy your visit to the City of Gastronomy!
Here is a list of exciting places that you can go to  in Osaka:
Sights to See in Osaka

Umeda Sky Building

The building consists of two towers that are connected together by a bridge. this bridge is the observation platform of the "Floating Garden Observatory". It is located on the 39th floor and offers a great view of the city. Delve in the breathtaking sights and feel the wind blowing against your skin.
Osaka Castle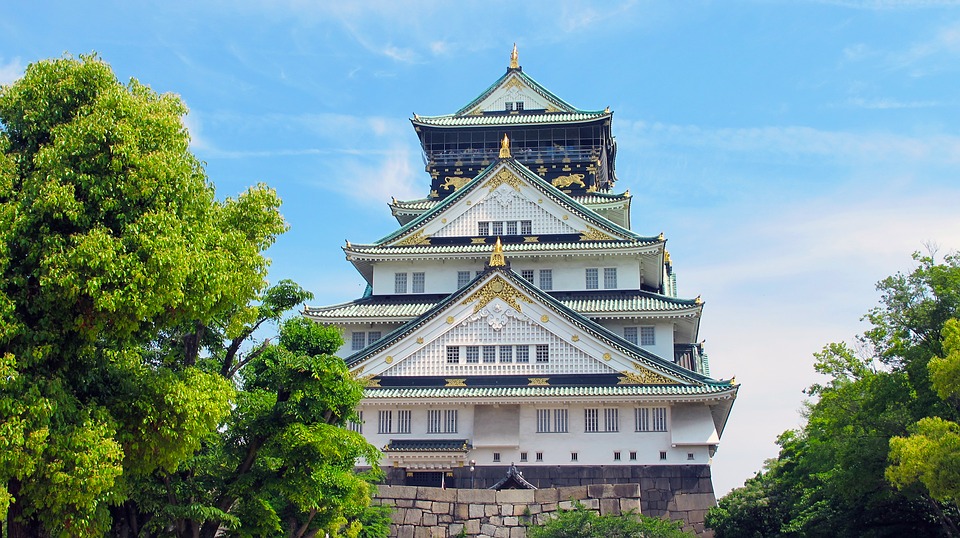 Osaka Castle is one of Japan's most famous landmarks as it played a major role in the unification of Japan during the sixteenth century. The sheer height of the walls and the wide moats make it a grand sight which is unmatched by no other castle in Japan. In 1997, the castle tower went under a major renovation. This renovation re-engineered and refurbished Main Tower is illuminated both inside and out. This highlights the castle's brilliance as the symbol of Osaka.
Shitennoji Temple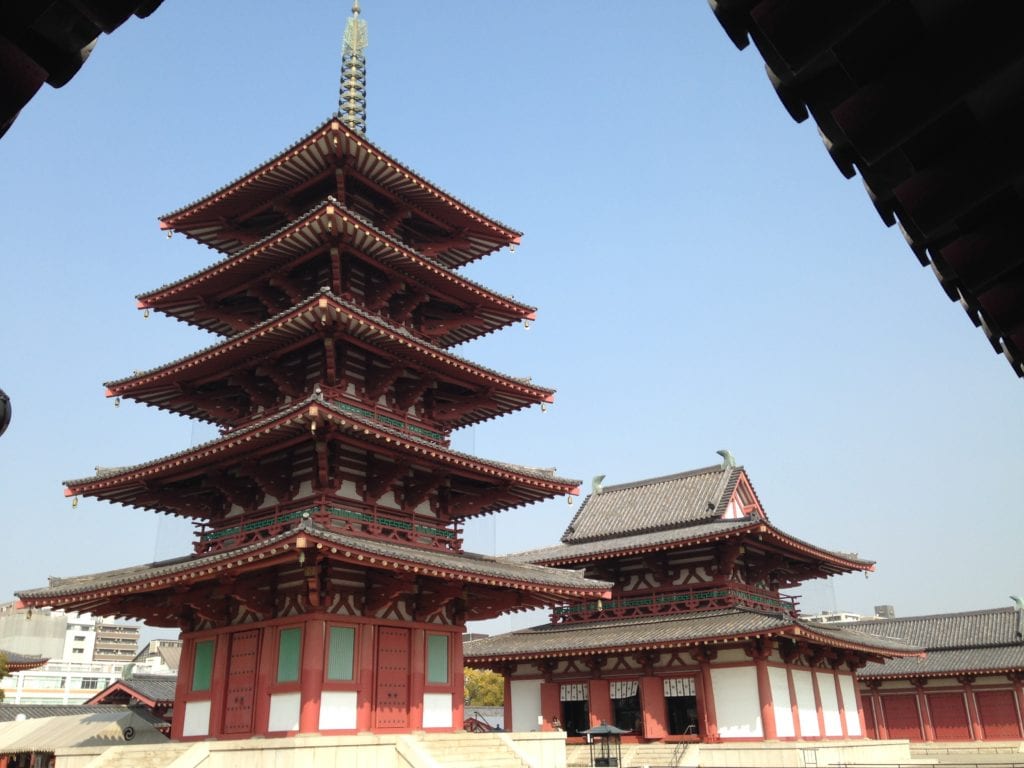 Shitennoji is the oldest officially administered temple in Japan and was founded in 593 by Shotoku Taishi, in order to enshrine the Shitenno or Four Heavenly Kings. The temple features one of Japan's oldest construction styles. The middle gate, the 5-story pagoda, and the lecture hall are lined up from the south to the north, with corridors surrounding them. The temple was a strategic location which represents Japan's power and prosperity to the world.
Osaka Aquarium Kaiyukan
This impressive aquarium showcases 30,000 creatures encompassing 620 species of the Pacific Ocean. The aquarium is laid out in a spiral so that you can discover marine life from a multitude of perspectives. There are over 15 large tanks, each recreating a specific region of the Pacific Rim, taking visitors on a virtual tour of the Pacific Ocean. During feeding times, you can also watch the captivating behavior of marine animals as they engage in unique training sessions designed to help them stay healthy.
Universal Studio Japan

Universal Studios Japan (USJ) was the first theme park under the Universal Studios brand to be built in Asia. The theme park occupies an area of 39 hectares and is the most visited amusement park in Japan after Tokyo Disney Resort. It currently has eight sections: Hollywood, New York, San Francisco, Jurassic Park, Waterworld, Amity Village, Universal Wonderland and The Wizarding World of Harry Potter. Visitors can enjoy many amusement rides. The theme park also offers many opportunities to take pictures with popular characters' mascots. There are also various shows put on every day, including a night parade featuring illuminated floats that are paraded through the streets.
Shopping Spots in Osaka

Dotonbori
A bustling shopping district in the south area of Osaka. It is a neon bubble of bright lights and electronic signposting. It can be best enjoyed in the dark of night when the shimmer from the adjacent canal is, in itself, a dashing spectacle. The streets are lined with places to eat and drink, and the area is full of people, especially at night and on the weekends.
 AmeMura
AmeMura, or American Town, is the place to go if you want to purchase the style of contemporary urban youth. It originally got its name from the first stores that sold inexpensive American clothing and accessories. Now, it became a birthplace of the latest fashion trends. At night, it becomes vibrant with the night life and the entertainment district. Bars and clubs in the district are always crowded with people who work in the area, musicians, designers, and aspiring dancers.
Shinsaibashi-Suji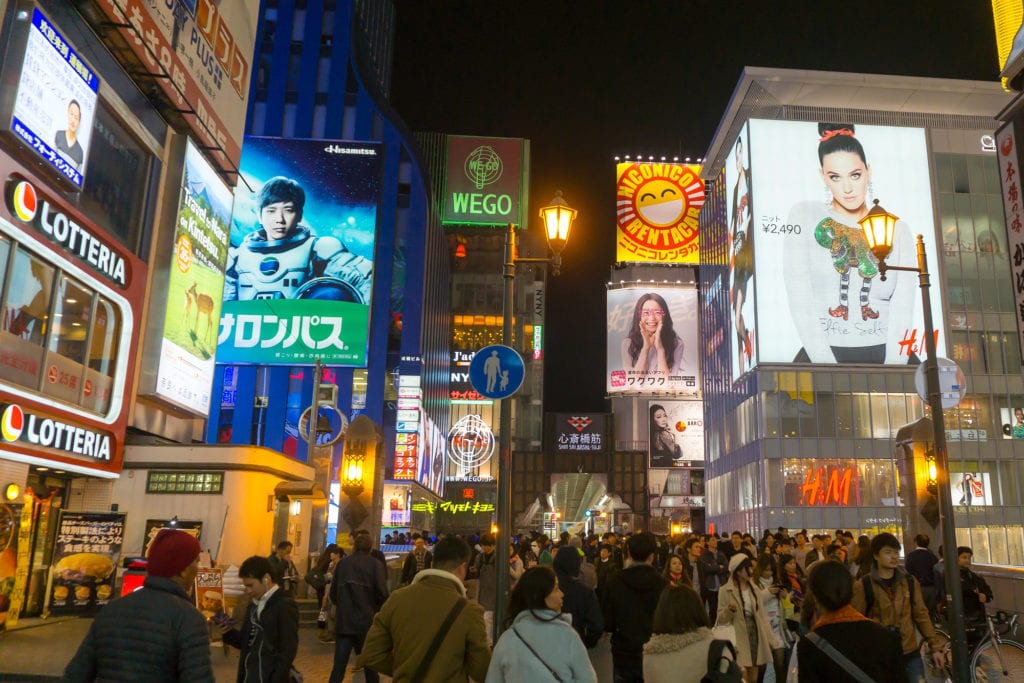 Shinsaibashi-Suji Shopping Street is the best-known shopping area in Osaka and an enduring symbol of the city. With roots as a bustling retail area as far back as the Edo Period 400 years ago. Today, Shinsaibashi-suji blends good old Japan and trendy fashion with its diverse shops from old establishments with over 100-year history to apparel stores offering the latest fashion. It is said to have the strongest brand power as a shopping street in Osaka.
Umeda Shopping Arcade
Aside from being Osaka's busiest transportation hub and a bustling business district, Umeda also offers an abundance of shopping, dining, lodging, and entertainment, including several department stores and an expansive network of underground shopping malls. The underground shopping mall has hundreds and hundreds of stores. A number of fancy restaurants and cheap eateries can also be found dotting its many sections and they have everything from Japanese fare to the usual coffee and sandwiches.
Tempozan Marketplace
 Tempozan Marketplace consists of shops, restaurants, amusement establishments, and live concert/event halls. Inside the Marketplace is a gourmet theme park called Naniwa Kuishimbo Yokocho, an eatery park which brings together in a single venue a wide range of restaurants offering "takoyaki" octopus balls, curry, "okonomiyaki" and other Osaka specialties and delicacies.
Namba
Namba is also a southern gateway for Osaka. The Namba City at the Nankai Namba Station is shopping zone with convenient access and 300 shops and restaurants that serve popular, reasonably priced foods of Osaka. It is the home of Namba Hips and Namba Parks. Namba Hips is the ultimate paradise for the city-dweller. It has 10 stories on top of two basement levels. There are shops that are open 24-7. The building houses an archery range, a sports bar, a karaoke joint, a golf course, and many bars and restaurants. Each floor is dedicated to a single shop, allowing each shop to make good use of the spacious area. Namba Parks is a shopping mall which is designed to integrate nature and the metropolis. The shops are aimed mostly at younger people, and international cuisines are available at the restaurants.
OSAKA: Kitchen of the Nation

Eat Osaka
Eat Osaka offers cooking workshops focusing on Japanese home or street food. You can learn to make iconic Japanese foods such as miso soup and okonomiyaki, or homey dishes such as ginger and pork on rice. The instructors speak good English as they guide you through the process of making each dish. They also give advice on how to recreate these dishes at home. Eat Osaka is the perfect way to take the taste of Japan's kitchen home with you.
Shinsaibashi
Shinsaibashi is Osaka's longest shopping arcade that boasts a wide variety of shops, with both local and well-known international brands like H&M, Zara, Bershka and Forever 21. The arcade is jam-packed with restaurants and cafés serving everything from waffles and crêpes to pizzas.
Dotonbori
Dōtonbori is one of the principal tourist destinations in Osaka. It runs along the Dōtonbori canal from Dōtonboribashi Bridge to Nipponbashi Bridge in the Namba district of the city. It's not a huge area. In fact, it only covers about 8 blocks but it's packed with restaurants, food stalls and street vendors selling every type of food specialty Japan is known for.
Kuromon Ichiba Market
The market has a total length of close to 600 meters. With 170 shops and most of these shops specialize in the freshest and best quality meat, vegetables, eggs and other ingredients from around the country and abroad.
Hankyu Sanbangai Food Museum
Small individual restaurants comprise the food museum. Mini-restaurants serve traditional Japanese food like udon, Japanese curry, and sushi you will find Western-style venues as well. From dessert restaurants to savory restaurants, the Hankyu Sanbangai Food Museum introduces you to food from all over the country.
It was called the "Kitchen of the Nation" due to its extremely developed food culture. Juxtapose its vibrant streetscape with proud, friendly people, and delicious food, it is undeniably a food lover's paradise!