KYOTO
Having been Japan's capital for over 1000 years, Kyoto has the highest concentration when it comes to culture in all of Japan. It flourished as the center of Japanese politics, economy, and culture until the capital functions were transferred to Tokyo in the mid-19th century.
The city has a stunning collection of UNESCO World Heritage sites and boasts some of Japan's exquisite cuisine, an exclusive geisha district, and over 1000 Buddhist temples. Kyoto is not just limited to being traditional, in fact it also has hip cafes a modern art. Kyoto has a plethora of cultural sights, from ancient palaces to hidden temples. At the same time, Kyoto also offers fun activities as alternatives to visiting shrines.
But Kyoto is not just about the past. Despite its well-preserved heritage, it effortlessly embraces the future, with modern buildings a thriving technology industry. Here's a list of all the places worth going.
SIGHTSEEING
Sagano Bamboo Grove
The walking paths that cut through the bamboo groves make for a nice walk or bicycle ride. The groves are particularly attractive when there is a light wind and the tall bamboo stalks sway gently back and forth. The bamboo has been used to manufacture various products, such as baskets, cups, boxes, and mats at local workshops for centuries
Kinkakuji
Kinkakuji is an impressive structure built overlooking a large pond. It was built to echo the extravagant Kitayama culture that developed in the wealthy aristocratic circles of Kyoto during Yoshimitsu's times. Each floor represents a different style of architecture. The first floor is built in the Shinden style used for palace buildings during the Heian period. The second floor is built in the Bukke style used in samurai residences. Finally, the third and uppermost floor is built in the style of a Chinese Zen Hall, is gilded inside and out, and is capped with a golden phoenix.
Ginkakuji
Known as the Silver Pavilion, Ginkakuji doesn't have a trace of silver on it. When the temple was built in the 1480s as a retirement home for the then shogun, the plan was for it to be coated in silver leaf. Scholars believe he ran out of money before they got to that part of the project. And when he died a few years later, the silver-less pavilion was converted into the Zen temple it is today.
Kiyomizu-dera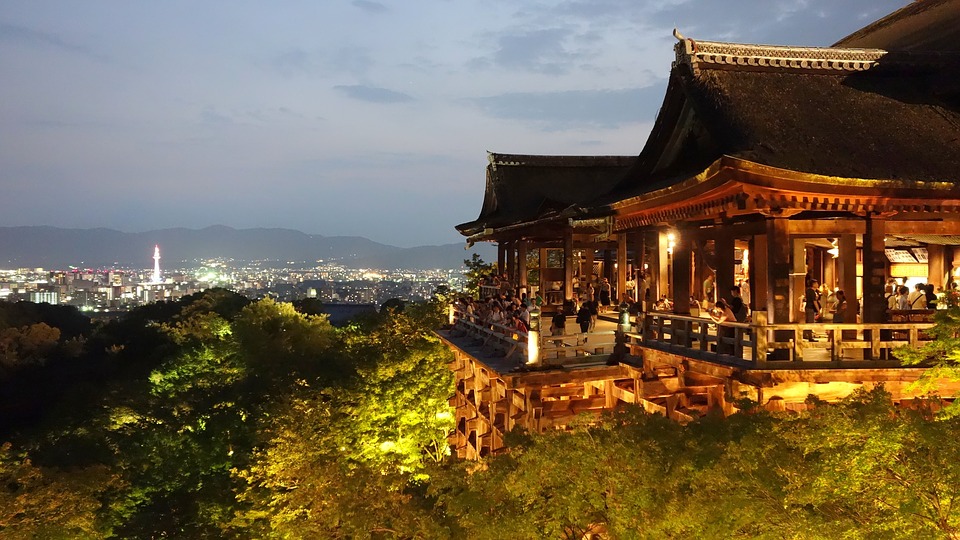 Kiyomizudera is one of the most celebrated temples in Japan. It is best known for its wooden stage that juts out from its main hall, 13 meters above the hillside below. The stage affords visitors a nice view of the numerous cherry and maple trees below that erupt in a sea of color in spring and fall, as well as of the city of Kyoto in the distance. The main hall, which together with the stage was built without the use of nails, houses the temple's primary object of worship, a small statue of the eleven faced, thousand-armed Kannon. And in 1994, the temple was added to the list of UNESCO world heritage sites.
Fushimi Inari Shrine
Fushimi Inari Shrine is famous for its over 5000 vibrant orange torii gates, which straddle a network of trails behind its main buildings. The trails lead into the wooded forest of the sacred Mount Inari, which stands at 233 meters and belongs to the shrine grounds.
This intriguing shrine was dedicated to the god of rice and sake by the Hata clan in the 8th century. As the role of agriculture diminished, deities were enrolled to ensure prosperity in business enterprises.
FOOD AND SHOPPING
Nishiki Market
Known as "Kyoto's kitchen", Nishiki Market is a long shopping street that is home to hundreds of small shops and stalls. Many of these stalls are family-run establishments that specialize in one particular type of food and often work closely with an adjoining shop. You can enjoy pickled vegetables, tofu, rice crackers, yakitori chicken and other staples of Japanese cuisine here. You will also find numerous shops selling kitchenware crafted for chefs, hobbyists and amateurs alike.
 Teramachi
The solution to any outing dilemma, this market hosts a vast array of specialty stores along with the notorious 100 yen stores, perfect for those living on a budget. Teramachi is named after the eponymous street in Kyoto and is home to acclaimed restaurants, featuring mouthwatering treats and satiating pick-me-ups. It also has establishments offering intricate souvenirs or extra luggage. The staff also have a working knowledge too making miscommunication lesser.
Shinkyogoku Shopping District
Nestled within the heart of the city, this shopping district accommodates an enviable variety of establishments that serve up the edible delights of Kyoto. It also has retailers selling the latest designs that live up to the fashion-forward reputation that Japan upholds. The market allows you to indulge yourself and eradicates the worry of spending copious amounts of money, leaving you to unwind. For many, shopping here is a somewhat cathartic experience.
Ichizawa Shinzaburo Hanpu
Ichizawa Shinzaburo Hanpu is a company who produces handmade and high-quality canvas products. For over 110 years, their products which originally were tool bags delighted people with its original patterns. They also let you get a feel of the bag by letting you touch and try it before purchasing.
Flea Market
Kobo-Ichi Market
The Kobo-Ichi Market takes place on the Toji Temple grounds the 21st of each month, a day which holds a particular meaning for the temple as it marks the death of its founder, Kobo Daishi. With around 1300 stalls it is easily the biggest market in Kyoto. The market has products which range from antiques to old kimonos, to pottery and unique but absolutely useless merchandise. The market officially opens at 5:00 am and doesn't close until late at 4:00 pm.
Tenjin-ichi Market
Located within the esteemed Kitano Tenmangu Shrine, Tenjin-ichi Market opens to the public on the 25th day of each month. It is a wonderland of wholesome culinary jewels along with tasty snacks and miscellany. Immerse yourself in the rich culture and heritage for which Japan is regarded, while also savoring the local delicacies. The market opens around 6 AM-4PM.
Hand-made market
Umekoji Park
This handmade market is held on the first Saturday of each month (except January and May) at Umekoji Park. It offers general goods, clothes, foods, and plants, which are all handmade by the vendors. The market opens at 9 AM and closes at 4 PM.
Chionji Temple
Chion-ji Temple hosts a fabulous handicraft market on the 15th of every month. Here, you'll find stalls selling all manner of handmade arts, crafts, and food, including ceramics, jewelry, backpacks, tote bags, linocut postcards, organic soap, honey, skirts, homemade bread, and even musical instruments.
The market opens at 9 AM and closes at 4 PM
Enjoy and cherish memories in the cultural and historical heart of Japan!