Autumn in Japan is breathtaking, leaves of the deciduous trees on the mountain slopes, valleys, and country roads all transform into beautiful red, orange, yellow and brown colors. Including the amazing grounds of shrines, temples, parks, public gardens. Without a doubt, a trip to Japan during Koyo is a wonderful way to experience this country and its nature in all its glory.
The Places You'll Visit:
Kyoto
Kyoto served as Japan's capital and the emperor's residence and it is one of the country's ten largest cities with a population of 1.5 million people and a modern face.
Over the centuries, Kyoto was destroyed by many wars and fires, but due to its exceptional historic value, the city was dropped from the list of target cities for the atomic bomb and escaped destruction during World War II. Countless temples, shrines and other historically priceless structures survive in the city today.
Tofukuji Temple
Tofukuji Temple is one of the most popular temples to visit in the city, and it's particularly popular during autumn for the gorgeous view of autumn leaves. The large temple has over 2,000 m2 vast Japanese garden, where numbers of maple trees burst in warm colors. The most popular view is of/from the Tsutenkyo Bridge. A 100 m bridge that connects Hondo Hall and Kaisando Hall.
Arashiyama
Located on the outskirts of Kyoto, Arashiyama offers views of forested mountains blanketed with a patchwork of multicolored trees. You can also tour the temples of Arashiyama and enjoy a romantic ride in the Sagano Scenic train. Arashiyama is very beautiful at any season but especially in autumn. The leaves start to change color from the beginning of November and it lasts until the first week of December.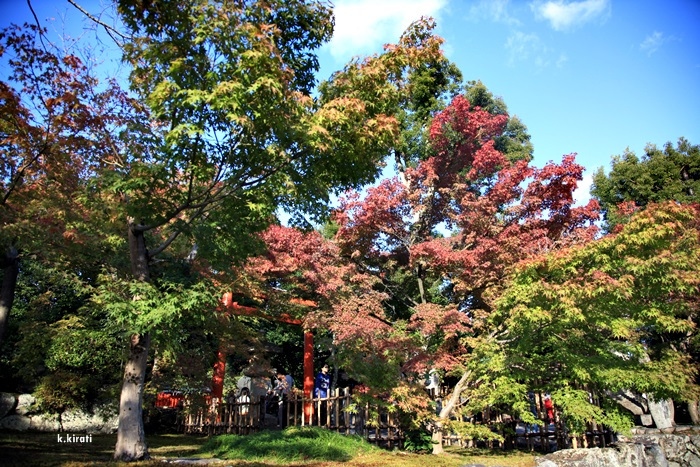 Eikando Temple
In addition to vivid fall colors, you can enjoy a cup of authentic green tea amid theEikando Temple gardens. The grounds are illuminated at night to enable night time viewing. The temple is close to the Nomura Art Museum and Nanzen-ji area, as well as the southern end of the Philosopher's Path.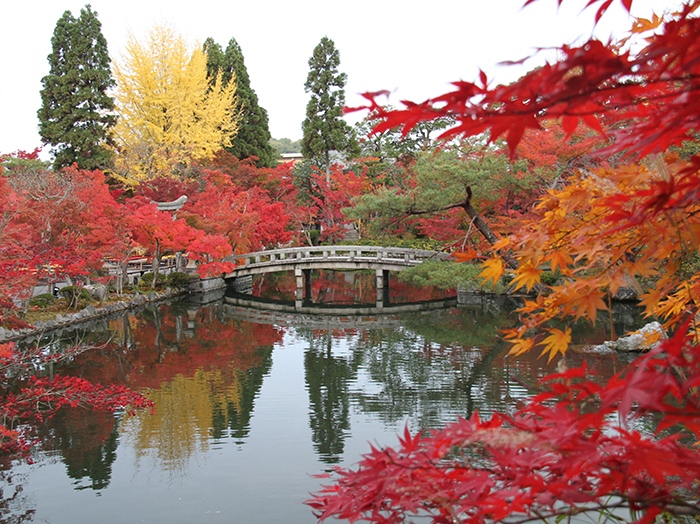 Tokyo
Tokyo is Japan's capital and the world's most populous metropolis. Tokyo offers a seemingly unlimited choice of shopping, entertainment, and culture to its visitors. The city's history can be appreciated in districts such as Asakusa and in many excellent museums, historic temples, and gardens. Tokyo also offers a number of attractive green spaces in the city center and within relatively short train rides at its outskirts.
Jingu Gaien Ginkgo Avenue
Meiji Jingu Gaien is the most popular spot for autumn leaves viewing in the central area of Tokyo, which is famous for the avenue lined with Ginkgo trees. Approx 150 Ginkgo trees are lined on this avenue for about 300 m with 2 lanes. Even though the best viewing time is about 2 weeks from mid-November, the scenery is still enjoyable after the leaves fall down and create a natural golden carpet.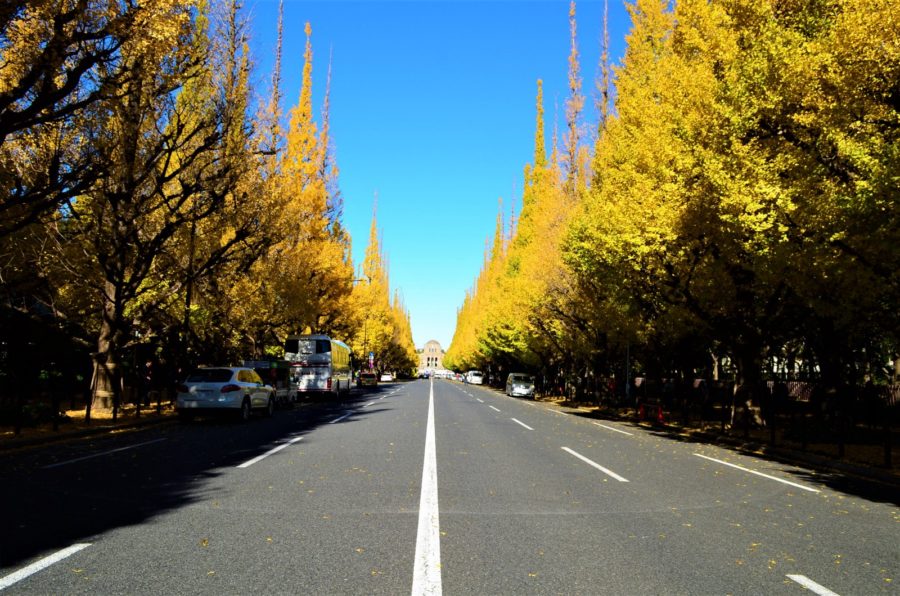 Ueno Park
While widely renowned for its cherry blossoms in spring, Ueno Park is also ideal for viewing autumn leaves. In urban Tokyo, it is hard to find a spot for viewing autumn leaves this spectacular, and you can enter for free! Many museums are located within Ueno Park as well. How about some art after your walk? From October 27 to December 6, Tokyo National Museum opens its garden for autumn leaf viewing.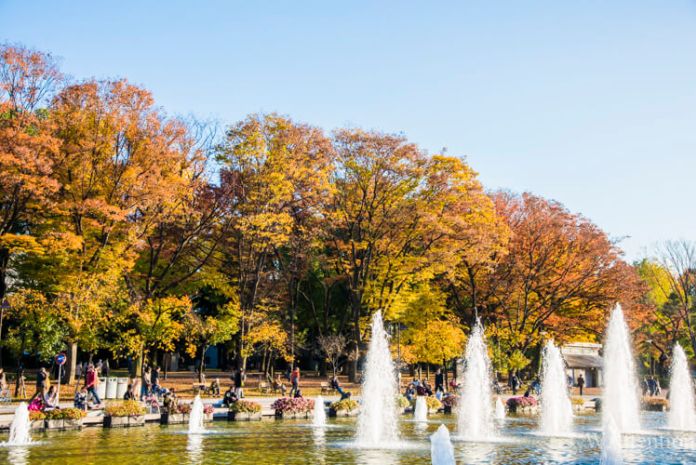 Rikugi Garden 
TheRikugi–en is an Edo period garden that was restored in 1878. It offers a truly unique koyo experience – viewing the colors at night. Trees surrounding the lake are illuminated so that they can be enjoyed even after the sun has set, and the lights and leaves reflect mystically upon the surface of the lake.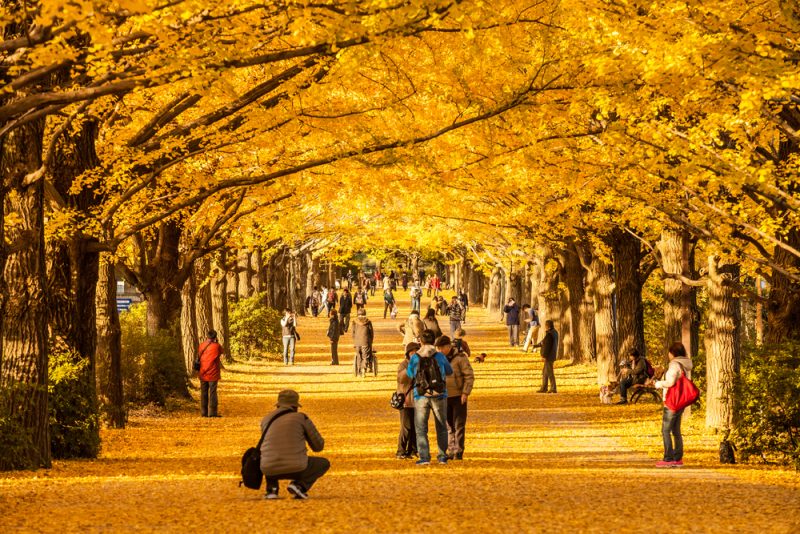 Hokkaido
Hokkaido is the northernmost prefecture in Japan. It is blessed with beautiful outdoors, delicious seafood, and magnificent nighttime views, drawing a large number of visitors from all over the world. The wilderness of Hokkaido provides numerous outdoor pursuits, and its cities, nestled against the backdrop of mountains and lakes, provide culinary delights and a dose of culture.
Onuma Quasi-National Park
Onuma Quasi-National Park is a massive park of 9000 hectares. It is blessed with stunning scenery and has been chosen as one of the New Three Views of Japan. Visitors can enjoy various activities here, such as hiking, canoeing, and cycling at this park, all while viewing the autumn leaves.
Daisetsuzan National Park
If you want to avoid the crowds yet still view Japan's autumn foliage, this park is a good option. Daisetsuzan, in Hokkaido, boasts being the first location to receive koyo in Japan, yet it is seldom frequented by tourists. The park is also home to volcanoes, lakes, mountains, and hot springs.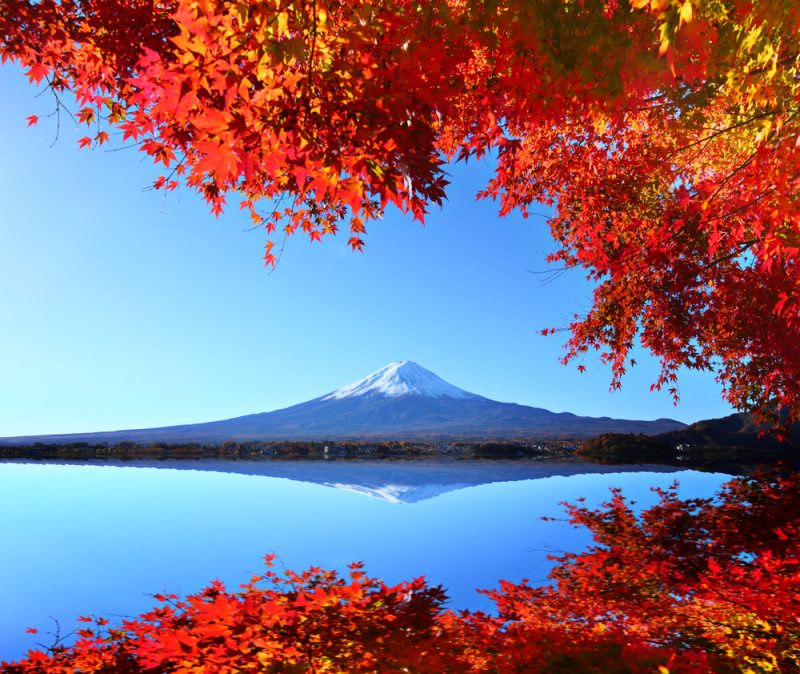 Sounkyo 
Stay at Sounkyo Onsen, as Momiji Daki, a famous viewing spot, is located at a thirty-minute walking distance from there. The trekking course should be easy to walk for beginners, but be sure to wear sports shoes.
The Daisetuzan area, including Kurodake, is said to be the earliest spot in Japan to enjoy the autumn leaves, where the mountaintop leaves start changing colors in late August. It is best to see it at the start of the season.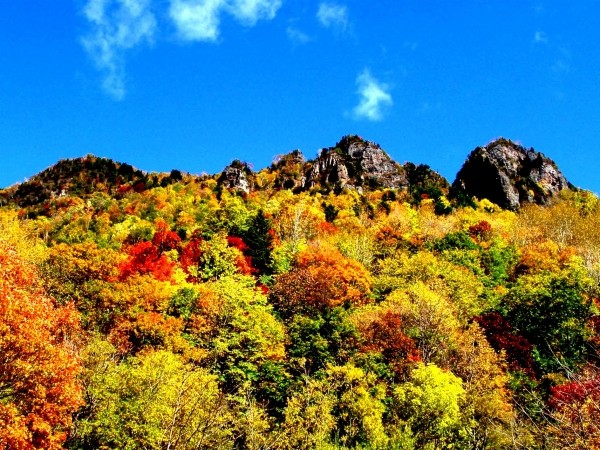 Shiretoko
Shiretoko is a paradise for wild animals located on Shiretoko Peninsula in northeastern Hokkaido. It is home to famous Hokkaido's brown bear, deer, white-tailed eagles, and red fox. It is considered to be the last unspoiled wilderness remaining in Japan. Shiretoko National Park is our favorite autumn leaves viewing spots.
Here two spots are considered to be the best for hunting autumn foliage: Shiretoko Five Lakes and Shiretoko Pass (a winding road). When you are to discover the Five Lakes and its surrounding areas you would be amazed seeing the shimmering hues.
The surrounding hilly areas offer the most beautiful scenery you could expect from the autumn season. In 2005, Shiretoko has been designated as UNESCO world heritage site in Japan.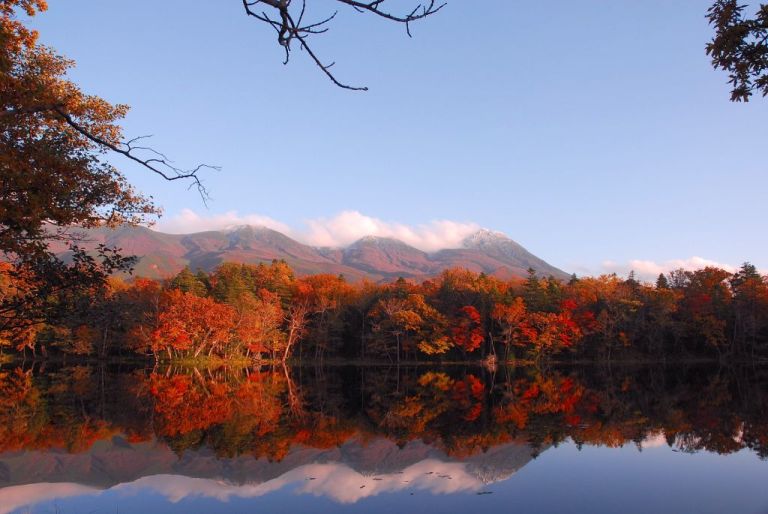 There are five lakes (goko) in the Shiretoko Peninsula, which is designated as a World Natural Heritage Site. Visitors can enjoy the autumn leaves in the area, walking along the two trekking courses surrounding the lakes. The Ground Pathway winds through a deep forest, and visitors can see various wild animals and plants along the way.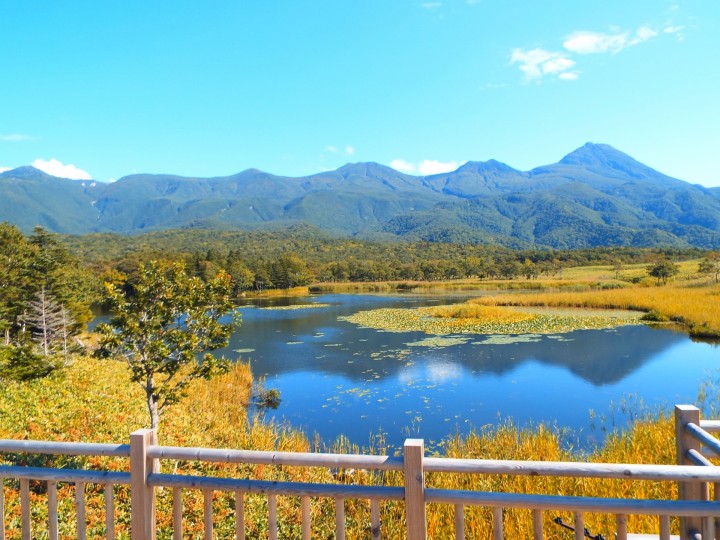 Sapporo
Futami Tsuribashi (suspension bridge) is a popular viewing spot that is completely surrounded by the foliage. Visitors can reach the mountaintop using the ropeway, and enjoy the view from high above.
There are many hot springs for day-trippers in the area, so you can even enjoy the view while soaking in the water. There are also fun canoeing and horseback riding activities.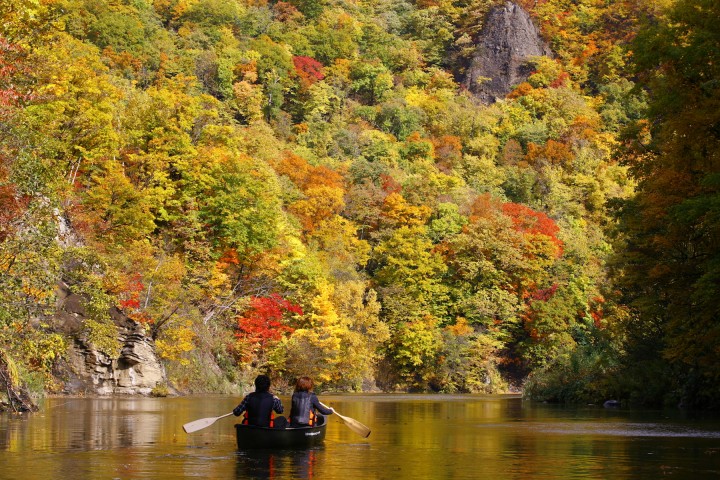 Stunning Gingko Trees at Hokkaido University
Seventy ginkgo trees are lined up along a road stretching for 380 meters, with the yellow leaves virtually covering the sky. The campus is located only seven minutes away on foot from JR Sapporo Station, which is one of the reasons it has become popular.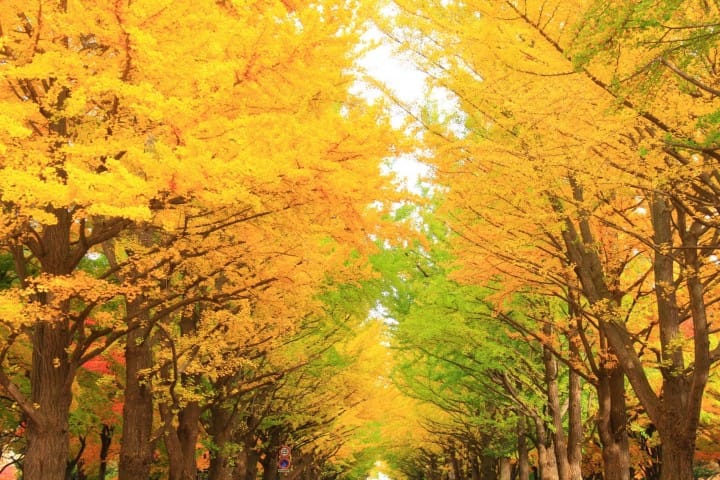 Stunning View from Mt. Moiwa 
Sapporo is renowned throughout Japan for its spectacular evening scenery. This renowned view is from Mt. Moiwa, where the mountaintop is connected to the foothills by a ropeway. You can overlook the autumn leaves from the ropeway cars. In the autumn you can appreciate the leaves at daytime as well as the magnificent view of Sapporo at nighttime.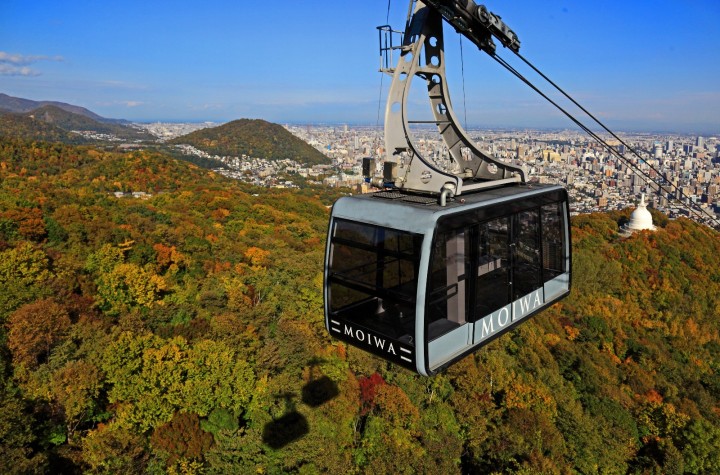 Hakodate
Hakodate is Hokkaido's third-largest city, located at the island's southern tip. Hakodate is best known for the spectacular views to be enjoyed from Mount Hakodate and its delicious, fresh seafood.
Goryokaku
Goryokaku is a star-shaped fixture, and one of the main sightseeing spots in Hakodate. Historically it was used as a fortress, built in the late Edo Period, and has been renovated into a park. In spring the park will be colored pink by the cherry blossoms, and turn red and yellow in fall. The whole park can be viewed from the top of the 107-meter tall Goryokaku Tower.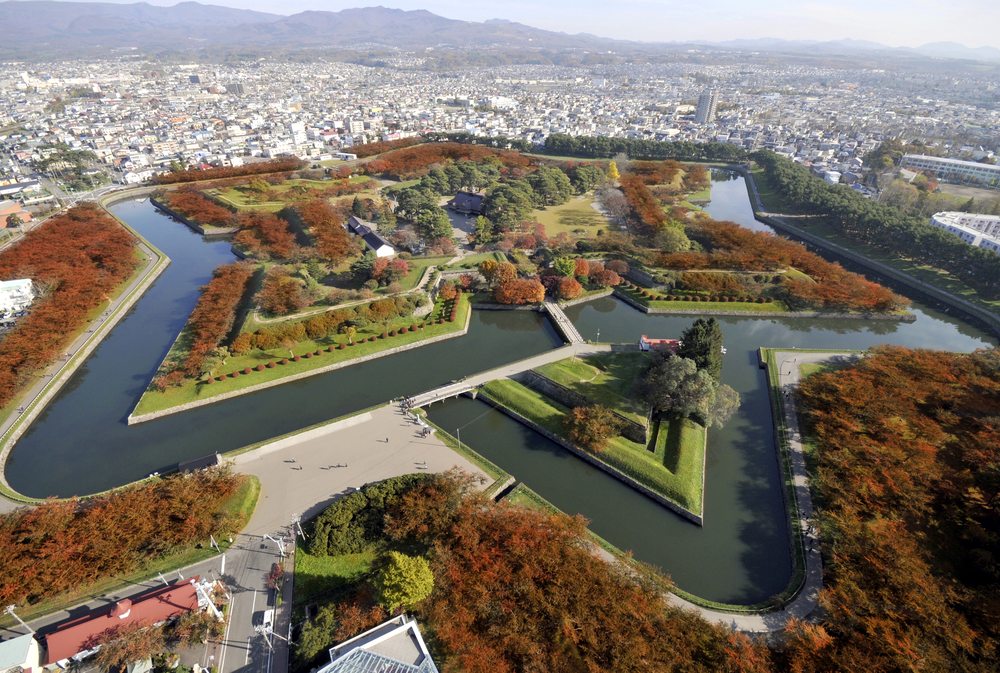 Kosetsuen
It is a Japanese garden located inside Miharashi Park, which used to be the villa of a wealthy merchant.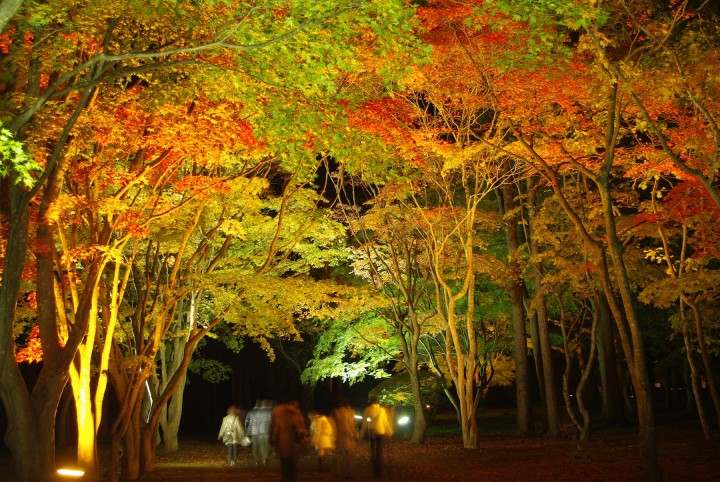 Blue Pond (Biei)
The scenery in fall, with the leaves changing colors, and its reflection on the pond surface creating a multihued sight, is exceptional. Accessing this area may not be easy, but this a destination worth visiting.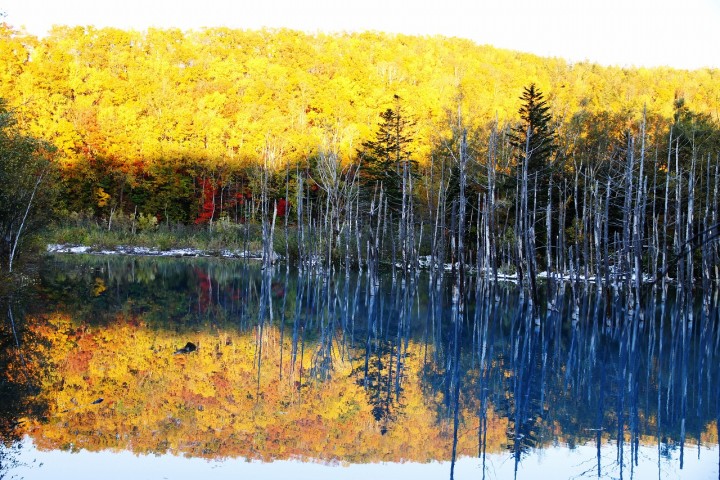 Dress Code

Casual. Comfortable athletic clothing, hiking shoes, hat, jacket.

Include

5 Star Accommodation

Personal Guide

Airport Transfers

Breakfast

Not Included

Departure Taxes

Entry Fees
1
Day 01 - Arrival Tokyo
Arrive in Japan – The Land of the Rising Sun. Upon arrival at Narita/Haneda Airport, receive a warm welcome. Transfer to the hotel in coach.
2
Day 02 - Tokyo Autumn Colors Tour
Enjoy your breakfast at your hotel. After breakfast, proceed for the Tokyo Autumn Colors Tour. Head to Meiji Jingu Gaien - the most popular spot for autumn leaves viewing in the central area of Tokyo Enjoy the golden foliage together with some typical seasonal fare, sold at the many food stalls around the Gondawara area and at Nikoniko Park just around the corner from the trees. Visit the Rikugi Garden by night for a truly unique koyo experience. Transfer to your hotel on your own and stay overnight in Tokyo.
3
Day 03 - Tokyo City Tour
Enjoy your breakfast at your hotel. After breakfast, proceed for the Tokyo Full-Day Tour. Gather at the designated location and board the bus bound for Hamamatsucho Bus Terminal. Depart from Hamamatsucho Bus Terminal by bus for a sightseeing tour around Tokyo. Visit Meiji Shrine, Imperial House, Senso-ji Temple & Nakamise Shopping, Ginza, and enjoy your lunch with a Western Style Set Meal. After lunch, head for the Tokyo Bay Cruise, Odaiba Sea Side Park, and revel in a traditional Japanese dance. The tour ends at Tokyo Station Marunouchi South Exit/Hamamatsucho Bus Terminal. Have dinner on your own and stay overnight at the hotel in Tokyo.
4
Day 04 - Hokkiado Autumn Colors Tour
Enjoy your breakfast at your hotel. Check out after breakfast. Take the JR Tohoku/Hokkaido Shinkansen from Tokyo to Shin-Hakodate-Hokuto (4 hours) and transfer to the relay train to Hakodate Station in central Hakodate (20 minutes) Head to your hotel on your own and check-in. Have your dinner on your own and stay overnight at the hotel in Hakodate.
5
Day 05 -Onuma Quasi-National Park
Enjoy your breakfast at your hotel. Head to Hakodate Station, Onuma Koen Station can be reached in around 45 minutes. Visit Onuma Quasi-National Park - known for its picturesque, island-dotted lakes and majestic volcano, Mount Komagatake. Explore Hakodate. Head to your hotel on your own. Have your dinner on your own and stay overnight at the hotel in Hakodate.
6
Day 06 - Mt. Hakodate
Have your breakfast at your hotel. Proceed to Mt. Hakodate Tour. Take the ropeway from the base of Mt. Hakodate. You'll arrive at the summit in about three minutes. The beauty of the night view is striking, as the contrast between the city lights is concentrated by the narrow terrain and the pitch-black ocean. Head to your hotel on your own. Have your dinner on your own and stay overnight at the hotel in Hakodate.
7
Day 07 - Daisetsuzan National Park
Have your breakfast at your hotel. Check out after breakfast. Get the train directly to Asahiwaka from Hakodate Train Station. Explore the Daisetsuzan National Park. Popular fall activities include riding ropeways, waterfall viewing, hiking, sightseeing, and hot springs. Top places to visit include Tokachidake Onsen Resort, Asahidake Onsen Resort, Sounkyo Gorge, Ginsendai and Shikaribetsu Lake. Head to the hotel on your own and spend the night in Asahiwaka (catch the bus from the bus station).
8
Day 08 - Shirektoko Autumn Tour
Enjoy your breakfast at the hotel. Take the rain from Asahiwaka - Shirektoro-shan and the bus to Utoro. Check-in at the hotel, have dinner on your own and spend the night in Utoro.
9
Day 09 - Shiretoko National Park
Enjoy your breakfast at the hotel. Take the bus from Utoro to Shiretoko Shari Station. Explore Shiretoko National Park. The picturesque Shiretoko Five Lakes have a gentle hiking course suitable for visitors of all ages. The unique Furepe Falls and the hot-spring-fed Kamuiwakka Falls are nearby. Have dinner on your own and head to the stay overnight in Utoro.
10
Day 10 - Shiretoko Five Lakes
Enjoy your breakfast at the hotel. Catch a cruise up the unspoiled rugged coast, which is inaccessible by road or foot. Alternatively, drive up to the Shiretoko-toge mountain pass to get up close to looming Mt. Rausu and herds of mountain deer. Have dinner on your own and spend the night at the hotel.
11
Day 11 - Utoro Departure
Enjoy your breakfast at your hotel. Check out the hotel. Transfer to New Chitose Airport for your international flight.