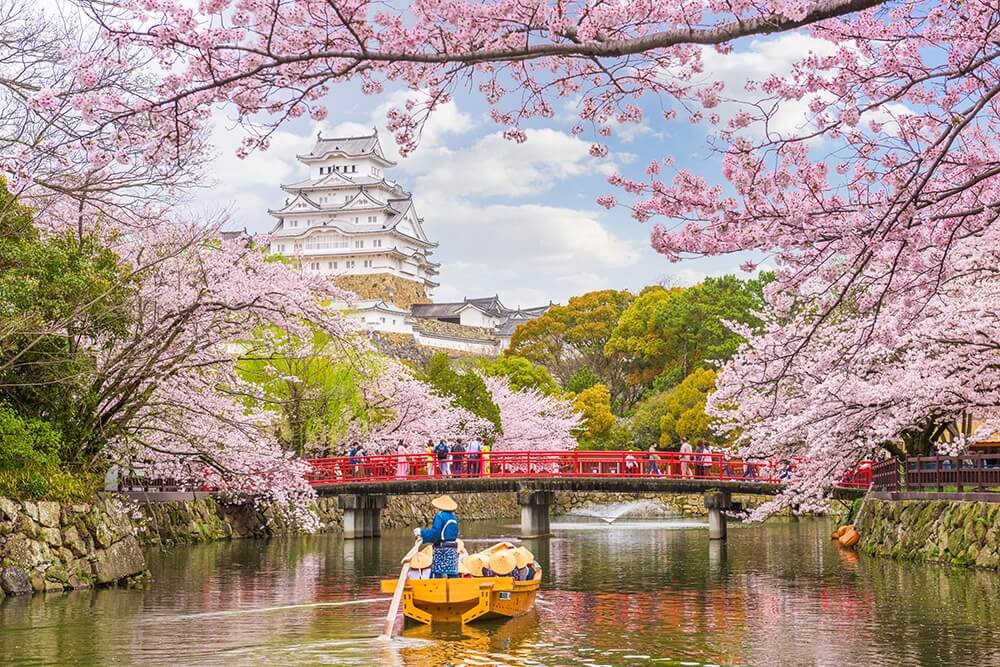 The Ultimate Guide for Cherry Blossom Season in Japan
If you know a little bit about Japan, you've probably heard about its incredible Spring painted with white and pink cherry blossoms. If you have ever planned to visit Japan, you shouldn't miss this beautiful display of pale pink flowers fluttering to the ground. As it lasts only for around 10 days, the start of the cherry blossom season is the main topic of conversation in the Spring. More than 60 percent of the population engages in cherry blossom viewing activities.
Viewing cherry blossom has been a national past time since the 8th century and it is a big part of their culture. Being it is a highly anticipated event, all shops in Japan in February each year offer their cherry blossom related items, snacks, and desserts. You might compare it even to the Christmas season.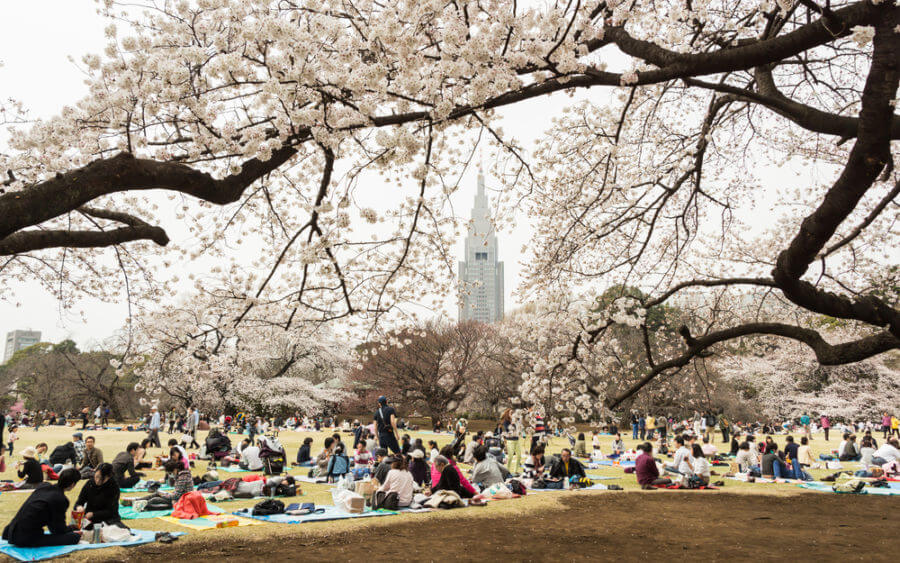 But why is Japan fascinated with cherry blossom(also known as sakura) for centuries? A lot has to with the short bloom of the flowers, lasting for only about a week or two. Their fleeting beauty illustrates perfectly that nothing in this world is permanent and that everything passes at some point. Admiration for this impermanence has been an important part of the Japanese mindset for a long time. In Japanese, there is a term mono no aware meaning A sensitivity to ephemera – appreciation for every passing moment.
Without a doubt, a trip to Japan during its cherry blossom peak season is a wonderful way to experience this country and its nature in all its glory. So let's learn more about where and when it is best to see cherry blossoms in Japan.
Where to see cherry blossom in Japan?
When the cherry flowers buds are open, everyone rushes to their favorite places to engage in what is called hanami(flower viewing) and make picnics beneath the cherry trees. We picked our favorites spots for hanami in Tokyo and Kyoto, as those cities are most likely to be visited by first-time travelers to Japan. So without further ado, here are the best places to enjoy this mesmerizing event.
Shinjuku Gyoen (Tokyo)
Shinjuku Gyon is one of Tokyo's biggest and most popular parks especially because it is home to more than 1000 cherry blossom trees. You'll see that Shinjuku Gyoen is compromised of three different types of gardens: Japanese traditional garden, French and English landscape garden, beautiful greenhouse and plenty of wide, open, green space to enjoy.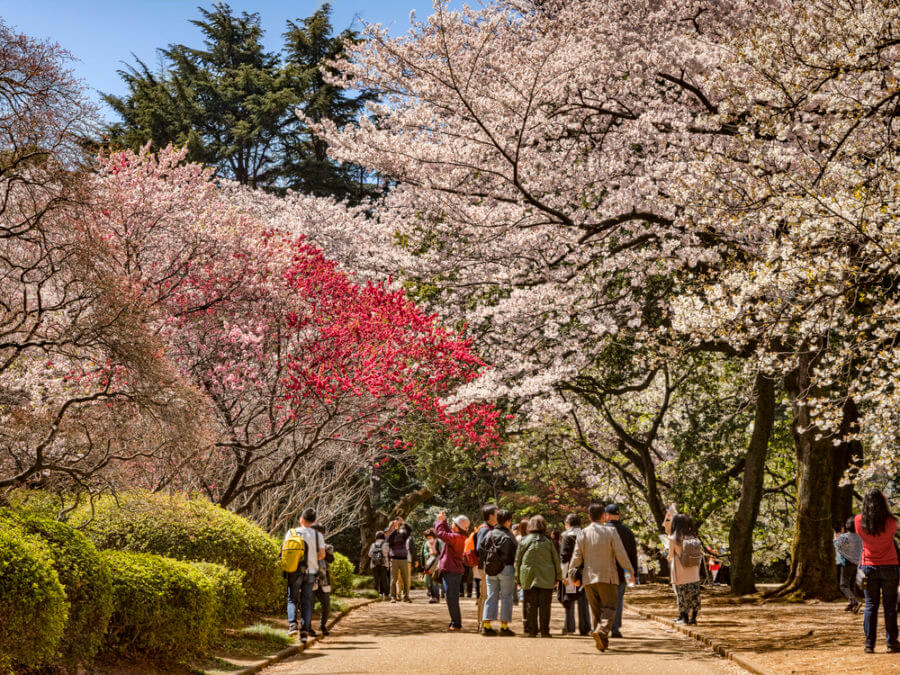 Chureito Pagoda (Fuji Five Lakes)
Probably one of the most photographed spots in Japan. During the cherry blossom, Chureito pagoda rises above the "clouds" of cherry flowers spread between it and the mountain. With the magnificent views of Mt Fuji in the distance, this is a sight you'll remember forever!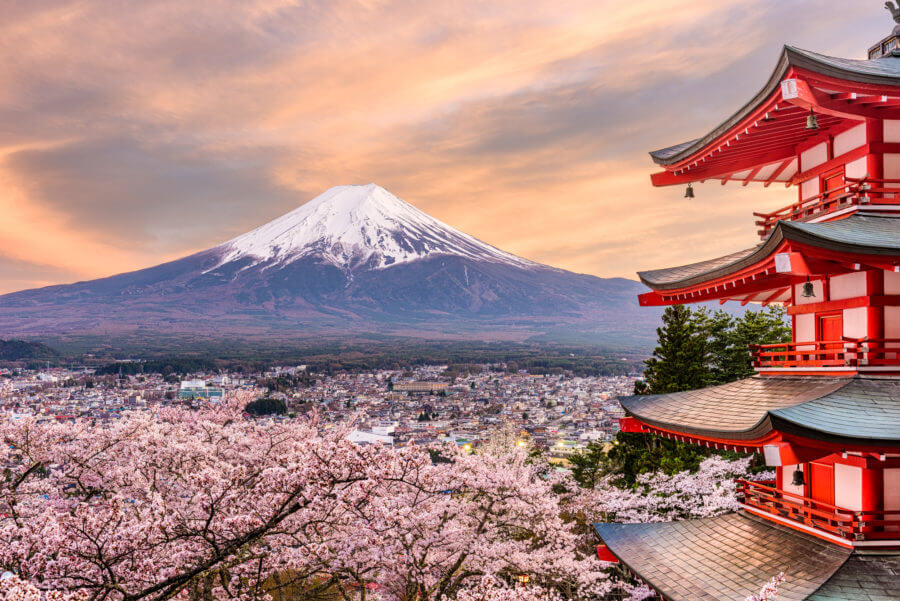 Rikugien (Tokyo)
If you want to experience even more magical and mystical side of the cherry blossom, head to Japanese traditional garden Rikugien. Rikugien is best known for its weeping cherry trees and its evening illuminations. Illuminations make the massive cherry trees look like they are floating in the dark.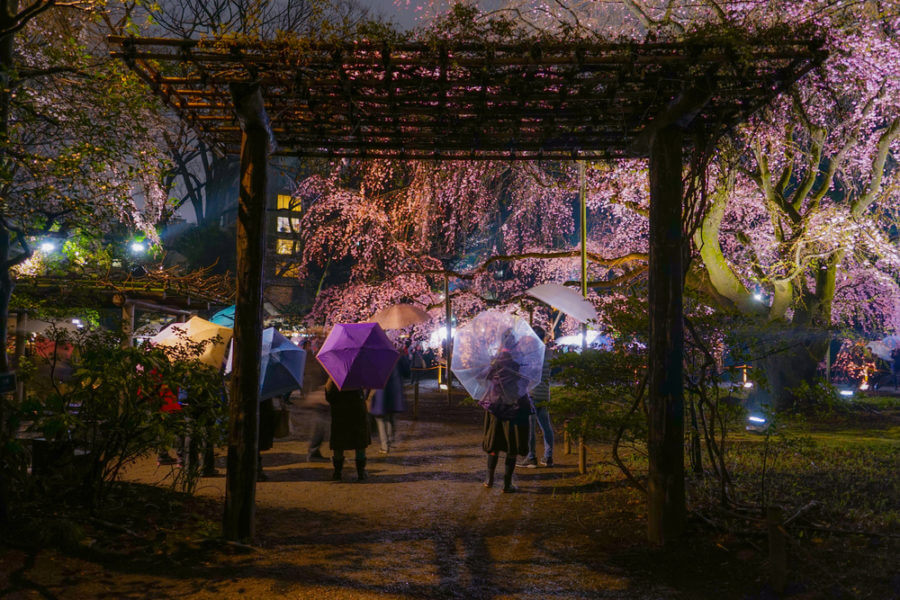 Sumida Park (Tokyo)
During spring, the walking paths along the shores of this picturesque river become lined with pink petals. Located only a short walk from the famous Sensoji temple in Asakusa, Sumida park is an ideal place for visitors to take in views on the iconic Tokyo Skytree framed with cherry blossoms.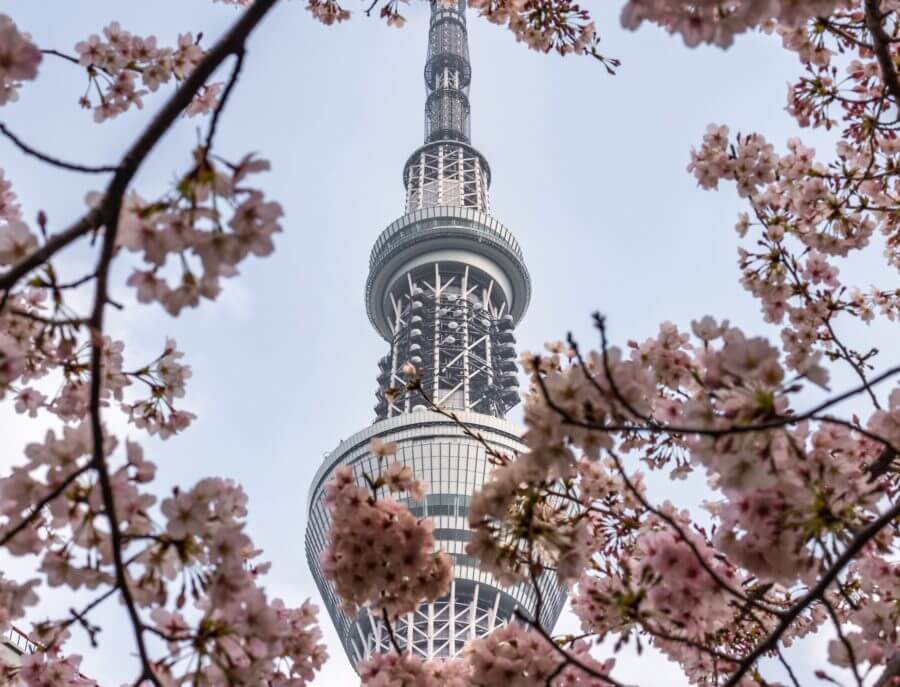 Philosopher's Path (Kyoto)
Our top pick to see cherry blossoms in Kyoto is Philsopher's path. It is a unique, canal-like path in Higashiyama district that stretches about two kilometers. It connects Ginkakuji(Silver Pavilion) and the neighborhood of the Nanzeji temple. Lined with hundreds of cherries exploding with color, you'll find this path to be more than just a pleasant walk. The 2-kilometer path was the place where Nishida Kitaro, one of Japan's most famous philosophers, used to walk and practice meditation.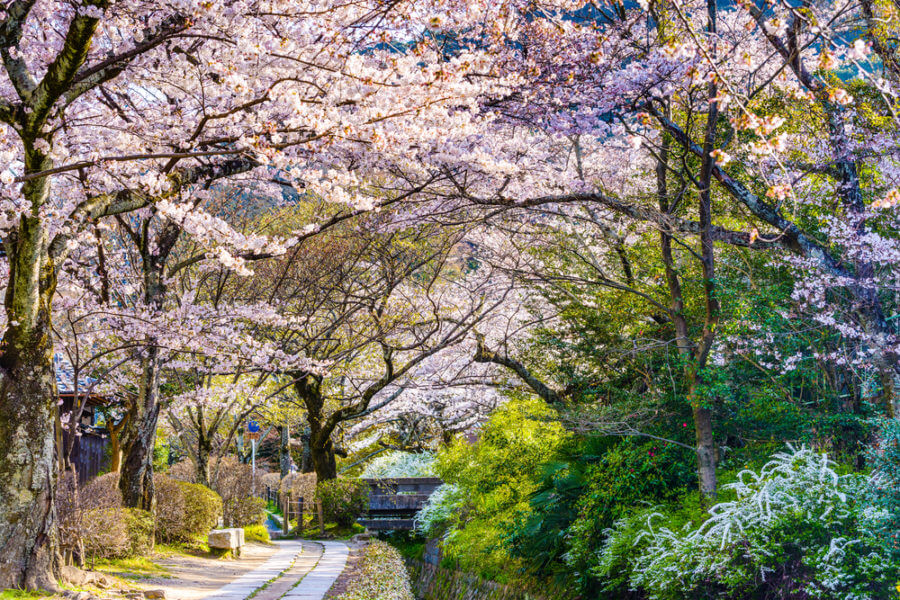 Yoyogi Park (Tokyo)
One of the city's well-known parks, Yoyogi park sits across the street from the stylish Harajuku neighborhood and directly next to the famous Meiji Shrine. This expansive park is a hotspot for hanami parties having enough space for a lively atmosphere.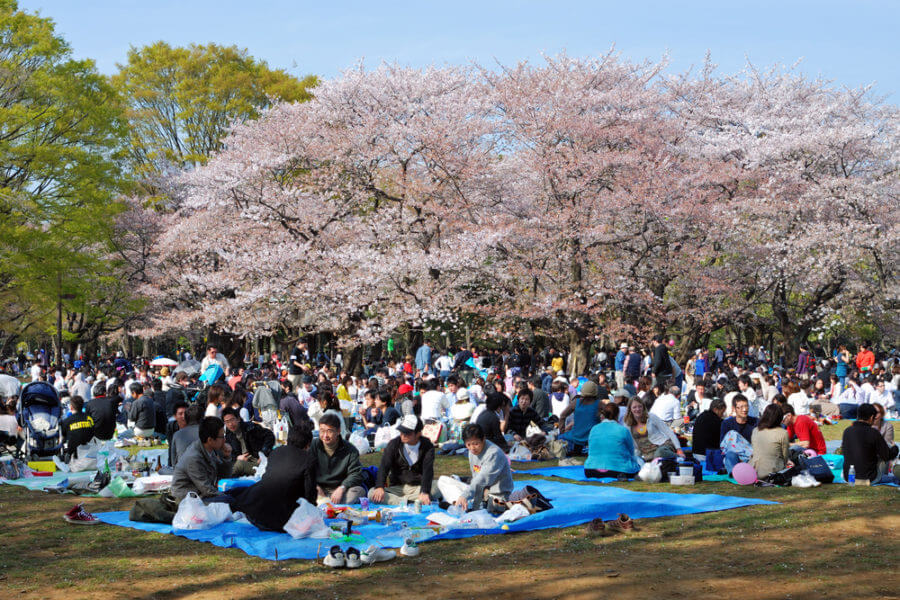 Showa Kinen Koen (Tokyo)
With over a thousand trees, this huge family-friendly park is located 30 minutes west of Tokyo. The abundant blossom here typically blooms a few days later than those in central Tokyo, making the park popular to those who missed hanami downtown. Aside from the cherry blossoms, the park also boasts beautiful other flowers to admire.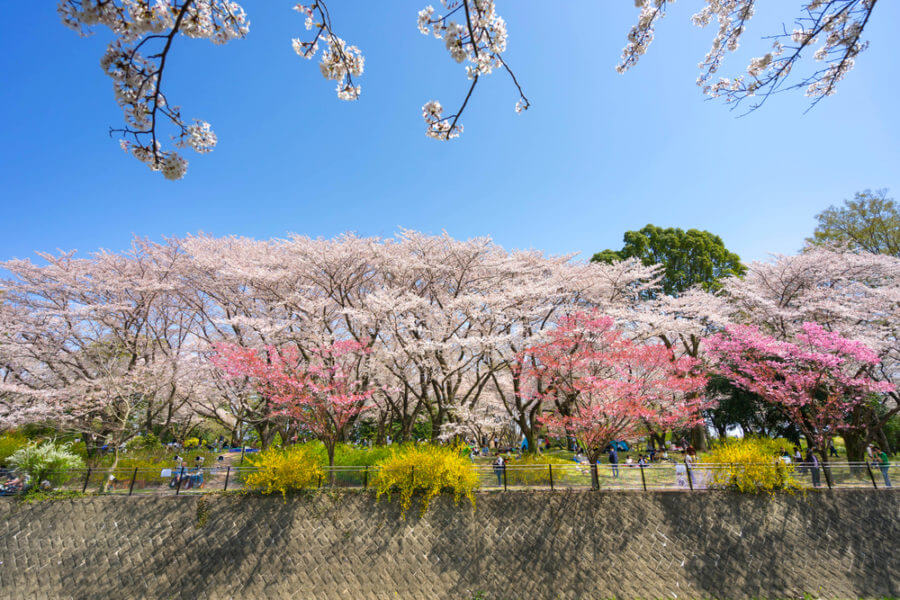 Chidorigafuchi (Tokyo)
One of the most photogenic sakura spots in the city, Chidorigafuchi consists of a path along with the cherry blossom-lined moat of the former Edo castle. You can even rent to paddle around the old moat. This atmospheric area makes for a charming stroll both during the day but also in the evening during night illuminations. The nearby Yasukuni shrine is home to hundreds more cherry trees including Tokyo's representative tree which the meteorological agency uses to determine the state the cherry blossom season for the entire city.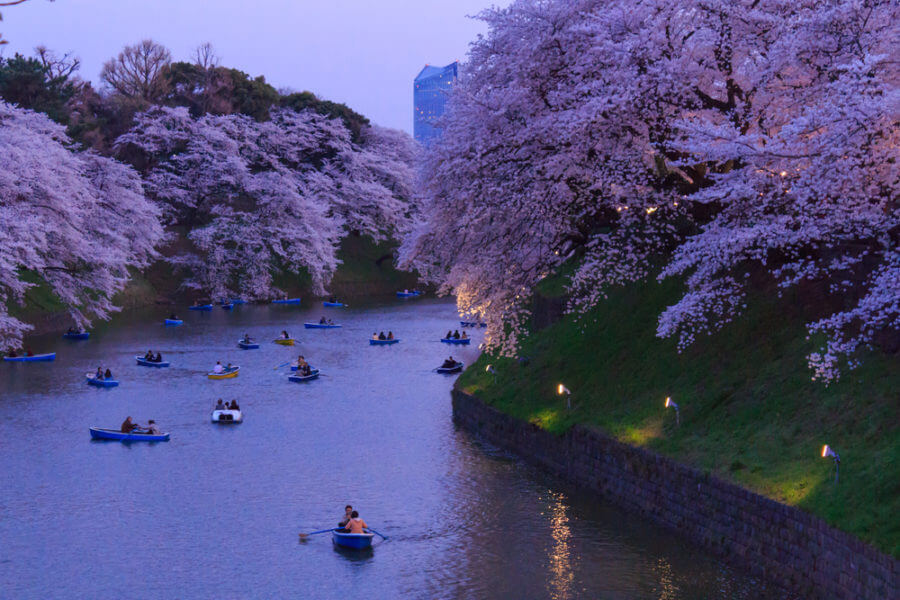 Maruyama Park (Kyoto)
Maruyama Park is the city's most popular park for cherry blossom viewing. The main attraction you'll enjoy is a giant weeping tree that stands in the center of the park and looks gorgeous when lit up by night illuminations. The various temporary restaurant appears throughout the park offering a variety of drinks and dishes. The park takes on a vibrant, carnival-like atmosphere with hanami parties continuing into the night.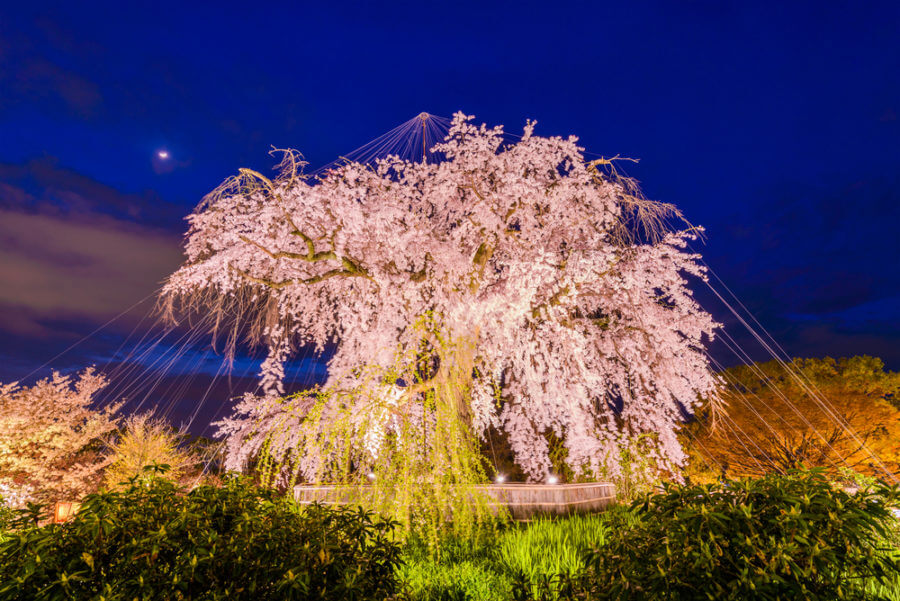 Arashiyama (Kyoto)
The quaint Arashiyama district in the northern outskirts of Kyoto becomes alive with color and activity during the Sakura season. The area is also home to beautifully designed temples that provide atmospheric spots to take in the blossoms.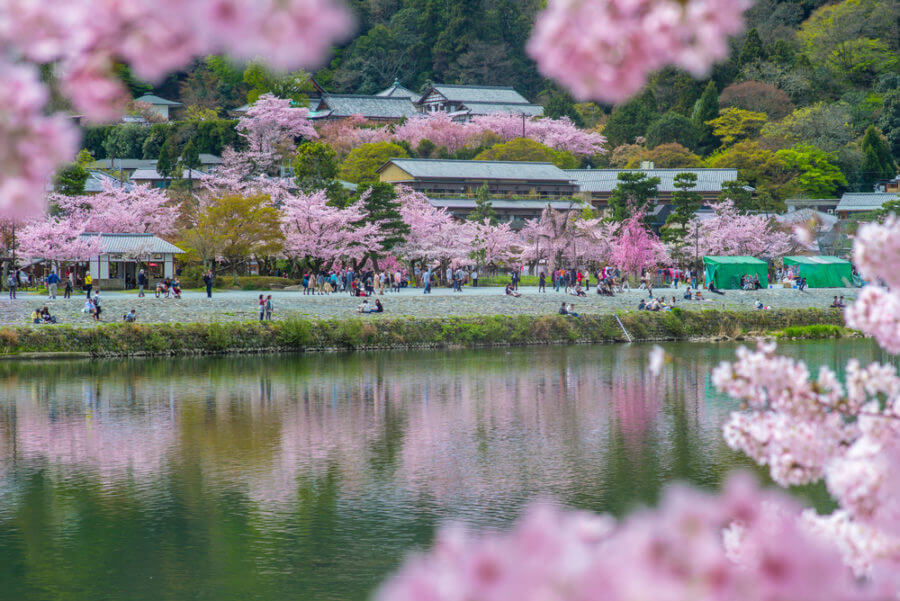 Haradanein (Kyoto)
Located on the steep hills in the northwest of Kyoto, Haradanien is a beautiful garden that hosts a large number of weeping cherry trees. This peaceful place is a private garden not often introduced in Kyoto guidebooks, but it's a very well known cherry blossom spot. You'll without a doubt enjoy this romantic garden that looks like someone stole it from a fairy tale.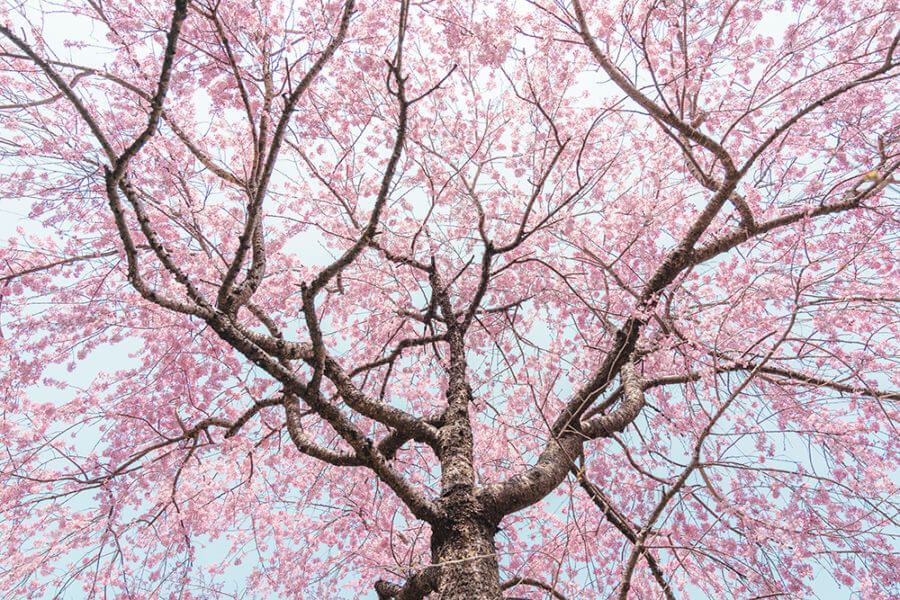 How to enjoy the cherry blossom party?
"In the cherry blossom's shade
there's no such thing
as a stranger."

Kobayashi Issa
Hanami(cherry blossom viewing) often involves a picnic with friends, family or colleagues beneath cherry blossom trees. Bring your own food, buy a sakura-themed bento box, or enjoy the foods and drinks from the pop-up cafes and restaurants.
To throw a perfect hanami party you should come prepared and bring a few essentials. Those essentials include a large blanket for everyone to sit, disposable servingware, and even folding tables if you wish. Once the sun goes down, you are in for the cherry blossom treat! Parks are often illuminated with lanterns and your hanami party can last long in the evening, so don't forget to bring warm clothes and blankets.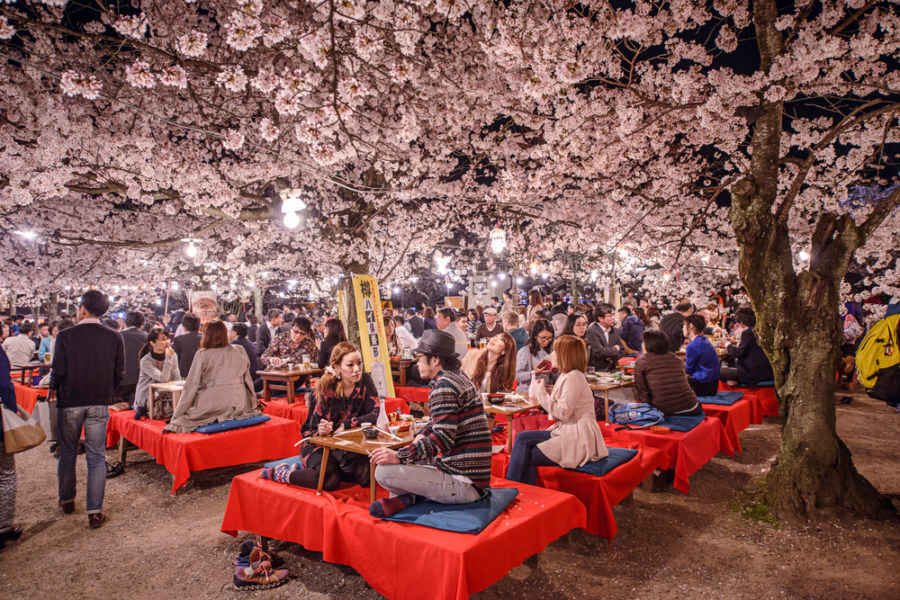 When is the best time to see cherry blossom in Japan?
This is one of the most common questions among people planning the trip to Japan. First, it is important to point out that the timing of cherry blossoms each year is heavily determined by the temperature. With warmer years seeing the blossoms blooms as much as two weeks earlier than in cooler years. Because Japan stretches across so many lines of latitude blossoms can bloom as early as January in the southern islands and as late as May in far North.
In any specific location, the typical duration of the blooming period is about 7-10 days, given the ideal weather conditions. But this can be shortened by strong wind and rain which can cause the petals to fall sooner. On average, the first blossoms appear in the southern island Okinawa in late January to mid-February. Bigger cities on the main island of Japan such as Tokyo, Kyoto, Osaka, Hiroshima have their blossoms at the end of the March and the beginning of April. North island Hokkaido typically sees the first blossoms in late April, and the beginning of May. Since every year it is slightly different, see Japan Cherry Blossom forecast for 2020!
How to book Cherry Blossom tour in Japan?
The sooner, the better! Cherry blossom is the most popular season to go to Japan, and hotel capacities can be filled quite fast. To book Cherry Blossom tour with Asahi you should simply:
Check out the sample itinerary for Cherry Blossom tour on our site to get ideas. This is just a sample tour and it can be changed however you like.
Contact us by filling in the form on our site. Let us know all the details about your trip: what would you like to see, how long you would like to stay, your budget, anything that comes to mind. The more details, the better we know how to make you a perfect trip!
We'll send you in a few days your customized itinerary and quote, and you're ready to start packing!