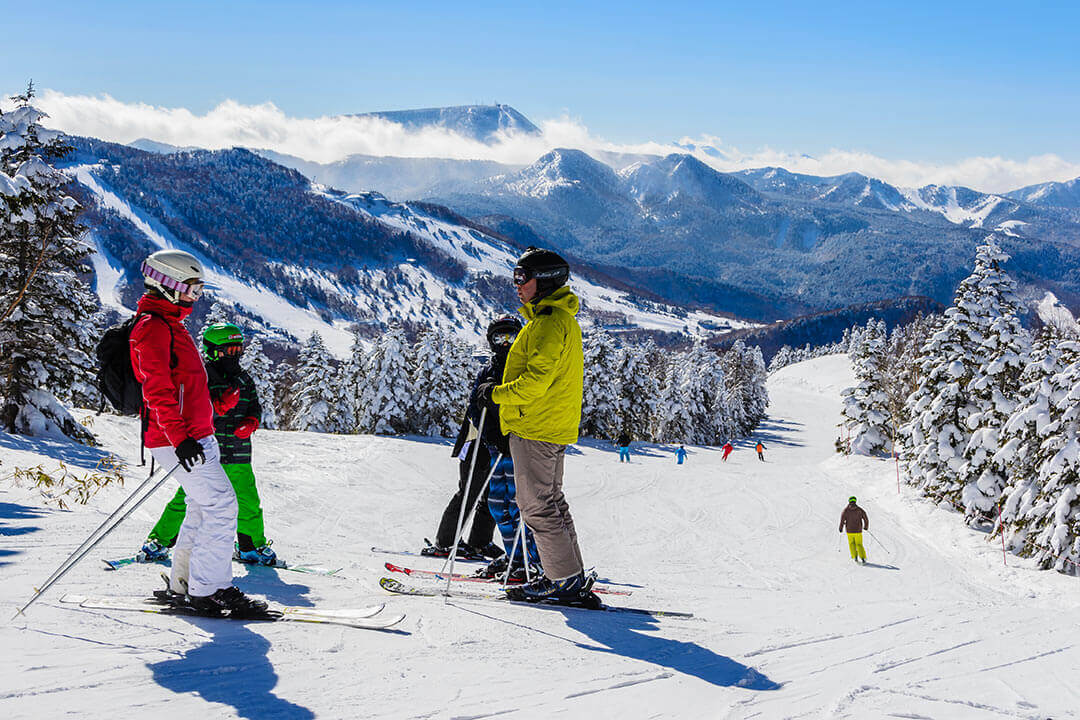 Get Some Friends Together and Go Skiing in Japan
If you are into skiing or snowboarding, then you probably know that skiing in Japan is one of the best powder skiing in the world. Japan's ski resorts are known for their excellent powder and gorgeous mountain scenery. Moreover, there are more than 500 resorts of varying sizes found across the country, many of which are typically overlooked by international tourists. Aside from top-quality snow, many ski resorts in Japan double as relaxing hot-spring resorts, as well as offering a variety of other winter activities and festivities.
Skiing in Japan is Perfect for Beginners & A Heaven for Experts
The thing with Japan is, it gets more snow than any other country in the world, at least according to multiple sites on Google, including Fox news citing this: http://www.foxnews.com/travel/2015/12/15/which-city-gets-most-snow-each-winter.html. This obviously means the softest slopes you can possibly imagine. For beginners, it's much easier to learn than on hard ice. And if you fall, trust us it will be a soft landing. If Japan has that much snow, it's not only for beginners. True powder hounds have known about Japan for a long time, but their secret is no longer with them. Now it's a well-known fact that the dryest, deepest, fluffiest powder fields belong to Japan.
When is the best time to go skiing in Japan?
The ski season in Japan is long and in some places begins as early as November and lasts into May, with the peak being in February. Fittingly, Japan offers many popular destinations for snow seekers.
Three-quarters of the country is mountainous and it is blessed with some of the most reliable and heavy snowfall in the world (10 to 18 meters of snow per season). Even the smallest hills, some just a few hundred meters above sea level, can offer ski group tours to japan come winter.
For powderhounds, the best time to visit Japan is in January, now nicknamed "Japanuary" by those in the know, and early February.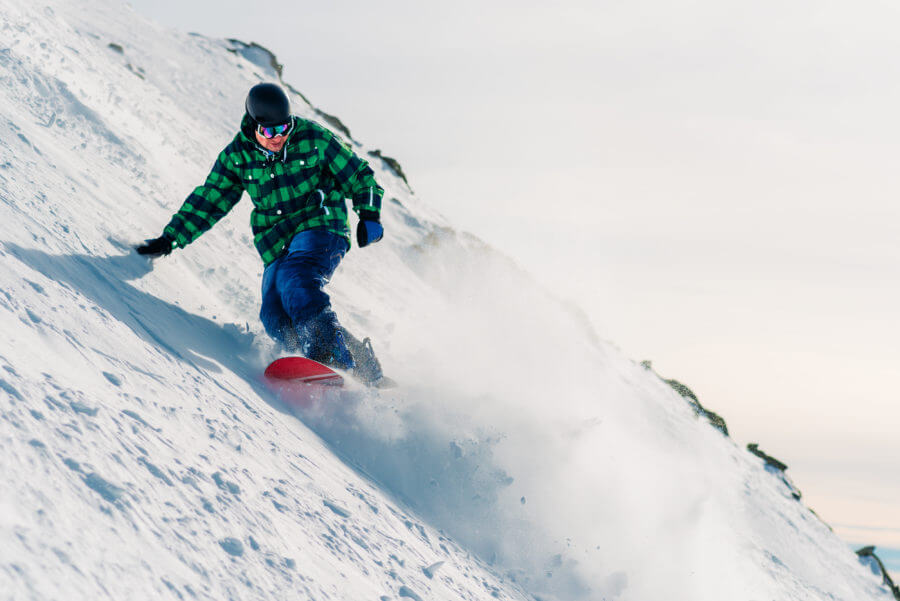 Top 10 best places for skiing and snowboarding in Japan
Japan boasts some 500 ski resorts and the top sites, from the northern island of Hokkaido to the southern island of Kyushu. They vary in size, from large resorts with dozens of runs to small one-lift slopes. Big resorts such as Niseko, Furano Ski Resort or Shiga Kogen Resort are well-known to an international clientèle. While most of Japan's major cities, including Tokyo, Kyoto, and Osaka, receive only small amounts of snow, locations offering snow experiences are readily accessible from them.
Niseko
Hokkaidō is dotted with world-class ski resorts, but the reigning prince of powder is unquestionably Niseko. There are four interconnected resorts with more than 800 skiable hectares along the eastern side of the mountain, Niseko Annupuri. Soft and light powdery snow and an annual average snowfall of more than 15m make Niseko extremely popular with international skiers. Many own second homes here – resulting in a diverse dining and nightlife scene that is atypical of far-flung rural Japan. English is spoken virtually everywhere. See below what travel vloggers have to say about their ski trip to Niseko.
Furano
Furano is one of Japan's most inland towns and considered the centre of Hokkaidō – a distinction that has earned it the cute nickname Heso-no-machi (Belly-Button Town). It is equally attractive in summer and winter: summers are almost hot (but not quite) and there are fields of flowers, farm-fresh produce, and ice-cream stand to be enjoyed, plus plenty of opportunities for walking, hiking, and cycling. Winters, on the other hand, are very cold – resulting in extreme amounts of powdery snow. Furano is one of the country's top skiing and snowboarding destinations, though it lacks the international recognition of rival Niseko.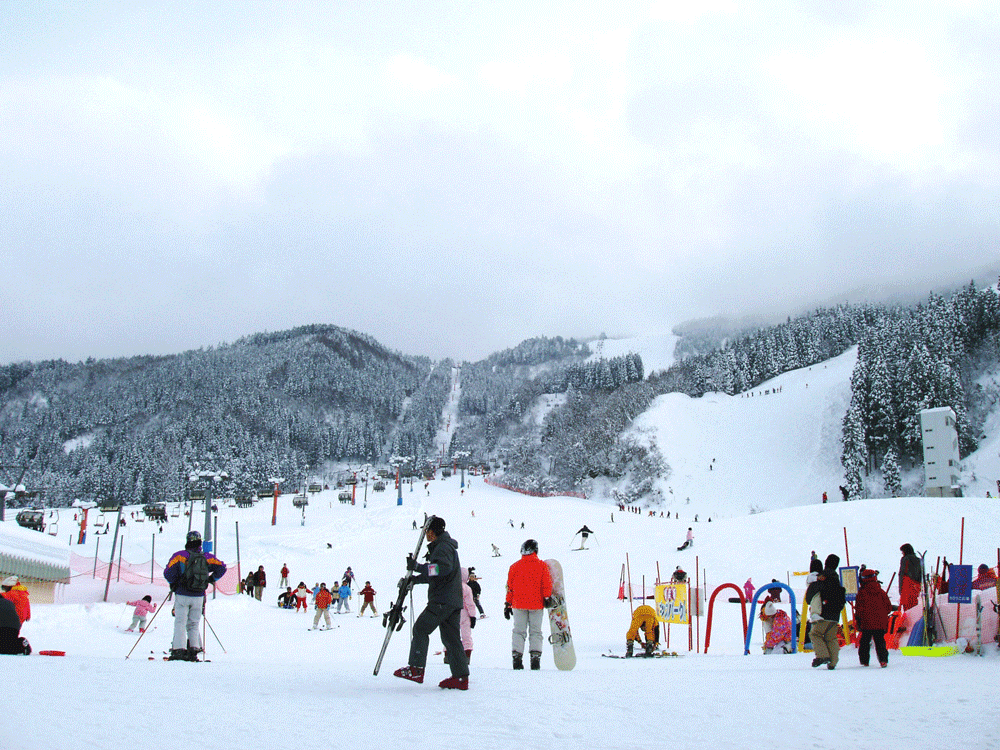 Hakuba
In a long north–south valley east of the northern Japan Alps, vibrant Hakuba (白馬), site of various skiing events at the 1998 Nagano Winter Olympics, is wholeheartedly embracing adventure tourism to become a year-round visitor hot spot. It's long been a winter destination, based on seven ski areas, but visitors now arrive in other seasons for hiking, mountain biking, paragliding and all sorts of other activities. Hakuba's boom is the envy of other resort towns keen to make an all-season living. Foreigners are turning up in droves, especially in winter, spawning new development in restaurants, bars and low-cost accommodation. There are many onsens in and around Hakuba, and a long soak after a day of action is the perfect way to ease aching muscles.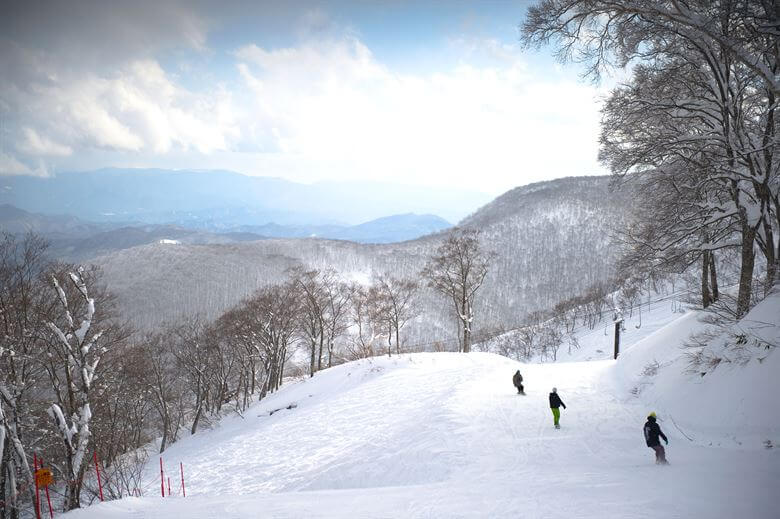 Shiga Kōgen Ski Area
The site of several events during the 1998 Nagano Winter Olympics, Shiga Kōgen is Japan's biggest ski resort and one of the largest in the world: there are 18 linked areas covering an incredible amount of terrain. With a free shuttle connecting all the resorts and a 'key card' pass that can be used everywhere, skiers are swooning here.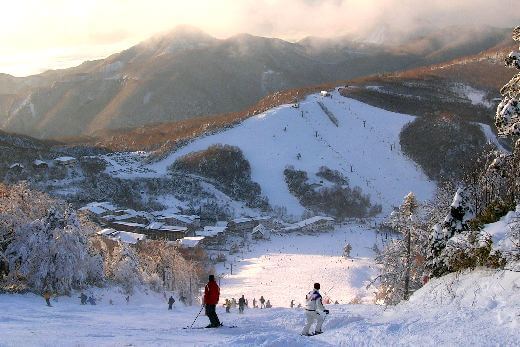 Nozawa Onsen Snow Resort
This wonderful working village tucked into a picturesque corner of the eastern Japan Alps is both a humming winter ski resort and a year-round onsen town – it's worth visiting at any time of year.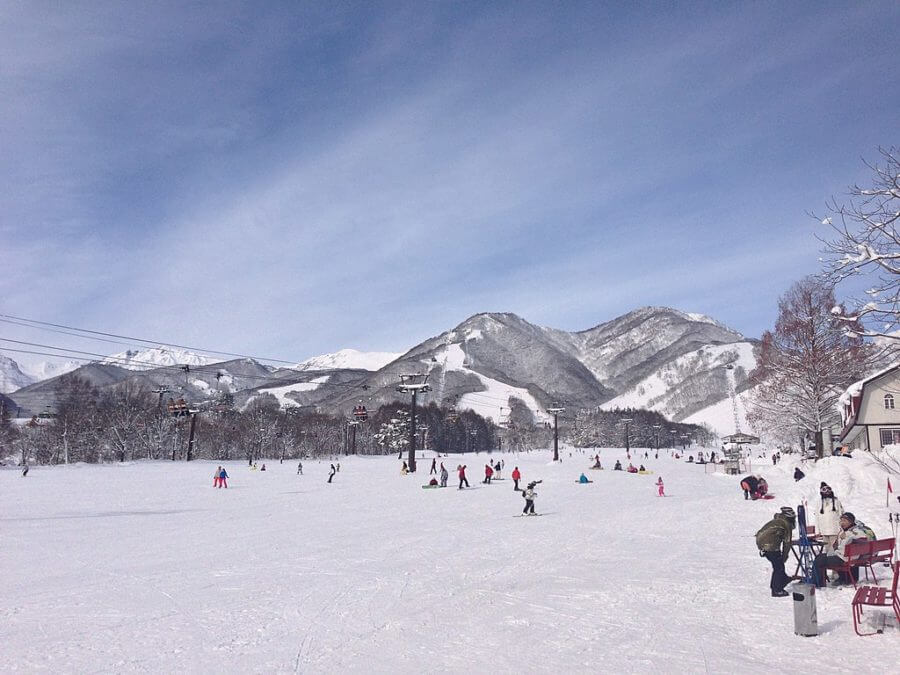 Echigo-Yuzawa Onsen
If Kawabata Yasunari's famous novel Yuki-guni (Snow Country), set here, is to be believed, Echigo-Yuzawa Onsen was once a hot-spring retreat where geisha competed for guests' affections. Then came skiing and the shinkansen. Winter visitors generally head straight to the slopes of Gala Yuzawa and then back home, but there are plenty of great onsens here year-round.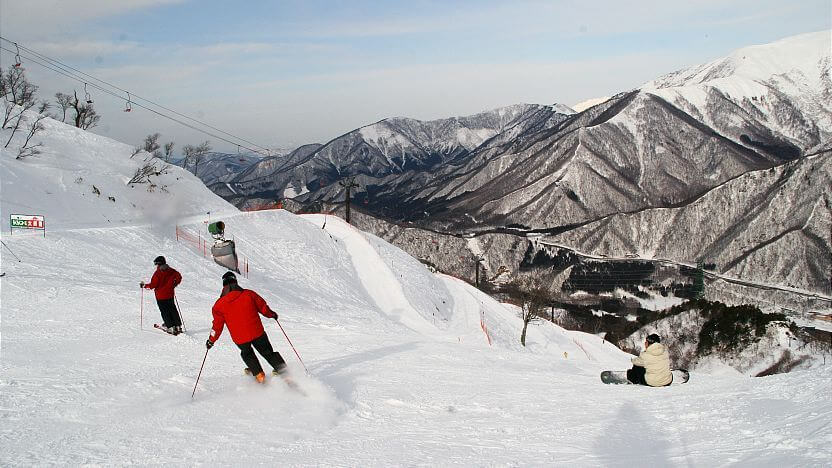 Naeba
Not much more than a bus stop and a ski resort, Naeba nonetheless enjoys a gorgeous mountain location. Expect some serious talent on the slopes (and at the welcoming après-ski scene). Indie music lovers across the world know Naeba for the wondrous summertime Fuji Rock Festival, Japan's biggest outdoor music festival.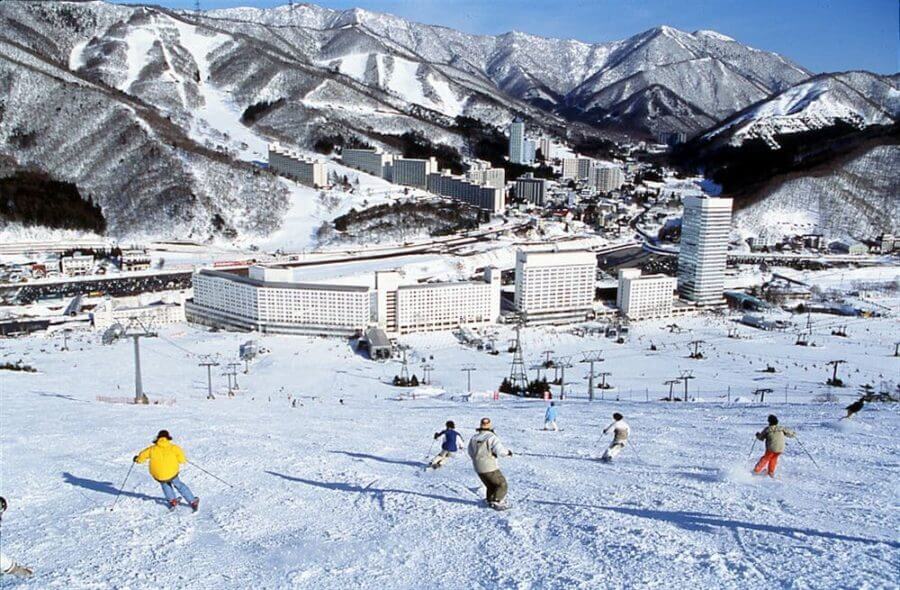 Myōkō Kōgen
The Myōkō mountain range is a well-known destination among powder hounds and ski bunnies – its proximity to the Sea of Japan means Myōkō gets snow before anywhere else – but there are plenty of other attractions in the many stylish, accessible resorts here for connoisseurs of alpine living. In the warmer months the lush, verdant forests of Myōkō Kōgen draw hikers and strollers alike to wander their many sunlit paths – the area is one of 48 certified 'forest therapy bases' in Japan, where walkers can practice the art of shinrin-yoku (forest bathing).

Tazawako Ski Park
Skiers in northern Japan are spoiled for choice, so it's unsurprising that set-ups like Tazawako Ski Park, the venue for the 2016 World Cup Freestyle Moguls, are rarely visited by foreigners. Of the 13 or so trails, all but the 1.6km Kokutai and Shirakaba runs are on the shorter side, but with an even mix of beginner, intermediate and advanced. The views down the mountain to the nearby shores of Tazawa-ko are breathtaking.
There's English signage on the mountains and in the numerous eateries. In the winter months, buses leaving Tazawa-ko Station for Nyūtō Onsen stop at Tazawako Sukī-jō.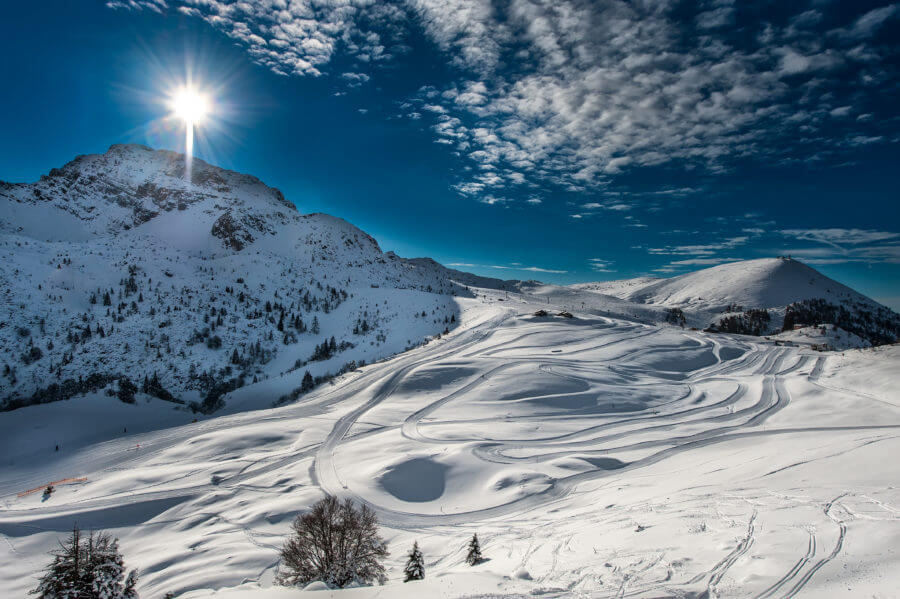 Zao Onsen
The incredible creatures that appear every winter at the top of Mount Jizo in the Japanese resort of Zao Onsen are something of a legend. Formed at the point at which the seasonal winds from Siberia, heavy with moisture collected over the East Sea/Sea of Japan, meet the trees of Zao, they are extraordinary constructs of snow and ice, works of art crafted by the forces of nature.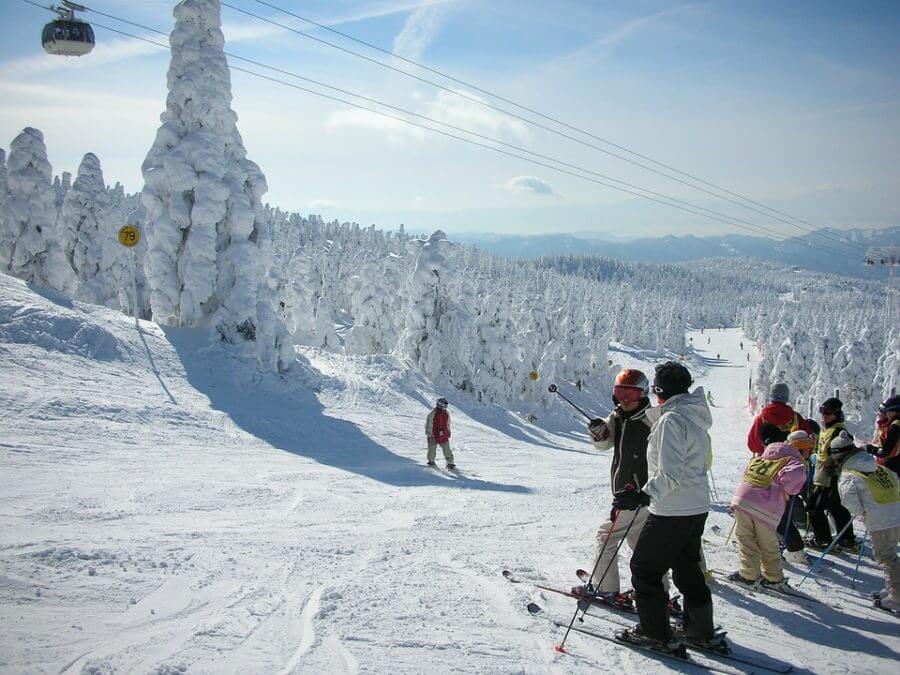 Unique Winter Experiences in Japan
Onsens – Enjoy hot spings
We can't talk about snow activities in Japan, without mentioning relaxing in a Japanese onsen. Forget North American hot tubs and jacuzzis after skiing, they have nothing on the serenity and therapeutic restorative powers of a natural onsen, fueled by 100% thermal spring water full of minerals, which come in different shades and smells according to their concentrations. Many let you soak right out in the snow, which is a magically beautiful experience.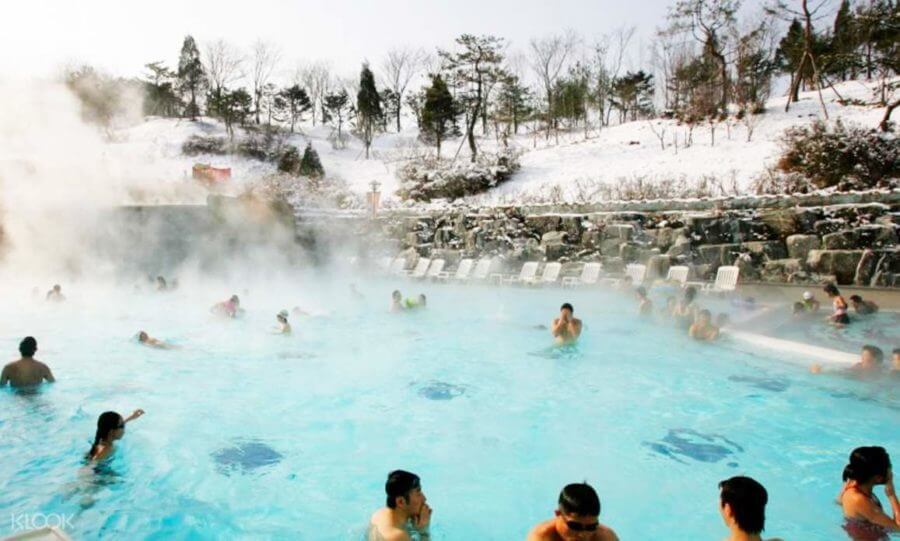 Night Skiing
Another atypical ski experience possible in Japan is night skiing. Most Japanese ski resorts keep the bull wheel running after the sun sets and it's something not to be missed. Big fluorescent lights illuminate the slopes and allow you to see where you're going. The bright lights combined with the snowstorm, provide an even more stunning effect. Often, you'll see festive Japanese locals donning glow-in-the-dark duds.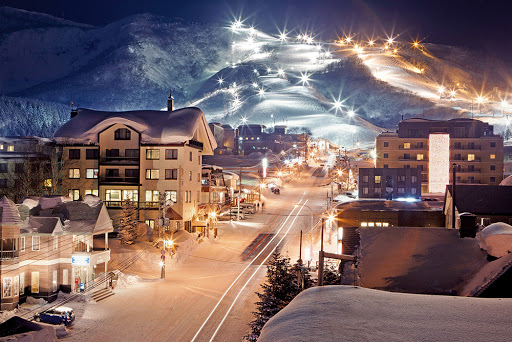 Having Fun in Sapporo
Sapporo is so much fun! Visit the magnificent Snow Festival from 5th – 12th Feb! Drink the best beer in the country and eat the local specialty – miso ramen.
Asahi offers Ski Group Tours To Japan Package & Tour in Sapporo, where you will experience lively Sapporo and be at the Furano Ski Resort – which is highly popular even among Hokkaido's many prominent ski areas. The resort has a wide range of slopes for both skiing and snowboarding. A charming snow dome bar and restaurants dot the ski area while the town bustles with friendly restaurants, bars, cafes, and shops.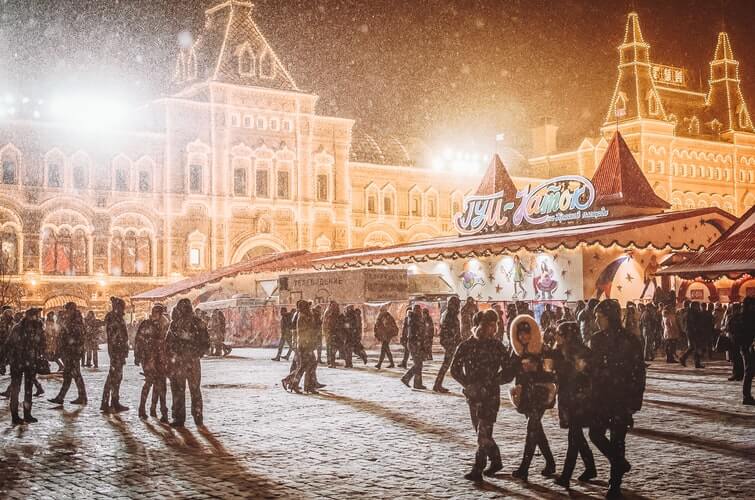 Eating world-famous Japanese cuisine
Japanese food is among the best in the world, and there's no better way to get warm, after a day on the slopes, than a hot bowl of ramen. Other winter favorites are katsu-don (pork cutlet on rice), soup curry and yakitori. No trip to Japan is complete without a sushi experience, and winter is said to be the best time of the year for the freshest fish.
In Hokkaido, the après-ski scene spans chic izakayas (Japanese gastropubs), raucous pubs, steamy hot springs, and bars specializing in Japanese whisky and hard-to-find, regional craft beers. Sure, in Hokkaido, there are also bars that specifically embrace après-ski in the Western sense — with beer, live music, and American-inspired bar food. But when in Japan, do as the Japanese do.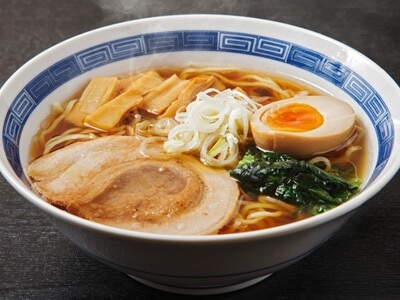 4 things to know before you go skiing in Japan 
1. Consider Hiring A Guide For A Day
A day with a guide will help you learn the ropes of the Japanese resort while helping you score untracked powder on day one.

2. Dress For A Blizzard
During your week in Hokkaido, it can snow more than four feet on the mountain. Expect insane amounts of snow! Which is awesome so long as you are prepared. For those with less-than-awesome apparel, be sure to bring an extra pair of gloves, goggles, and base layers in case things don't completely dry overnight.
3. Leave Your Modesty At Home
Hokkaido is speckled with wonderful hot springs. But be forewarned: Mostly these are not clothing-optional; they are clothing prohibited. Yep, check your modesty at the customs exchange. If you get in the hot springs (and you should) you're getting naked.
4. Bring Fat Skis (Or Rent Them)
Wondering which skis to bring to Japan? The fattest ones in your quiver. Of course, you can ski pretty much anything, as the snow, while light, is reasonably supportive. But still, fat skis are great on deep snow, and it almost certainly will be deep and soft.
What are you waiting for? Get your friends together, escape from the crowds and find untracked slopes and perfect powder in Japan!
At Asahi, we can create any type of ski tour in Japan you want. Check out one of our most popular ski trip in Japan – Ski Package in Sapporo! Or let us know your preferences and what kind of ski trip you want to go to Japan, and we'll create a perfect tour for you!