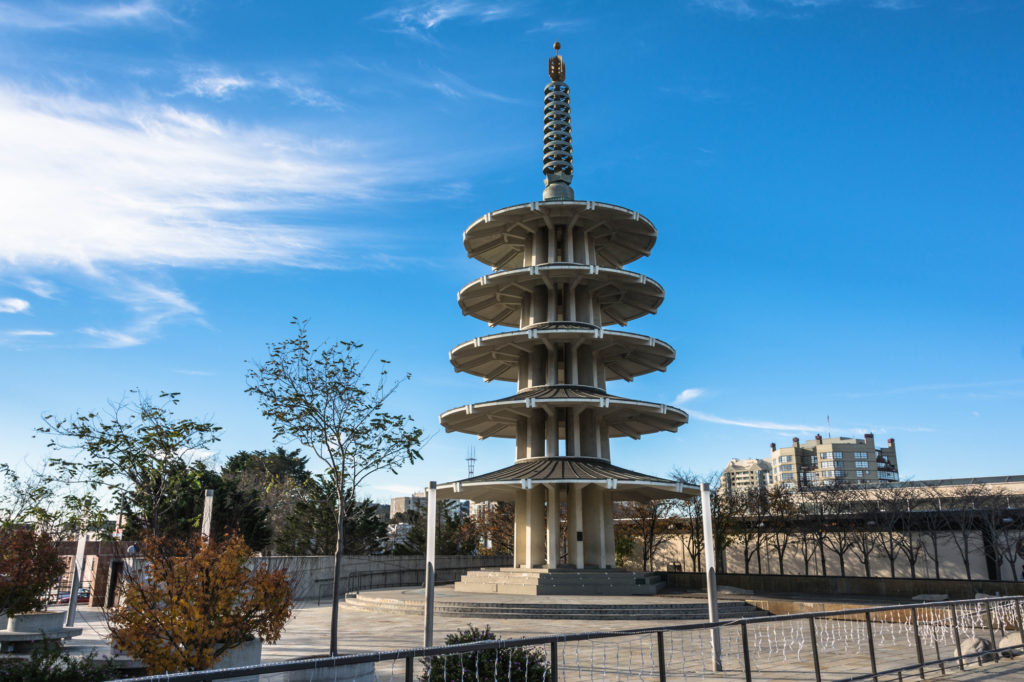 Japan Abroad — Japantowns Around the World
Sure, you've heard of Chinatown. But have you ever thought about going to a Japantowns? Much like Chinatown, Japantown is a common name for official Japanese communities in big cities outside of Japan. Alternatively, a Japantown may be called J-town, Little Tokyo, or Nihonmachi. The first two being common names for the Japanese communities in San Francisco, San Jose, and Los Angeles, respectively.
Japantown is a cultural, culinary, and artistic center for Japanese residents living in nearby areas. Also, many historical Japantowns will exhibit architectural styles that reflect the Japanese culture. These Japan streets came alive out of necessity to the Japanese people who moved here – not a tourist trap at all. So if you are feeling nostalgic for Japan  – Japantown is a good place to start.
Here is a brief rundown of some of the biggest and most active Little Tokyo neighborhoods around the world.
Japantown in North America:
The US is home to three official Japantowns. All are located on the West Coast, in Los Angeles, San Jose, and San Francisco.
Los Angeles
LA's Little Tokyo, once 30,000 residents strong, is now home to 1,000 people. It covers roughly four large city blocks. Despite being lightly populated, the area serves as a cultural, culinary, and artistic center for Japanese residents living in nearby areas. It features the Japanese American National Museum, several public sculptures, two Japanese gardens, as well as an annual tofu festival in August. The area also features noodle shops, yakiniku and shabu shabu restaurants, a Kinokuniya bookstore, and a New Otani Hotel. Also several temples and shrines including the Zenshuji Soto Mission, which is the first Soto Zen temple in North America.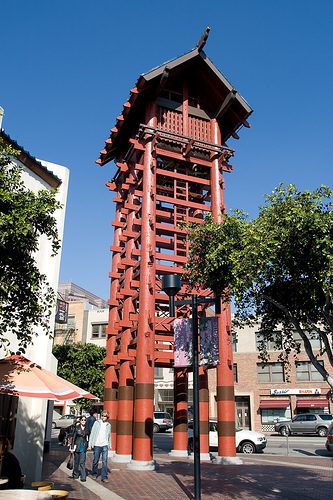 The Little Tokyo Watchtower
Probably the best known Little Tokyo there is. With over 50 restaurants and other places to eat as well as 50 other Japanese shopping opportunities and a dozen entertainment venues, it is clearly a top 5 destination. The best part of all: it features a Hot Spring! Almost every picture of Japantown San Francisco shows its main landmark – the Peace Pagoda, a Buddhist building sponsored by its Japanese sister city Osaka in the 60ies.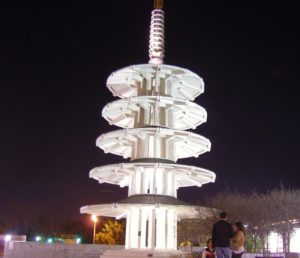 The Peace Pagoda in Japantown
Completing the West Coast trio of official Japantowns is San Jose's Nihonmachi area. Originally settled by Japanese citizens returning from internment camps. The area features the Japanese American Museum of San Jose, San Jose Taiko, a 35-year-old performance group. Also, specialty shops selling handmade tofu and sweet, artisan treats which have even been requested by the Emperor (from the Shuei-do Manju Shop). The local neighborhood association also lists a variety of classes in traditional Japanese arts.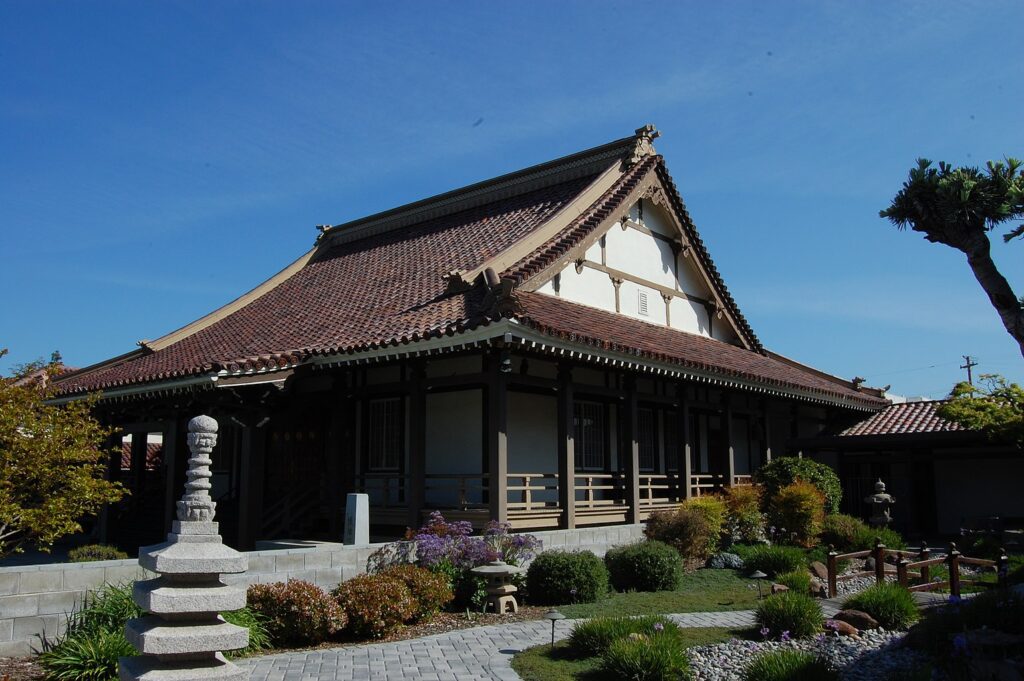 San Jose Betsuin Buddhist Temple
Japantowns in South America:
Sao Paolo, Brazil
Liberdade is the Japanese district in São Paulo, Brazil. It is home to the largest Japanese community outside of Japan in the world. It has roughly half a million Brazilians of Japanese descent occupying the area. Liberdade boasts a weekly Sunday market, fresh Asian produce markets, and the Museum of Japanese Immigration.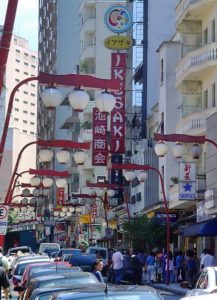 Japantowns in Europe:
Düsseldorf, Germany
Located on and around Immermann Street, Dusseldorf's Japanese area is home to a Nikko Hotel, plus shops, restaurants, and also large grocery stores where you can find all sorts of Japanese delicacies including fresh sushi. Moreover, one of the biggest attractions in the area is just across the Rhine River in the neighborhood of Niederkassel. The EKO House of Japanese Culture features the only Japanese (Buddhist) Temple in Europe, a traditional teahouse, and a Japanese garden. The center features tea ceremonies, garden parties and celebrations of Buddhist holidays. And even, in order to help facilitate its main goal of East-West exchange, a 75-seat German-Japanese preschool, as well as a Japanese library.
Düsseldorf also puts on a Japan Day every year around May or June. And it is the largest festival of its kind in the world – attracting more than a million people. They even have Japanese food stalls, kimono fittings, Japanese musicians, calligraphy and always finish off with a fireworks show.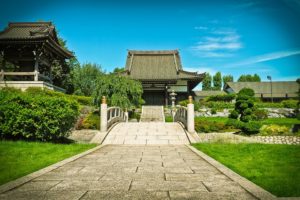 There are more than these five Japantowns across the world so if you are up for a good ramen, find the nearest Japantown.