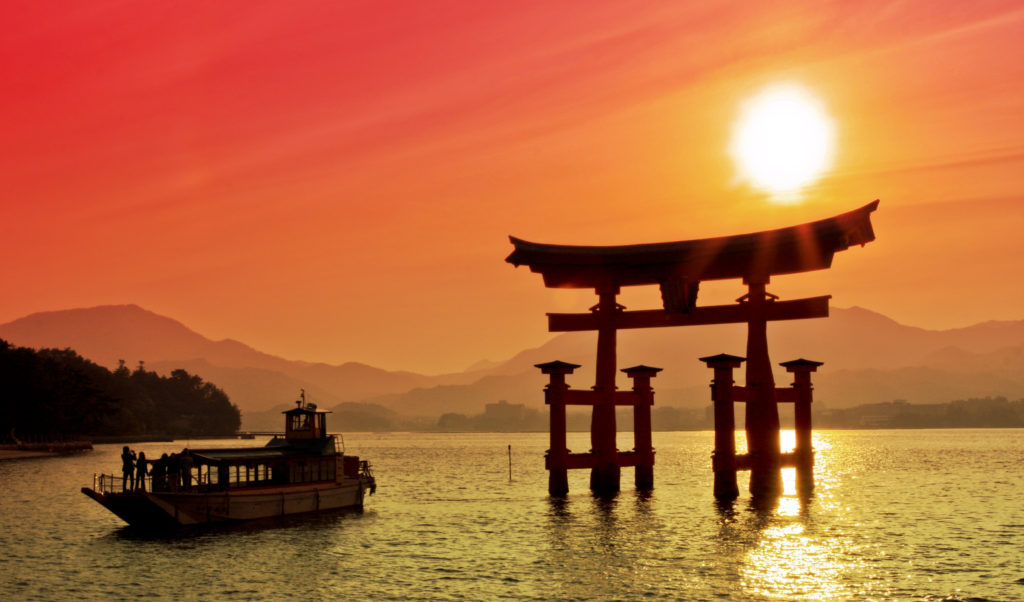 Why Japan Is The Best Destination For Your Wedding
Are you considering a destination wedding? From seeing jaw-dropping locales to spending real bonding time with your nearest and dearest, there is so much about it. It's a trend one in four couples is now boarding. Are you in?
Leave the stress at home and have a wedding that is completely you!
8 good reasons to have a destination wedding:
You'll stand out from the pack. 
Wed away, and you won't have to choose from the same old hometown spots all your friends have booked.
You can save on decor.
With a destination wedding in a stunning setting, your location of choice supplies the theme, from castle fairytale to sea-inspired soiree. And when you choose an amazing backdrop, it doesn't take much to dress it up. Opt for a pristine beach, a blooming garden or a historic plantation house furnished with graceful antiques.
Enjoy quality time with loved ones.
The standard wedding lasts for five hours. And the bride and groom spend most of that time running from table to table, trying to say hello to everyone. We've all been to those weddings. The couple ends the night hungry and exhausted from making the rounds to greet and thank every guest. A destination wedding does span over a minimum of three days. As a result, now that you've finally gotten your nearest and dearest together, you can actually spend quality time with them! Hooray!
You'll share a locale you love.
Part of the joy of a destination wedding is showing off a place that has special meaning to you.
Have two honeymoons.
Just arriving at your destination is sure to put you in a relaxed mood as the pre-wedding festivities begin. Secondly, staying a few extra days near your wedding locale for a mini-moon (you've already paid the travel expenses to get there). Or plan a separate trip a few months to a year later, so you'll have a new adventure to look forward to together.
 It's an excuse to go rogue. 
Getting out of town gives you the opportunity to try something fresh. The modern bride is embracing the fact that she can customize as she wants, and a destination wedding takes that into account. You can follow a local custom that will infuse a bit of cultural flavor into your day.
 7. Everyone is a VIP.
Far-flung weddings are usually intimate. That means less obligatory invites and more must-have loved ones. Besides, friends and family who make the cut often know that the list was limited, and they love feeling important to the couple.
 8. Check something off of your bucket list. 
Maybe both destination wedding and traveling to a country you always wanted to visit? If you want something stylish and eclectic, choose magnificent Japan.
Why choose Japan for a destination wedding?
Japan is the perfect wedding destination for couples who are looking for something original. In addition, the advantages of having your wedding in Japan are endless. There's truly no place in the world that manages to seamlessly blend past and future like Japan. Whether you want a more traditional, urban or exotic type of wedding, it will always be elegant and timeless.
Also, with diverse natural scenery and climate, you can have a wedding any time of the year. Exchange your vows under delicate cherry blossoms, or against the backdrop of colorful autumn leaves.
In the end, there are dozens of reasons to wed away in Japan. But we will introduce you to some of the best benefits.
Exceptional Cuisine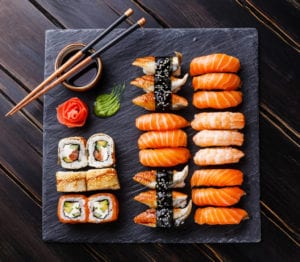 Japan has rapidly become one of the world's premier culinary meccas. And as it becomes increasingly well-known for more than just sushi and ramen, it has started to eclipse famous foodie destinations like Italy and France.
What's more, is that the visual presentation is as much a part of the dining experience as the taste of the food itself. Expect Instagram photo galore.
By the way, Japan is the second nation after France to have its national cuisine designated heritage status by UNESCO.
Spectacular Outdoors and Seasons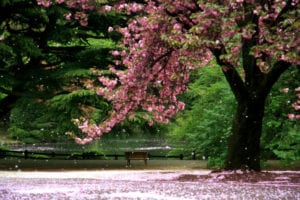 Japan is extremely proud of its seasons and it is for a good reason. There are few places on earth where the differences between each passing season are so pronounced. And possibly no other place where they play such a vital role in a nation's culture – from festivals to cuisine.
Any time of the year, you can plan your wedding somewhere in Japan and make it look incredible.
Autumn in Japan is simply breathtaking. From mid-September until the beginning of November, Japan's deciduous trees begin to change color. They paint mountains, parks, and forests with a vibrant palette of Fall colors.
The snow season in Japan is long and in some places begins as early as November and lasts in May, with the peak being in February. Snow covers everything, and as a result, it creates enchanting streetscapes and landscapes. Mountain peaks have the most amazing powder snow, and hot springs have a totally different meaning.
When it comes to spring, it is impossible to think of Japan without an iconic image of a sea of cherry trees awash with perfect pink blooms instantly coming to mind.
Summer is reserved for Japan's big secret that will blow your mind. In the southern reaches, lies some of the most beautiful, white-sand, crystal-clear water beaches you'll ever find. And in the southern Okinawa prefecture and its subtropical islands are some of the most popular in the country.
Hot Springs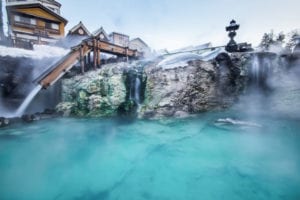 Hot water percolates up out of the ground from one end of Japan to another. The Japanese word for a hot spring is onsen. There are more than 3.000 of them in the country, and more than anywhere else on earth. The Japanese have turned the simple act of bathing into a folk religion. And also the country is dotted with temples and shrines to this most relaxing of faiths. Sublimely relaxing, hot springs would add a unique and compelling aspect of your wedding.
Fascinating Architecture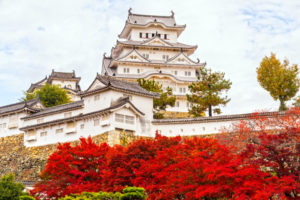 Japan has an interesting variety of buildings that exhibit different architectural forms. From humble farmhouses to grand imperial palaces. Architectural styles have evolved from pre-historic to modern times. Like Shinto shrines, Buddhist temples, Imperial palaces, castles, samurai residences, charming townhouses and farmhouses, but also modern award-winning architectural designs.
From the modern architecture of Tokyo, forever reaching into the future, to Kyoto's teahouses established over 300 years ago. There is something for every soul. Whichever venue you choose, you will make the trip of your life for both you and your guests.
Japanese Hospitality
In Japan, there is a deep-rooted culture, which comes from sado (tea ceremony), called omotenashi, meaning to wholeheartedly look after guests. Omotenashi is hard to define in English because to understand it is to experience Japan in-person. Besides, the term is a microcosm of the country itself. It represents the Japanese mindset of hospitality centering around care rather than expectation.
It is a sense of incredible hospitality that carries across homestays, formal ceremonies, retail, and dining. However, omotenashi goes beyond "the customer is always right". Rather, it is an implicit understanding that there are no menial tasks if the result ensures a great experience for a guest.
The Japanese people are generally polite, kind, punctual, respectful and hard-working. These traits are something that plays a huge role when organizing a wedding in another country.
With all of the above, we hope you'll find Japan as a perfect place for your honeymoon.
Contact us for more information if you would like to have your own wedding in Japan!
Take Me to Japan