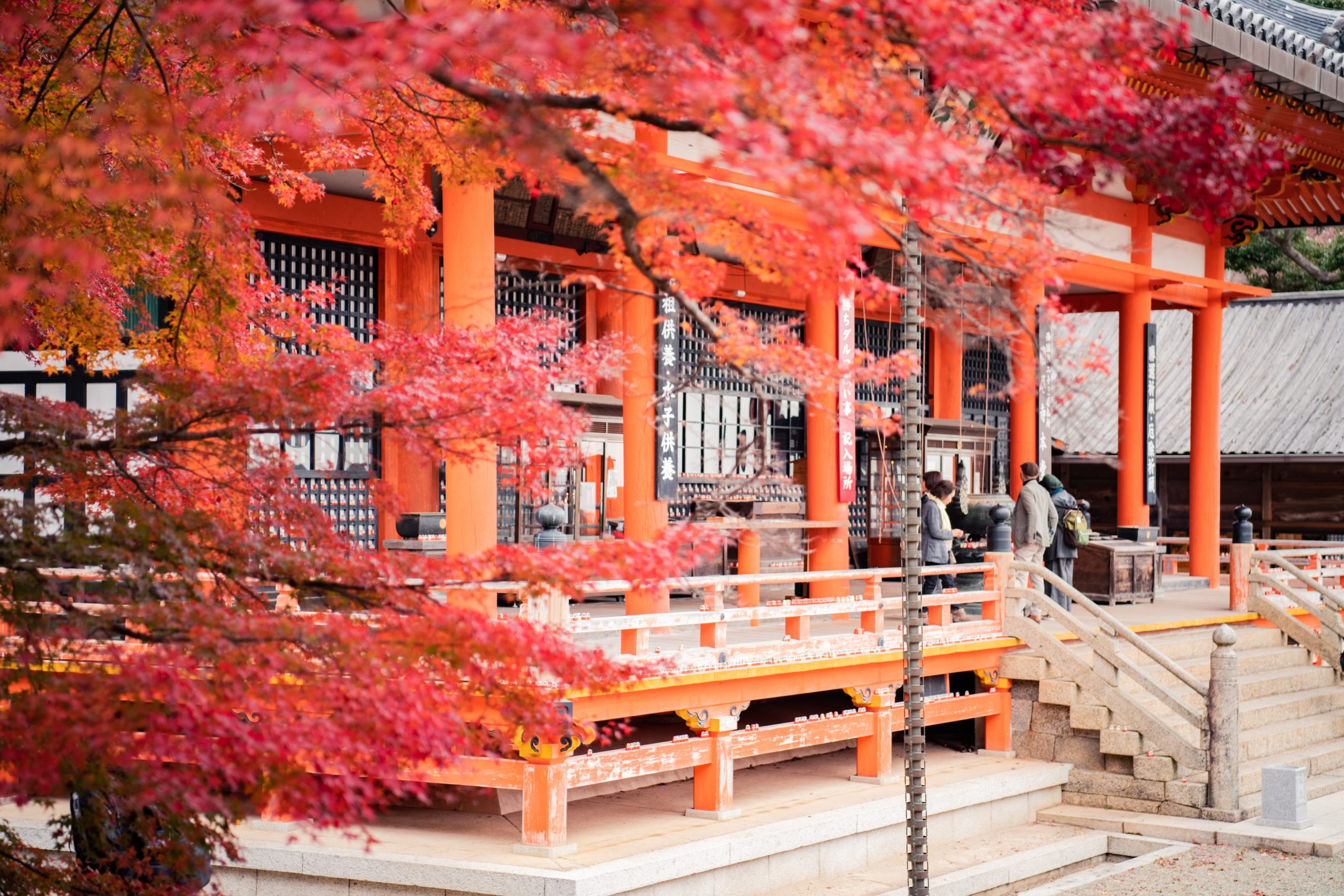 Autumn In Japan: Ultimate Koyo Guide
Autumn in Japan is breathtaking, sometimes much more than the iconic cherry blossoms viewing season. Autumn and spring, these two seasons have a different impact on Japanese culture. Each year, starting in mid-September, the "Koyo front" slowly moves southwards from the northern island of Hokkaido until it reaches the lower elevations of central and southern Japan.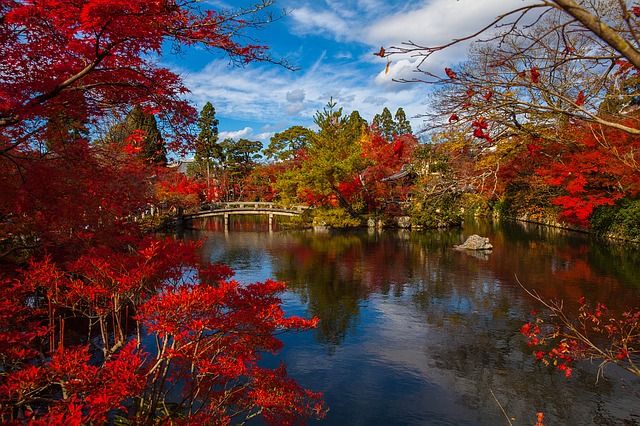 This natural phenomenon is called Koyo or Momiji (meaning red leaf). The activity of searching for the most striking shades of leaf is known as Momijigari (red leaf hunting). It has been popular in Japan for centuries and is now a major draw for tourists.
Also, during Koyo season, leaves of the deciduous trees on the mountain slopes, valleys, and country roads all transform into beautiful red, orange, yellow and brown colors. Including the amazing grounds of shrines, temples, parks, public gardens.
Autumn foliage season in Japan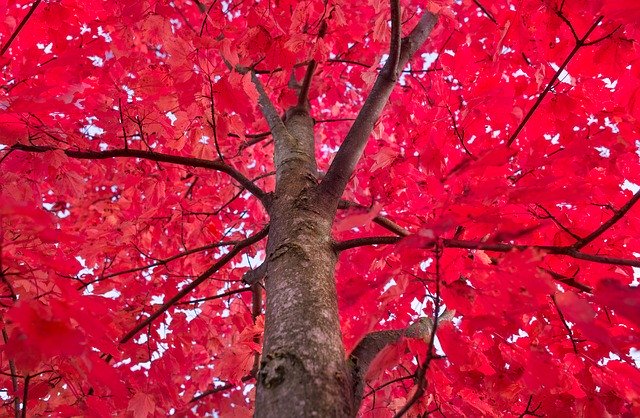 The turning of the leaves in Japan varies due to temperature, elevation, and latitude. What does this mean for you?
Mountainous regions and the islands to the north will experience autumn colors earlier than other regions. You should also take note of autumn color reports such as this one, as well as weather forecasts, as these will keep you up to date on fall color changes due to temperature.
When temperatures turn cold early, the Japanese fall colors appear sooner – up to several weeks early – and vice versa.
In general, the autumn foliage season begins in mid-September on the island of Hokkaido. In other parts of Japan, like Tokyo, the best viewing times typically range from mid-October through early December.
Peak viewing in each area typically lasts between two weeks to more than one month.
Without a doubt, a trip to Japan during Koyo is a wonderful way to experience this country and its nature in all its glory. So let's learn more about where it is best to see these beautiful leaves colors in Japan.
Where to see fantastic colors in Japan?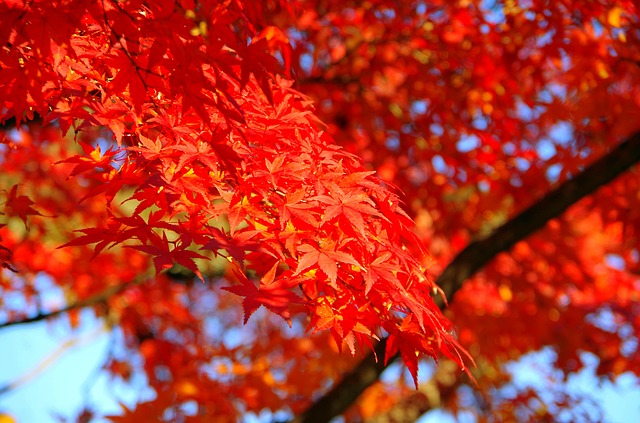 Take note that it's not just tourists who agonize over the best times and places to see the fantastic colors. The Japanese are looking forward to witnessing Koyo every year, too.
There is no shortage of stunning places to enjoy the phenomenon through the best days to see it vary from place to place and from year to year. You can enjoy the Momijigari in many ways including hikes, picnics, drives, bike rides, and camping trips.
The fact is, any place in Japan is a good area for Koyo viewing. If you are feeling adventurous, consider hiking the meandering trails of one of Japan's mountains. Even if you are visiting a bustling city such as Tokyo, city parks offer thousands of trees.
Best Autumn Color Viewing Spots in Japan
Daisetsuzan National Park
Daisetsuzan National Park is located in the center of Hokkaido. This is the largest national park in Hokkaido. One interesting fact about this park is that this is the first place to see fall foliage each year in Japan.
In mid to late September, when leaves of trees turn yellow and red, hike in the higher elevations around Mount Asahidake and Kogen Onsen for their dazzling display of color.
Sounkyo – a famous hot spring resort town in Daisetsuzan National Park is seen to be a popular autumn leaf viewing spot in Hokkaido. Apart from enjoying colorful leaves, you can relax and take a bath in an onsen. The best time to see outstanding fall color is between early to mid-October.
Shiretoko
Shiretoko is a paradise for wild animals located on Shiretoko Peninsula in northeastern Hokkaido. It is home to famous Hokkaido's brown bear, deer, white-tailed eagles, and red fox. It is considered to be the last unspoiled wilderness remaining in Japan. Shiretoko National Park is our favorite autumn leaves viewing spots.
Here two spots are considered to be the best for hunting autumn foliage: Shiretoko Five Lakes and Shiretoko Pass (a winding road). When you are to discover the Five Lakes and its surrounding areas you would be amazed seeing the shimmering hues.
The surrounding hilly areas offer the most beautiful scenery you could expect from the autumn season. In 2005, Shiretoko has been designated as UNESCO world heritage site in Japan.
Shikotsu-Toya National Park
This place is mostly known for the Lake Toya, Lake Shikotsu, Jozankei Onsen, and Noboribetsu hot spring resort town. Visitors of these places are offered to picturesque views during the autumn season. The peak season of viewing autumn foliage in these places is in mid-October. Autumn colors along the ropeway to Mount Usu – is truly awesome.
Nakajima Park
Nakajima Park is located in the middle of downtown Sapporo. It is a beautiful city park in autumn.
Onuma Park
This is another top spot to enjoy autumn colors in Hokkaido, it is called Onuma Park, located north of Hakodate. The park is surrounded by forests, lakes and mountains. The trees that surround the two ponds are pretty beautiful to view in autumn as they change their color.
You can experience a majestic view of the Islands of Onuma and Mount Komagatake in the background. Apart from visiting it in autumn, many people gather here for summer camping.
Miharashi Park
A lovely Japanese style garden to stroll along the paths holding the hand of your lover. That would be very romantic when the tree's leaves change their color from green to yellow/red.
The evening view of the fall color in the park creates an impressive autumn scenery. It is a must-see place in Hakodate during the fall season. The best time to enjoy fall foliage is between late October and mid-November.
Rikugien Garden
Rikugien Garden is one of the most beautiful and popular Japanese traditional gardens in Tokyo. Autumn leaves changes Rikugien Garden into orange in autumn.
Tofukuji Temple
If you are planning your autumn leaves hunting trip to Kyoto this autumn, this classic Zen temple should definitely be on your bucket list! Tofukuji Temple is one of the most popular temples to visit in the city, and it's particularly popular during autumn for gorgeous view of autumn leaves. The large temple has over 2,000 m2 vast Japanese garden, where numbers of maple trees burst in warm colors. The most popular view is of/from the Tsutenkyo Bridge. A 100 m bridge that connects Hondo Hall and Kaisando Hall.
The peak season of autumn leaves is usually from mid to late November.
Tateyama Kurobe Alpen Route
The main attraction of the Tateyama Kurobe Alpine Route is the magnificent scenery of the Tateyama Mountain Range, part of the Chubu Sangaku National Park. The fall colors typically reach their best around Murodo and Daikanbo from late September to early October. They gradually descend the mountain slopes, arriving at the lower elevations from late October to early November.
Miyajima Island
The iconic Floating Torii Gate is what everyone wishes to see on the island. This island is majestic highlights beautiful autumn colors in the fall.
How to Enjoy Koyo – Heaven of Autumn?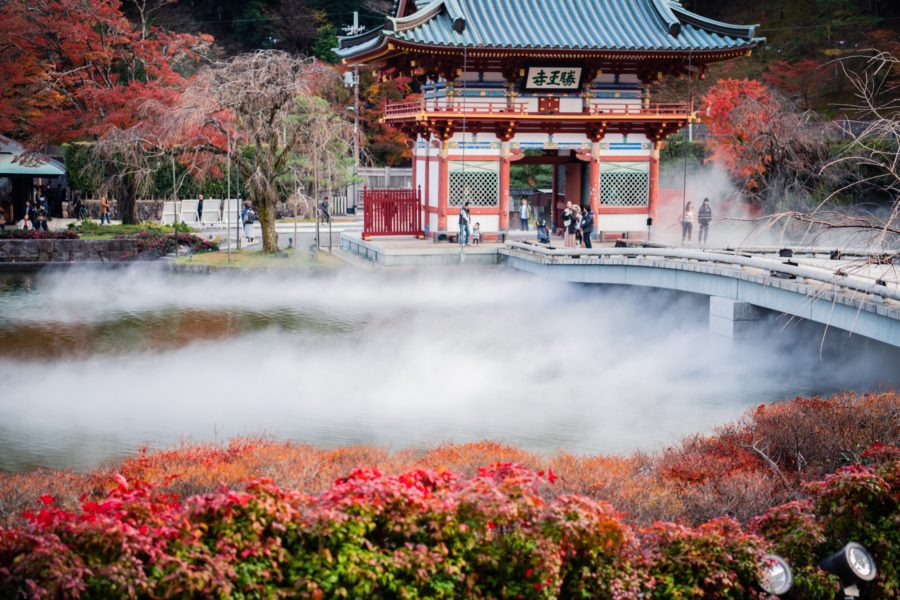 You can just walk around to different Koyo spots across Japan. Take photos of the fall foliage you discover, either in the wild or on the grounds of temple & shrines.
Also, you can eat delicious food from the local vendors. They sell traditional Japanese dishes including sweets, tea and other foods for you.
Another great way to enjoy Koyo is to organize a nice picnic party under these colored trees.
You have a great opportunity to explore the hidden treasures of the temples and shrines and also enjoy the beautiful colors of Koyo.
Meet with Japanese people out there, and if you know how to speak Japanese, then don't hesitate to ask them something related to the season and their traditions.
Experiencing fall in Japan is unforgettable! We hope you will visit Japan in autumn at least once in your life.
How to book an amazing tour in Japan?
The sooner, the better! Koyo season is the most popular season to go to Japan, and hotel capacities can be filled quite fast. To book your tour with Asahi you should simply:
Contact us by filling in the form on our site. Let us know all the details about your trip: what would you like to see, how long you would like to stay, your budget, anything that comes to mind. The more details, the better we know how to make you a perfect trip!
We'll send you in a few days your customized itinerary and quote, and you're ready to start packing!