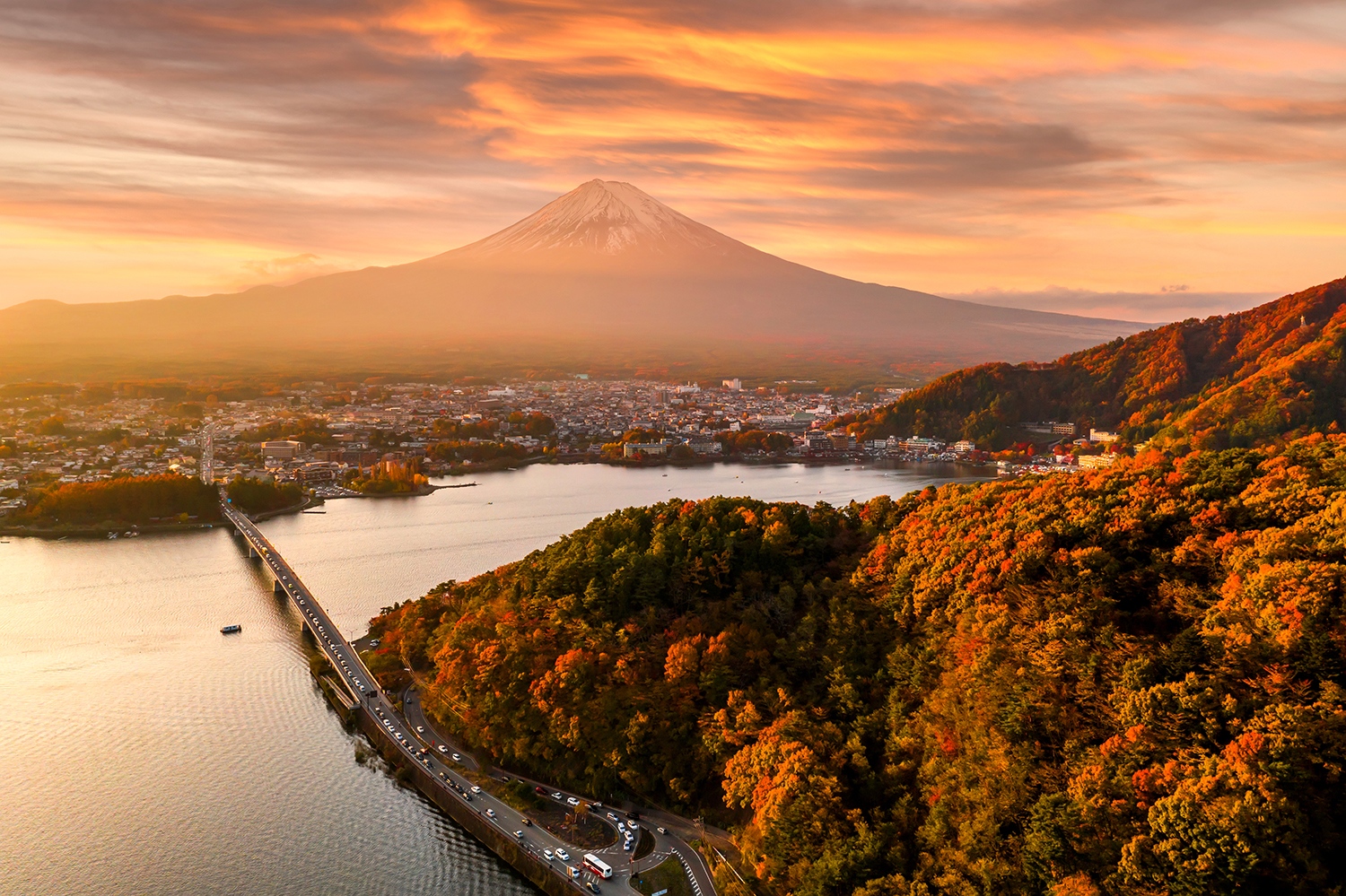 Autumn In Japan: Your Ultimate Koyo Guide
Autumn in Japan is breathtaking, sometimes much more than the iconic cherry blossoms viewing season.
Beginning in mid-September and lasting until December, Japan enjoys a very long season of autumn colors – around three months total! With vibrant colors in a single location for up to five weeks. It is such a drastic change in landscape from the cherry blossom in springtime.
Without a doubt, a trip to Japan during Koyo is a beautiful way to experience this country and its nature in all its glory.
What Koyo means?
Koyo ( literally means red leaves) refers to the phenomenon of changing autumn colors. While the cherry blossom viewing is called hanami, fall foliage watching is called Momiji, which translates to maple picking. This term dates back to the Heian period when Momiji became a popular activity for the royal class. The activity of searching for the most striking shades of the leaf is known as Momijigari (red leaf hunting). It has been popular in Japan for centuries and is now a major draw for tourists. During Koyo season, leaves of the deciduous trees on the mountain slopes, valleys, and country roads all transform into beautiful red, orange, yellow and brown colors. It includes the fantastic grounds of shrines, temples, parks, and public gardens, accentuating their mystic and poetic beauty. We'll be using these terms throughout this article, so make a mental note before moving on.
Because of how beautiful Japan is at Koyo season — not to mention the relatively pleasant temperatures — fall has become a peak travel season in Japan. The good news is that, despite its popularity, the crowds in autumn haven't quite reached the heights of those during sakura (cherry blossom) season. Autumn is a perfect season to explore Japanese culture and nature. As such, if your dates are flexible and you have to choose one or the other, you may want to lean toward fall. So let's learn more about where, when, and what is best to do in Japan during this gorgeous season!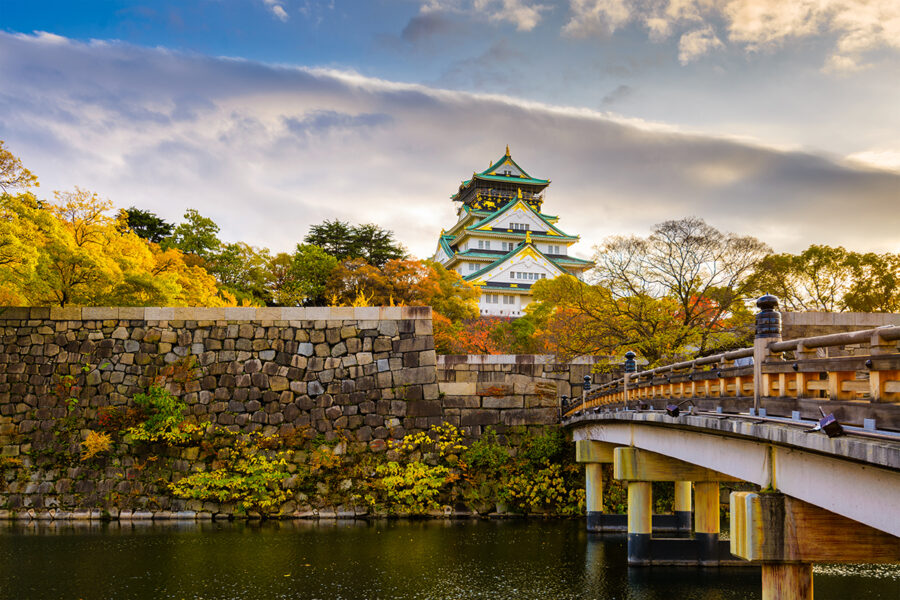 When is the best time to enjoy Koyo?

The turning of the leaves in Japan varies due to temperature, elevation, and latitude.
Mountainous regions and the islands to the north will experience autumn colors earlier than other areas.
In general, the autumn foliage season begins in mid-September on the island of Hokkaido. In other parts of Japan, like Tokyo, the best viewing times typically range from mid-October through early December. Peak viewing in each area usually lasts between two weeks to more than one month. When temperatures turn cold early, the Japanese fall colors appear sooner – up to several weeks early – and vice versa.
The weather in Japan is also particularly pleasant during the fall season. Based on the weather patterns, the actual emergence of the fall colors may differ from established estimates. The autumn leaves may begin a few days to a few weeks early if the weather is cold, or they can occur late if it is unusually warm. Take note that it's not just tourists who agonize over the best times and places to see the fantastic colors. The Japanese are looking forward to witnessing Koyo every year, too. For Sakura, they also follow the Koyo forecast every year to organize their trips and picnics. For the most accurate info, you should check Koyo Forecast for this year.
Top Things To Do in Japan in Autumn
Hiking – Autumn is the best season for outdoor activities since it is pretty moderate and keeps the temperature comfortable. Hiking is one of the most popular outdoor activities during autumn since the gorgeous autumn colors are everywhere around you. Japan has many amazing spots to hike, such as Hokkaido, Nagano, and there are several spots where you can easily access from Tokyo, such as Mt Takao, Mt Oyama, and Hakone.
Sumo Grand Tournament – Watching Sumo matches could be one of the most unique and extraordinary experiences you can have in Japan. You can visit Tokyo Basho in September, which will be held at Kokugikan in Tokyo, Fukuoka Basho in November, which will be held at Fukuoka Kokusai Center for 14 days.
Autumn Food – The Japanese have a saying that fall is the season for eating, so this is the perfect time to explore Japanese cuisine.
Meiji Jingu Gaien Ginkgo Festival – Tokyo's most popular autumn leaves event is held at Meiji Jingu Gaien annually. The event features the magnificent view of Ginkgo trees, which line at "Ginkgo Avenue" for about 300m in 2 lanes. There will be a market with a number of vendors serving delicious street foods and local products. The event lasts for two weeks and invites around 1.8 million visitors.
Halloween – Halloween is becoming a more significant thing in Japan year by year. There are numbers of Halloween events held across the country during the season, including the infamous Shibuya Halloween, the special horror event at Universal Studios Japan, and Photo-Worthy Halloween themed food. 
Tokyo Ramen Show – There are several food events in Japan in autumn, as the season is described as "Autumn's Appetite." Some of the must-visit events include Hokkaido Food Festival, Tokyo Wagyu Show, and the biggest one would be the Tokyo Ramen Show, which features several great Ramen stores from all over Japan. If you love Ramen, it's an excellent opportunity to taste numbers of great bowls of Ramen in one place! The event lasts for ten days in late November to early December.
Japanese Gardens – When it comes to autumn leaves, traditional Japanese gardens are one of the best places to enjoy colorful autumn tints. Moreover, at many gardens, light-up events will be held, and they will be open till late for this particular season.
Kochia Carnival – Kochia (Bassia scoparia) is a different type of autumn leaves which bloom on the ground. The bushes of Kochia are planted on Miharashi Hill at Hitachi Seaside Park, covering the large field of 350 ha in vivid red color.
Enjoy early Winter Illuminations – Winter Illuminations are top attractions during winter in Japan, and many of them kick off in November. Illumination events tend to get crowded more in December and on forward, we recommend to visit there before the high season starts.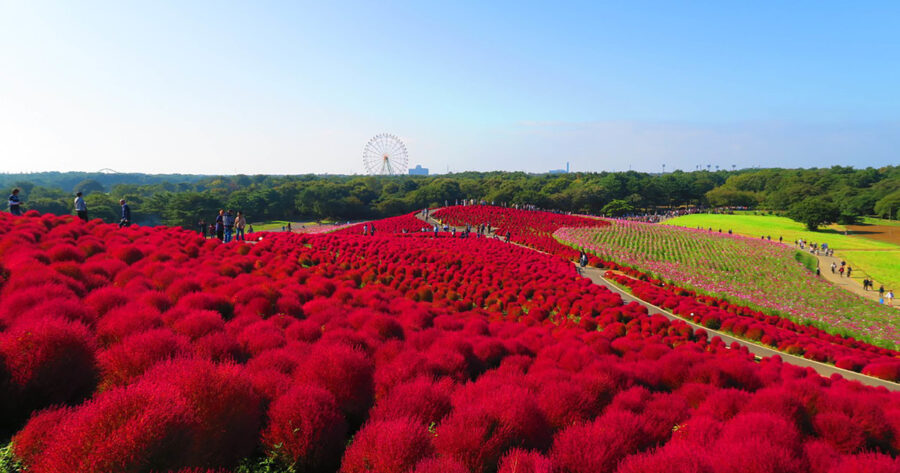 Our Favorite Places to Enjoy Koyo in Japan
Depending on what area you are in, you are going to see a completely different type of autumn foliage. There is no shortage of stunning places to enjoy this phenomenon. You can enjoy the Koyo in many ways, including hikes, picnics, drives, bike rides, and camping trips. The fact is, any place in Japan is the right area for Koyo viewing. If you are feeling adventurous, consider hiking the meandering trails of one of Japan's mountains. And even if you are visiting a bustling city such as Tokyo, city parks offer thousands of trees and wonderful views of Koyo.
Kyoto's Best Places to See Autumn Leaves
Autumn is a stunning season in Kyoto, the ancient capital of Japan, and is a must-see while traveling. The beauty of the vivid leaves is even further accented when paired with traditional Japanese architecture, which is in abundance in Kyoto.
Eikando Temple, Kyoto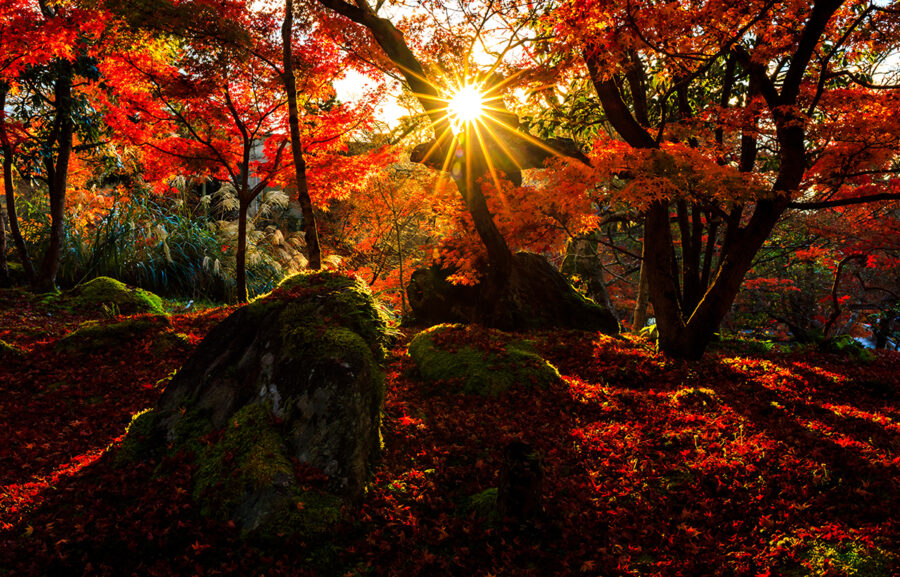 Eikando Zenrinji Temple (commonly called Eikando Temple) is worth visiting throughout the year. Yet it's mainly a famous place for autumn leaves viewing. The astonishing view of colorful maple leaves at the temple site attracts a large number of visitors from all over the country. Over 3,000 a variety of maple trees are at Eikanji Temple and display a spectacular scenery during autumn. The special light-up event is held at night during the peak season every year. The best viewing time for autumn leaves at Eikanji Temple is mid to late November usually.
Nanzenji temple, Kyoto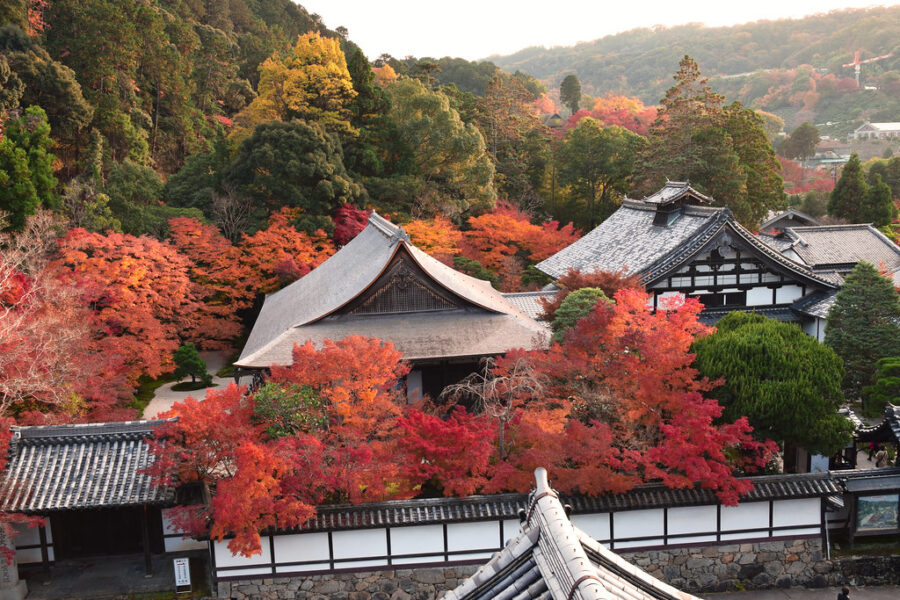 The area is one of Kyoto's best spots to view the romantic red and orange autumn leaves in the fall. Nanzenji Temple is one of the most attractive temples in Kyoto as the massive temple complex offers many fantastic photo spots such as the Sanmon Gate, the gigantic 22m tall entrance gate which visitors encounter when they enter the temple site. Another highlight of the temple is Hojo Garden, an astonishing rock garden, which is considered one of the most significant examples of karesansui gardens. The special light-up for autumn leaves is held in the garden from mid to late November annually.
Arashiyama, Kyoto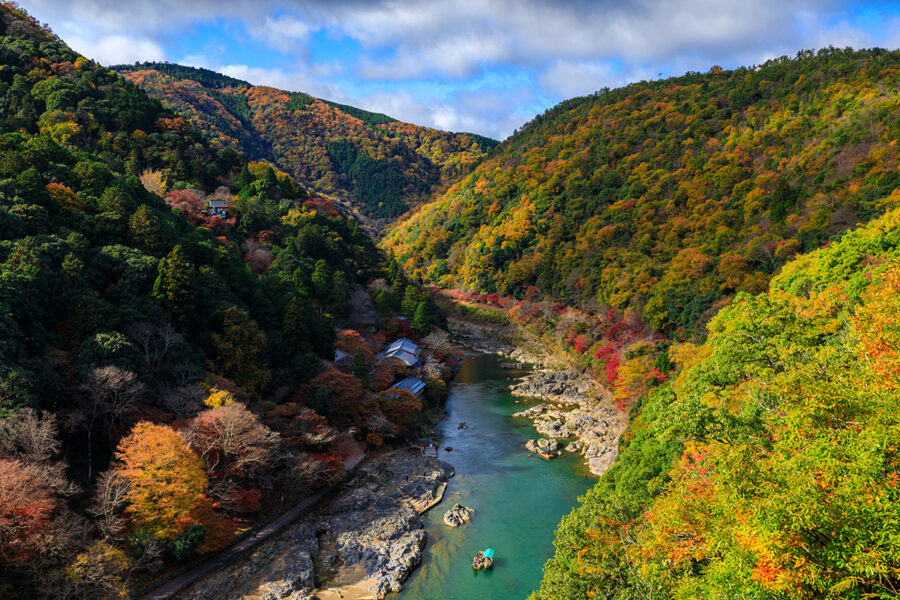 Arashiyama is so famous for its autumn leaves; you could even say that the region epitomizes autumn in Kyoto. If you want to enjoy autumn in Kyoto, Arashiyama is a must-see. We recommend standing on Togetsu-kyo Bridge and looking out at the mountains, dyed with shades of red and yellow, on a clear day. Take in the beautiful scenery as you breathe the crisp autumn air.
Kiyomizu-dera temple, Kyoto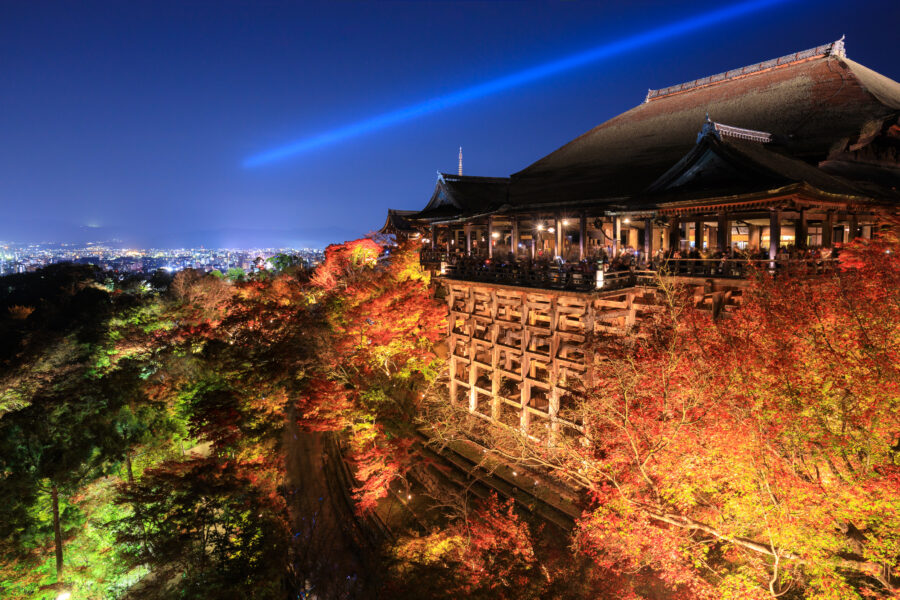 As a result of it being one of the most popular tourist destinations, one will often find it crowded with people. However, the autumn foliage light-up nights are worth going to despite the crowds. During November, several of the temples in southern Higashiyama hold evening illuminations. The iconic view of the wooden temple sitting amongst a sea of lit up autumn leaves is beautiful. Walking under lit up maple leaves at night gives a much different atmosphere and experience than walking under them during the day. During this time, the Kiyomizu-Dera Temple can look utterly otherworldly. Don't miss it!
Tokyo's Best Places to See Autumn Leaves

Despite its reputation as an endless sea of high rise buildings, Tokyo has many excellent spots for enjoying Koyo.
Shinjuku Gyoen, Tokyo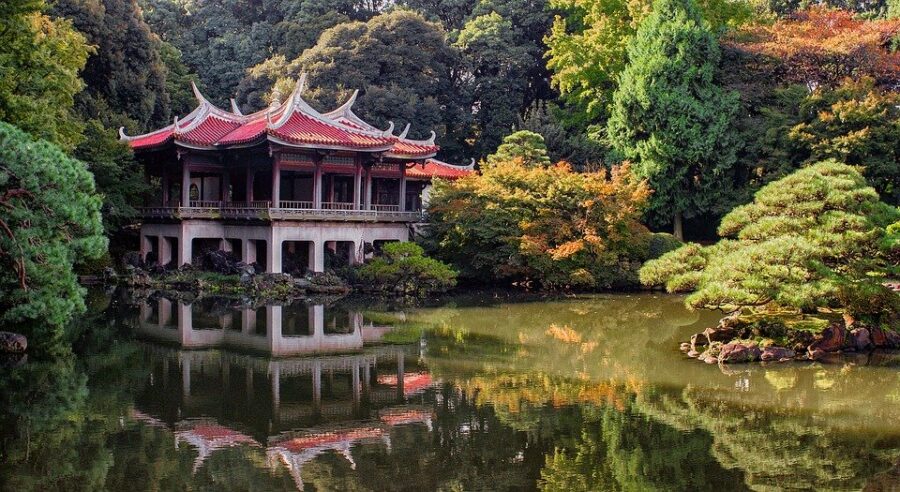 Although well-known as a popular location for cherry blossoms is also one of the city's best spots for an urban autumn experience, you'll find some of Tokyo's most exceptional gleaming red maples and glowing golden ginkgo trees. The skyscrapers in the distance only add to the romantic urban charm. This sprawling park in the heart of Shinjuku is impressive in any season. It is a solid choice for enjoying some autumn colors with a variety of gardens, groves, and trees. If the weather is warm enough, bring lunch, and have a picnic in the park.
Icho Namiki or Jingu Gaien Ginkgo Avenue, Tokyo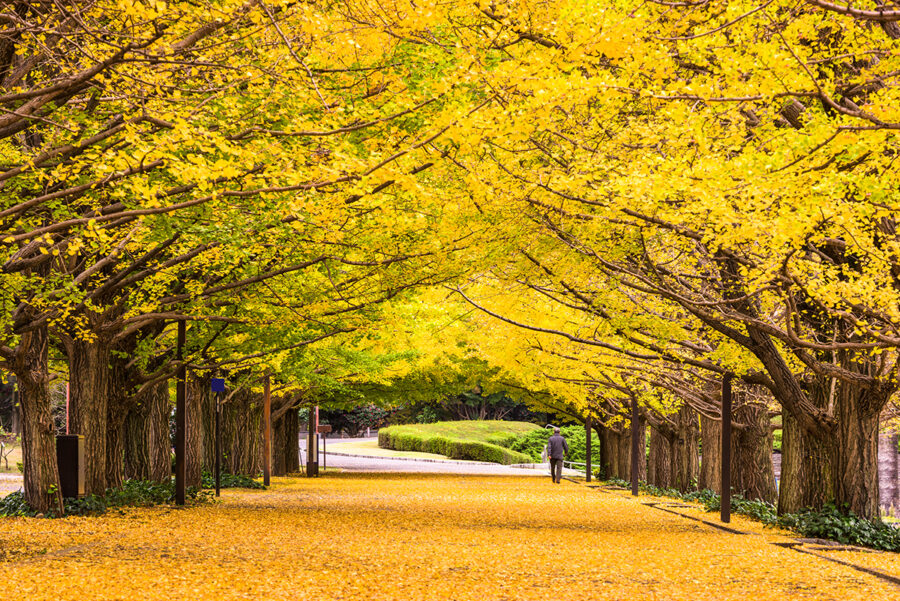 Meiji Jingu Gaien is the most popular spot for autumn leaves viewing in the central area of Tokyo, which is famous for the avenue lined with Ginkgo trees. It's located in the Aoyama area, which can be accessed easily from Shibuya, Harajuku, and Roppongi area. During the peak season, Jingu Gaien Ginkgo Festival "Icho Matsuri" is held from mid-November to early December annually. At the festival, you will get an opportunity to taste the most fabulous regional dishes from all over Japan.
Ueno Park, Tokyo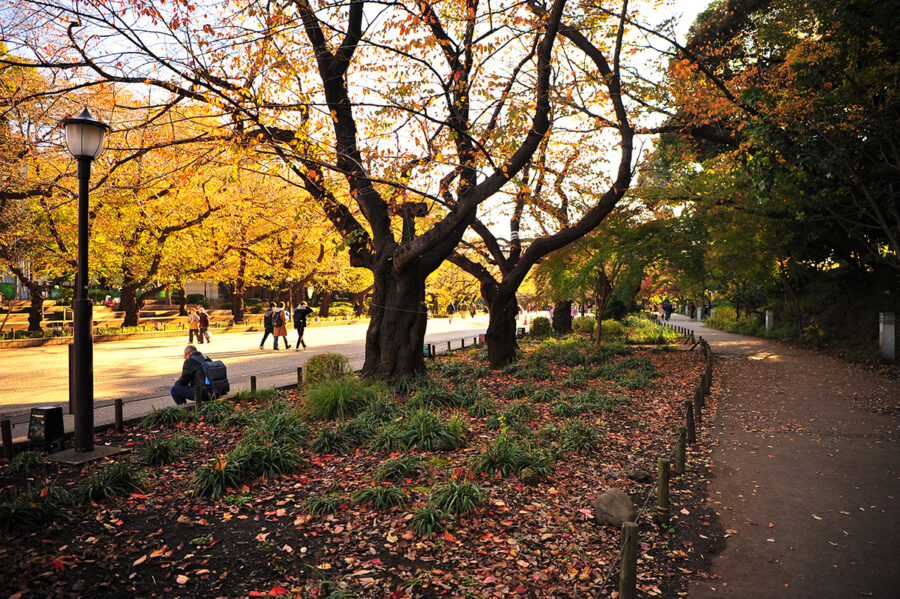 Ueno was one of Japan's first public parks. It's the site of numerous city museums, and Tokugawa Ieyasu is enshrined at Ueno Tōshō-gū, a Shinto shrine on the premises. The park is home to over 8,800 trees, making it an ideal location to admire the sakura in Spring and the Koyo in Fall. So it may not come as a surprise that Ueno Park attracts more visitors than any of Tokyo's other parks.
Rikugi Garden, Tokyo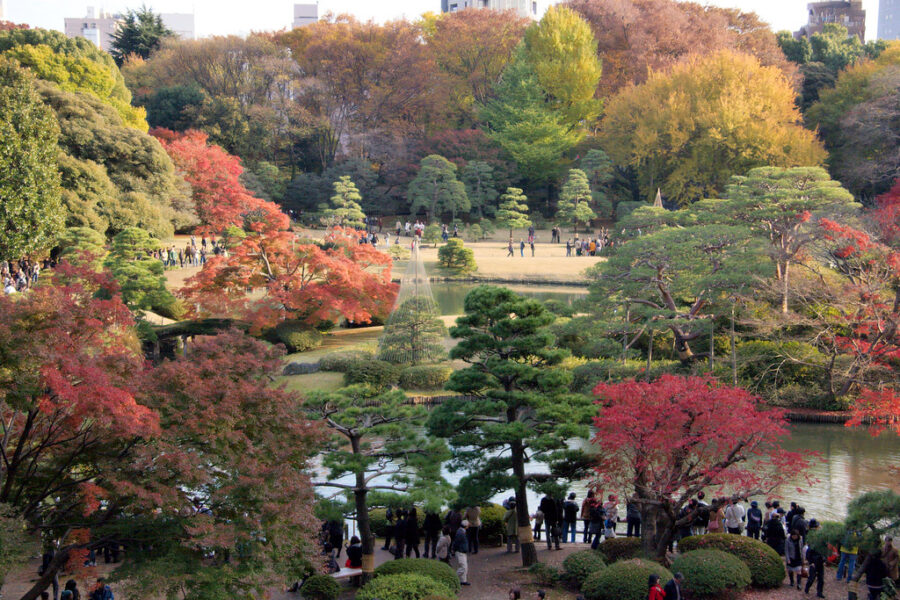 Situated in the heart of Tokyo, Rikugien Garden is a popular place all year round, but autumn is when the park is at its peak. Built-in the 1700s for the Tokugawa Shogun, this landscape garden is so big that it takes at least an hour to explore on foot properly. Landscaped in what's commonly considered an Edo-period strolling garden style, the garden's dense population of maple trees makes it such an impressive autumn location. Between November and December, visitors make their way around the weaving park paths to admire the towering trees. At that time, the park also hosts an evening annual illumination event where you can appreciate the autumn colors long after sunset. 
The Best Places to See Autumn Leaves Elsewhere in Japan
Kenrokuen Garden, Kanazawa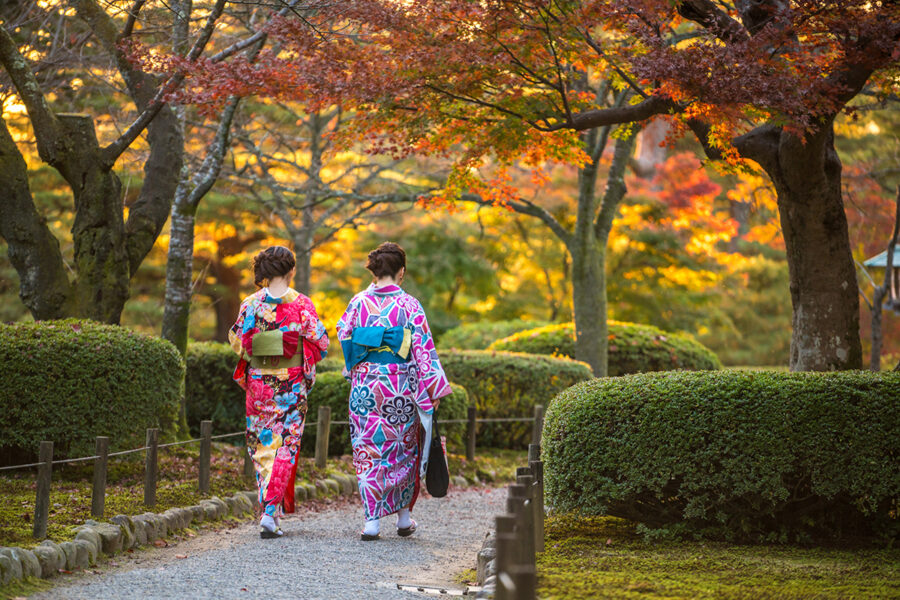 Kanazawa is a fantastic city with plenty of parks and green spaces where you can enjoy Japan's great autumn colors. It is also known as "Little Kyoto" for its impressive collection of temples, shrines, and gardens. But the best is Kenrokuen, considered as one of the Three Great Gardens of Japan. Here you will find colorful seasonal floral displays, streams, ponds, and waterfalls, stone lanterns, and historical tea houses. Kenrokuen features a variety of flowering trees that provide the garden with a different look for each season.
Oze National Park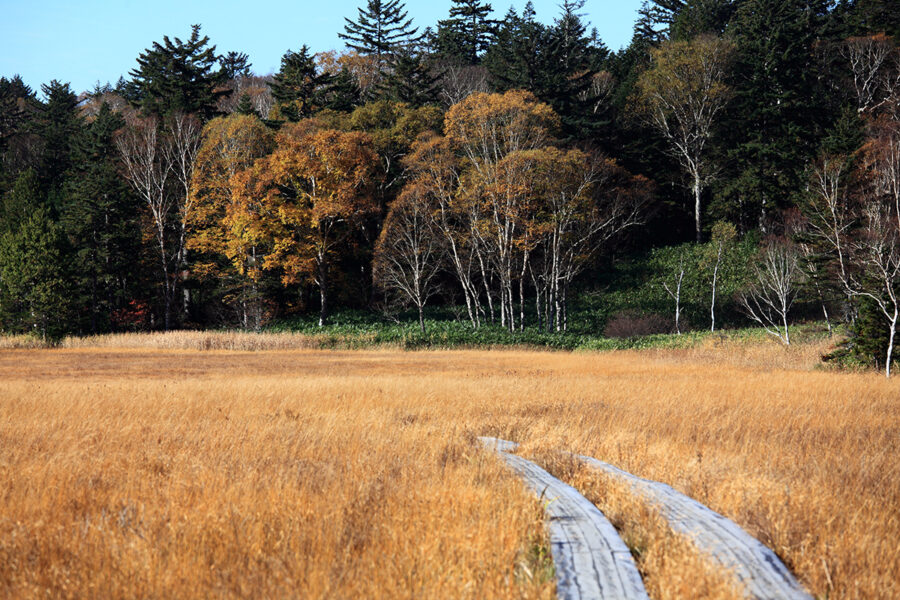 For an autumn exploration with a twist, head out to Oze National Park. It is a vast national park known best as a hiking destination for nature walks. A possible day trip destination from Tokyo, the park is about 150km (93 miles) from the city center. Beginning in late September and continuing through to early October is when the park's marshland transforms into fields of yellow. Although you can visit Oze National Park as a day trip from Tokyo, we recommend staying overnight to enjoy its natural splendor thoroughly.
Daisetsuzan National Park, Hokkaido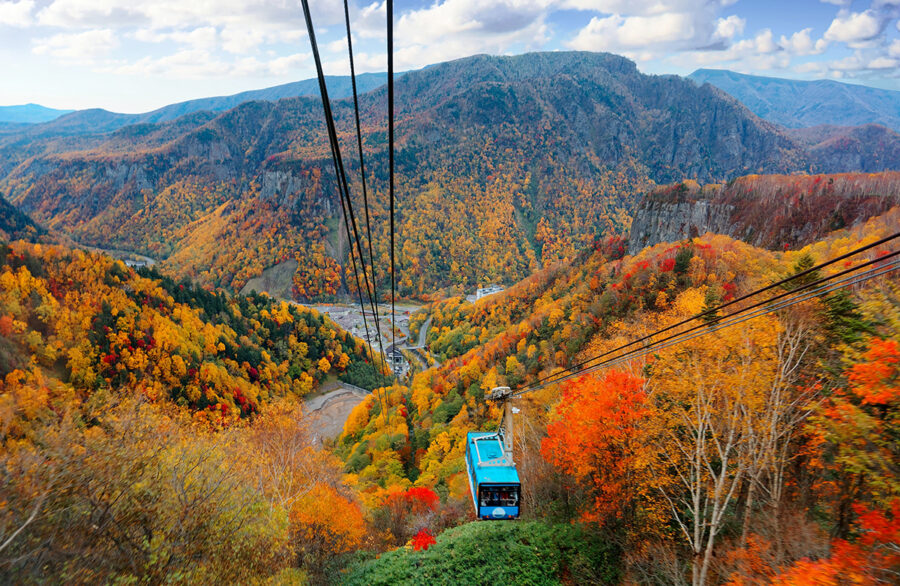 This is the largest national park in Hokkaido – and also the first place to see fall foliage each year in Japan. It preserves a mountainous area of virtually unspoiled wilderness. It is a paradise for hikers, outdoor lovers, deer and brown bears, and the first place in Japan to see fall colors and snow each autumn. In mid to late September, hike in the higher elevations around Mount Asahidake and Kogen Onsen for their dazzling display of color. Also, visit Sounkyo – a famous hot spring resort town where apart from enjoying colorful leaves, you can relax and take a bath in an onsen.
Miharashi Park, Hokkaido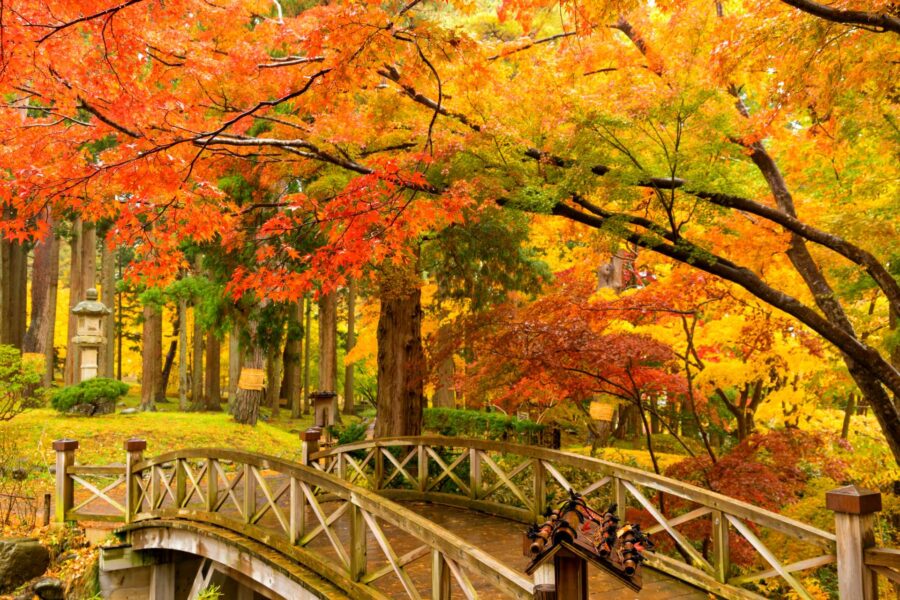 In Hokkaido's Hakodate, there is a park called "Miharashi Park," which covers an area of 460,000 m2 and features a Japanese-style garden called "Kosetsu-en." In the garden, about 150 varieties of trees, flowers, and quaint buildings provide the perfect foil for each other. What's more, the fall foliage is too beautiful for words. Between late-October and mid-November, the garden is lit up, which creates a dreamy atmosphere.
Nara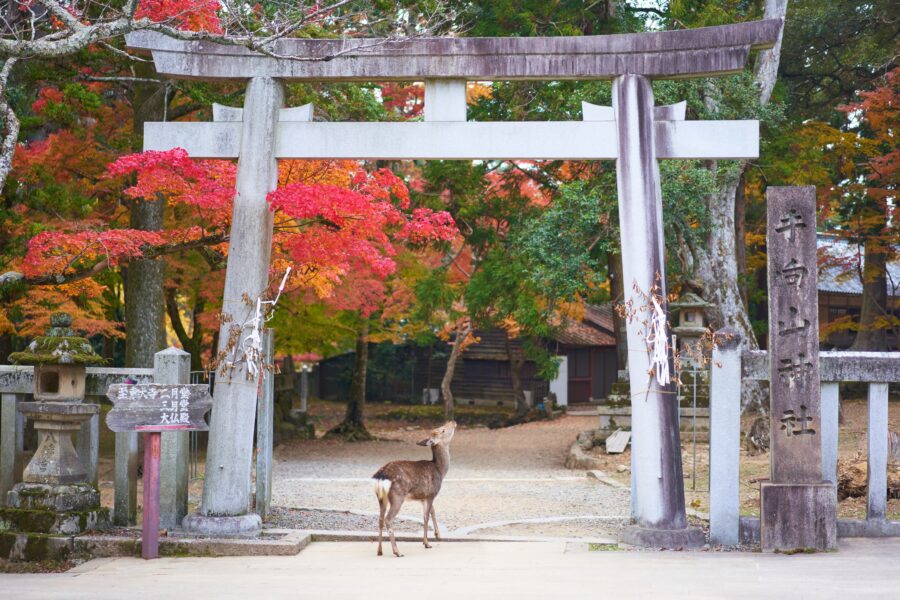 The expansive Nara Park offers visitors not only green space, historic sites, and an opportunity to mingle with deer, but also multiple clusters of autumn colors. Different tree varieties were at differing states today, ranging from before to beyond peak. I found the maple trees to be just on the verge of reaching their peak. One of the most beautiful spots to see maple trees is the small creek near the start of the main approach to Todaiji. Also, the deer that roam Nara Park are photo-worthy at any time of the year, but the autumn colors offer an extra-special backdrop for your deer snaps.
Miyajima Island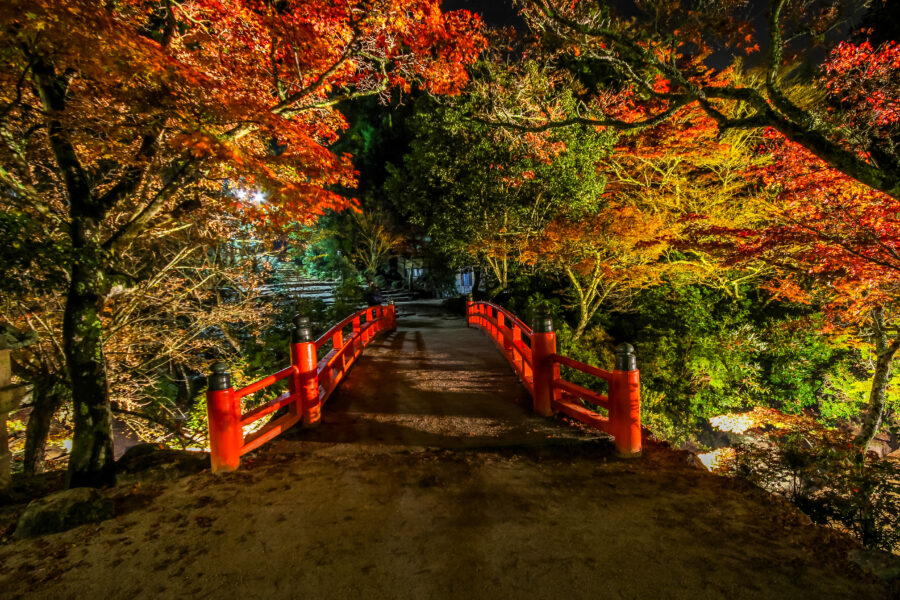 The iconic Floating Torii Gate is what everyone wishes to see on the island. This island is majestic highlights beautiful autumn colors in the fall. But one of the best places to observe Koyu in Miyajima is Momijidani Park. Located beyond Itsukushima Shrine, at the foot of Misen, Momijidani Park is a 20-minute walk from the bridge Miyajima Sanbashi. Some 700 trees color the park in autumn, including a colorful variety of Japanese maples. The best time to see these is in mid- to late November. Near the Momijibashi bridge spanning the park entrance, you can enjoy the gorgeous sight of the vermillion bridge rails setting off the autumn foliage.
Fuji Five Lakes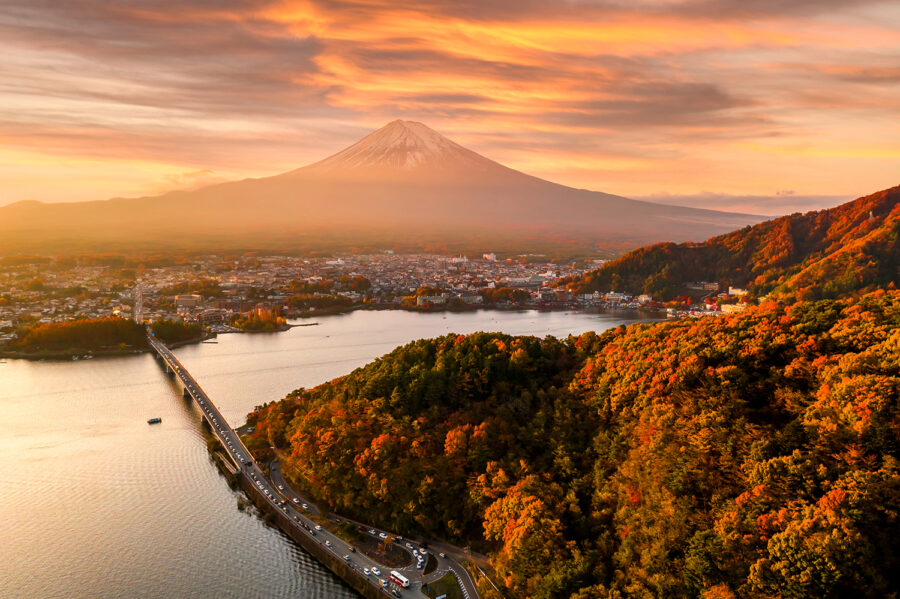 Viewing Japan's fall leaves in the shadow of the famed Mount Fuji is a spectacular sight. Fall is a great time to visit the Fuji Five Lakes (Yamanakako, Kawaguchiko, Saiko, Shojiko, and Motosuko). Rent a boat to tour lakes and see magnificent reflections of the mountain and trees on the lake surface.  Fuji Kawaguchiko Autumn Leaves Festival is one of the most popular autumn events held in Japan every November. The festival held at the northern shore of Lake Kawaguchi, one of the Fuji Five Lakes. The festival date for 2020 will be announced once it's confirmed.
Experiencing fall in Japan is unforgettable! We hope you will visit Japan in autumn at least once in your life.
How to book an amazing autumn tour in Japan?
Contact us by filling in the form on our site. Let us know as many details as you can about your trip! What would you like to see, how long you would like to stay, your budget, anything that comes to mind.
The more details, the better we know how to make you a perfect trip!
We'll send you in a few days your customized itinerary and quote, and you're ready to start packing!