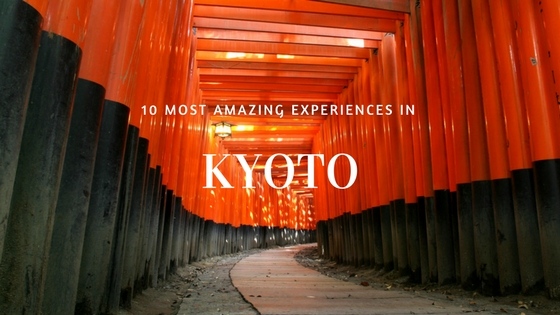 10 Most Amazing Experiences in Kyoto
Kyoto was the capital of Japan for over a millennium, and it still carries a reputation as the nation's most beautiful city. Modernization has not destroyed the old charm of Kyoto. There are no jarring skyscrapers marring the landscape of this historic city.The Cultural heart of Japan is filled with countless quiet temples, sublime gardens, colorful shrines and geisha scurrying to secret liaisons. Its calm demeanor and charming existence will seduce you much like a geisha. So many experiences in Kyoto you can have to remember for a lifetime!
There is a beautiful line that Kyoto is a mysterious walk. And it is, packed with so many paths you can take.
Bucket-list for Experiences in Kyoto
To ease the planning of the Kyoto bucket list we made a list of ten places you must visit when in Kyoto.
1. Explore the 10,000 gates of Fushimi Inari-Taisha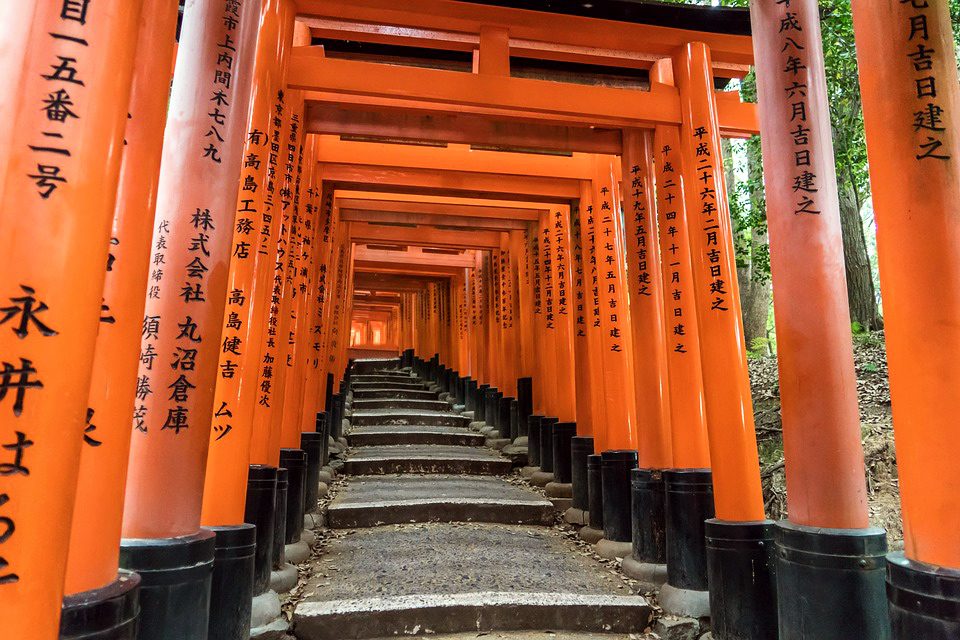 This shrine is the number one site for everyone who goes to Kyoto. It is rewarded 1st prize from Trip Advisor in the category, Japanese Site Popular With Foreign Tourists.
And it is for a reason.
Seemingly endless arcades of vermilion torii (shrine gates) spread across a forested mountain create a world unto its own.
The whole complex consists of five shrines and dozens of sub-shrines on a 4km pathway up to the mountain. Although often crowded, this journey to the top makes one peaceful hike and one of the most memorable sights in Kyoto.
TIP: If you are up for an adventure though, exploring 10,000 gates of Fushimi Inari-Taisha at night is a whole different experience.
2. Wander through the Gion District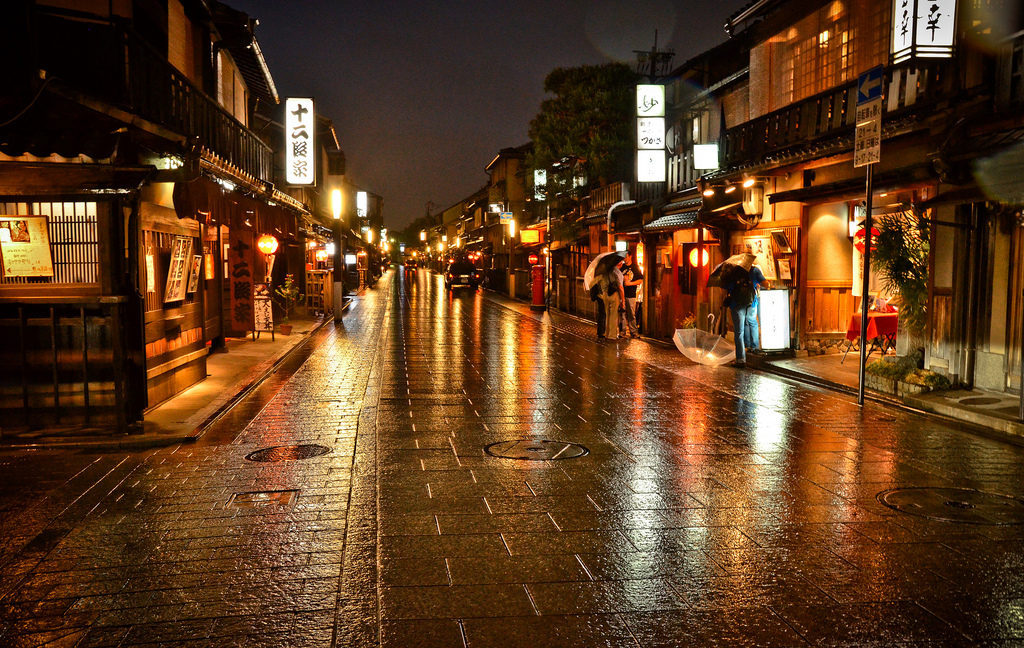 Between modern Kyoto city downtown and ancient Yasaka shrine, there is a historic district called Gion. Originally, it was a place where travelers were relaxing in the teahouses after a visit to Yasaka shrine. By the mid-18th century, the area was Kyoto's largest pleasure district.
Yes, Gion is the most famous geisha district and if you're patient enough, you will surely catch a glimpse of one graciously passing by.
Gion has some of the old charms and ancient look with many tea ceremony places, maiko (trainee Geisha) houses, old houses, traditional Japanese restaurants, art galleries and shops specializing in antiques.
The best way to experience Gion is through an evening stroll. Walk around the atmospheric streets lit up with lanterns – and get lost in the little alleys to catch the ancient spirit of Japan.
3. Feel the otherworldly Arashiyama Bamboo Grove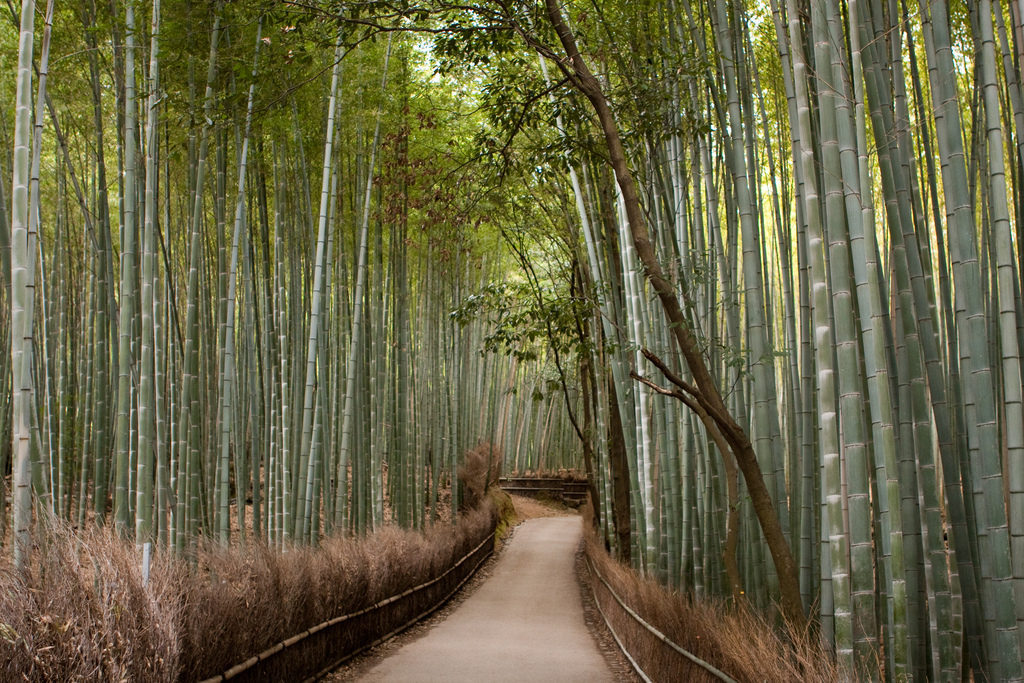 The walking paths that cut through the bamboo groves make for a nice walk or bicycle ride. It is one of those experiences in Kyoto that you can't have anywhere else! The groves are particularly attractive when there is a light wind and the tall bamboo stalks sway gently back and forth. You'll be unable to resist trying to take a few photos, but you might be disappointed with the results; photos just can't capture the magic of this place.
4. Enjoy the spectacular gardens of Kyoto Imperial Palace Park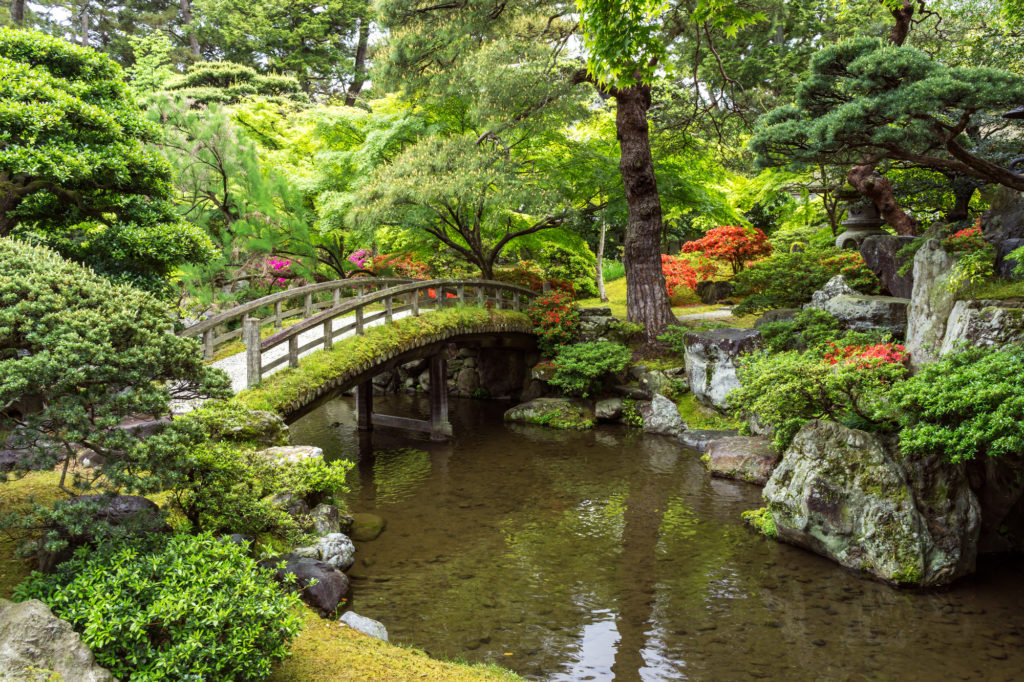 Kyoto Gyoen (Kyoto Imperial Palace Park) is essentially Kyoto's Central Park.
As its name suggests, the park surrounds a palace called Kyoto Imperial Palace. Which was the home of the Emperor in the Edo-era when Kyoto was the capital of Japan.
As such, the park surrounding the palace was designed by skilled landscape artists and include some interesting trees and features.
Perfect for runners, walkers, romantic couples, picnickers, and plant lovers! There is a huge variety of flowering trees and open fields, and the park is most beautiful in the plum and cherry blossom seasons.
5. Visit the famous Kinkaku-ji – "The Temple of Golden Pavilion"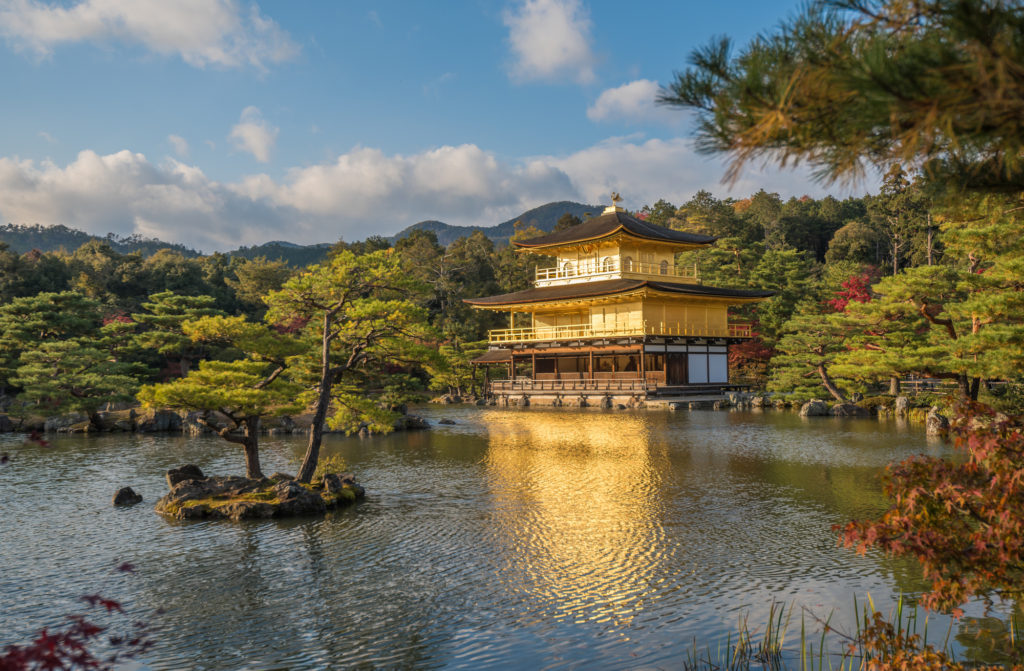 Kinkaku-ji is a Zen Buddhist temple in Kyoto, designated as one of the World Heritage Sites.
The impressive structure overlooks a large, reflecting pond. And with its top two floors completely covered in gold leaf, it is truly spectacular.
Kinkaku-ji has burned down numerous times throughout its history. And once again more recently in 1950 when it was set on fire by a fanatic monk. The story about the monk Yukio Mishima fictionalized in "The Temple Of The Golden Pavillon" – a strong recommendation for every bookworm out there.
6. Visit the peaceful Ginkaku-ji – "The Temple of Silver Pavillon"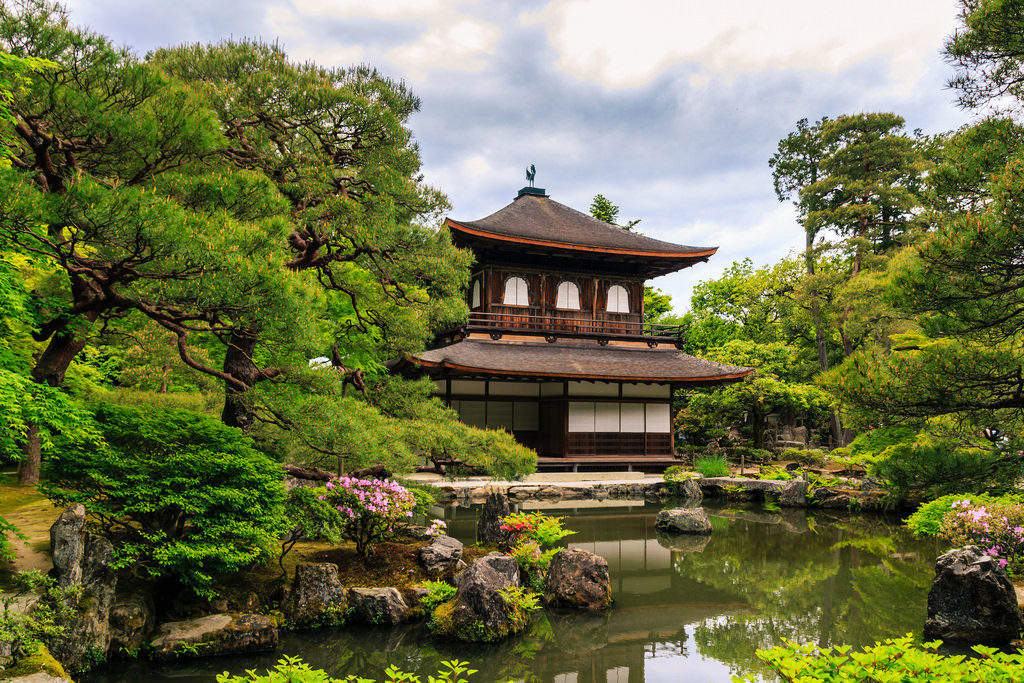 Ginkakuji is a Zen temple along Kyoto's eastern mountains. The complex consists of the Silver Pavilion, half a dozen other temple buildings, a beautiful moss garden, and a unique dry sand garden. You can enjoy it by walking along a circular route around its grounds, from which you can view the gardens and buildings.
If you are looking for a true Zen garden, without too many visitors, this is the place to go.
7. Visit the impressive Chion-in Temple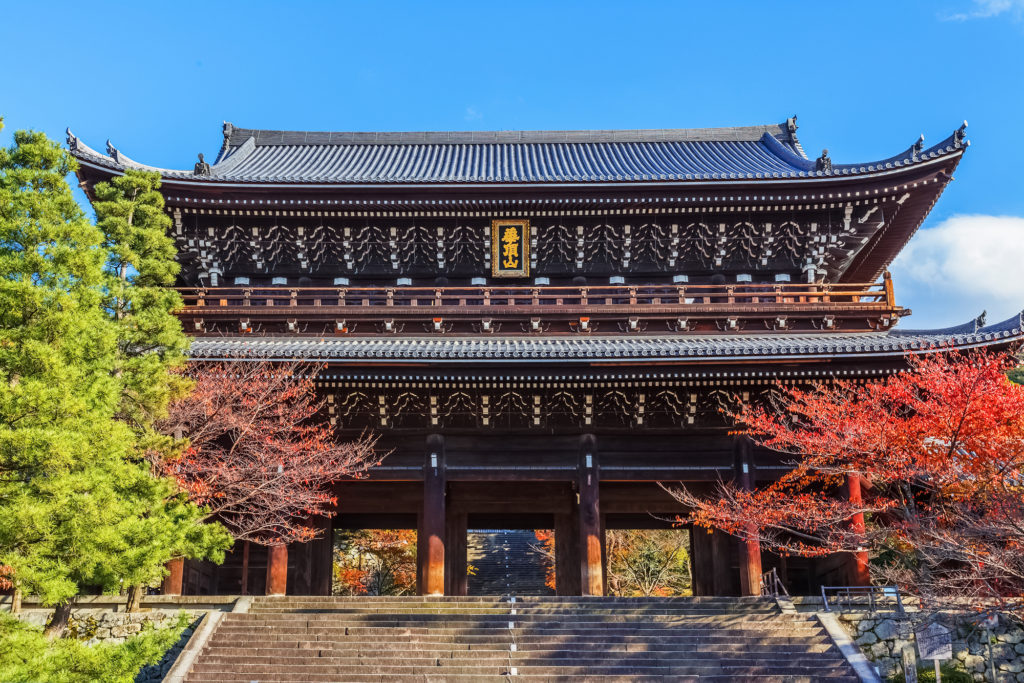 It is a collection of soaring buildings and spacious courtyards. Chionin Temple is also the Head Temple of the Jodo sect of Buddhism, the largest school of Buddhism in Japan.  It's the most popular pilgrimage temple in Kyoto and it's always a hive of activity.
The gates of this temple are massive and open up to a huge staircase up to the main temple area.
For visitors with a taste for the grand, this temple is sure to satisfy.
8. Eat the best Japanese traditional food at Kikunoi restaurant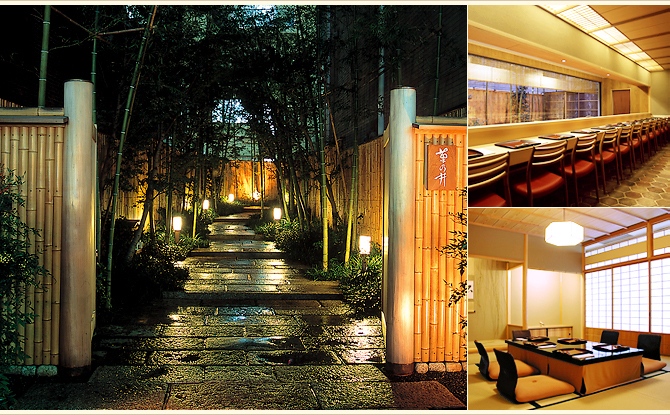 If you are a foodie, Kikunoi is the place to be.
One of the finest Kaiseki (Japanese Traditional Cuisine) restaurant you will ever experience!
It is located in a serene and intimate location at the foot of Higashiyama Mountain. There, you can have a full over-the-top kaiseki experience. From setting to service to exquisitely executed cuisine, led by famous Michelin-starred chef, Mutara.
Creativity is also one of the main factors of success for Kikunoi. Every passing season is reflecting in the change of the interior of Kikunoi. The stuff alters the artwork, flower arrangement, and other displays, as well as meal and ingredients, suit the season. One of the most high-end cultural experiences in Kyoto one can have!
9. Browse Kyoto's lively Nishiki Market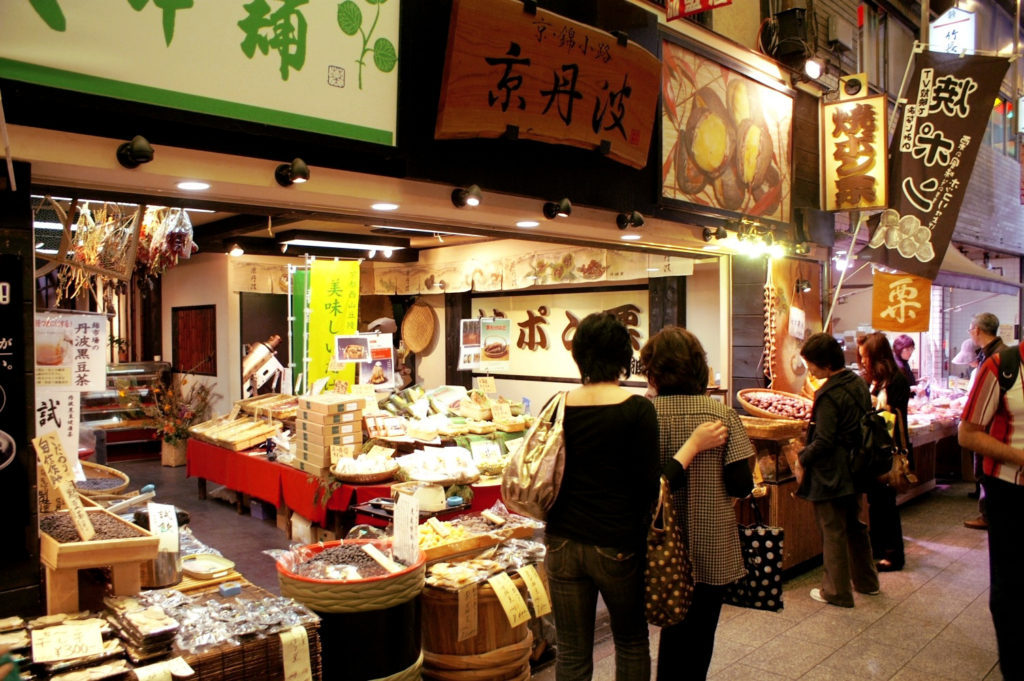 Nishiki Market is a shopping street that has more than one hundred shops and restaurants. It is known as "Kyoto's Kitchen" and is also Kyoto's largest traditional food market. While modern food shops and souvenir shops are starting to move in, there are still enough traditional shops to give you a glimpse of what traditional shopping streets must have looked like.
A lively market where you can try and buy all the weird and wonderful foods. Things like cute Japanese sweets but also octopus on a stick. It is also a great stop for extra hot or rainy days, as the entire market is under the shade.
There, in Aritsugu store, you can also find some of the best Japanese chef's knives money can buy.
10. Climb to the top of Kurama Mt. and find peace at Kurama-dera Temple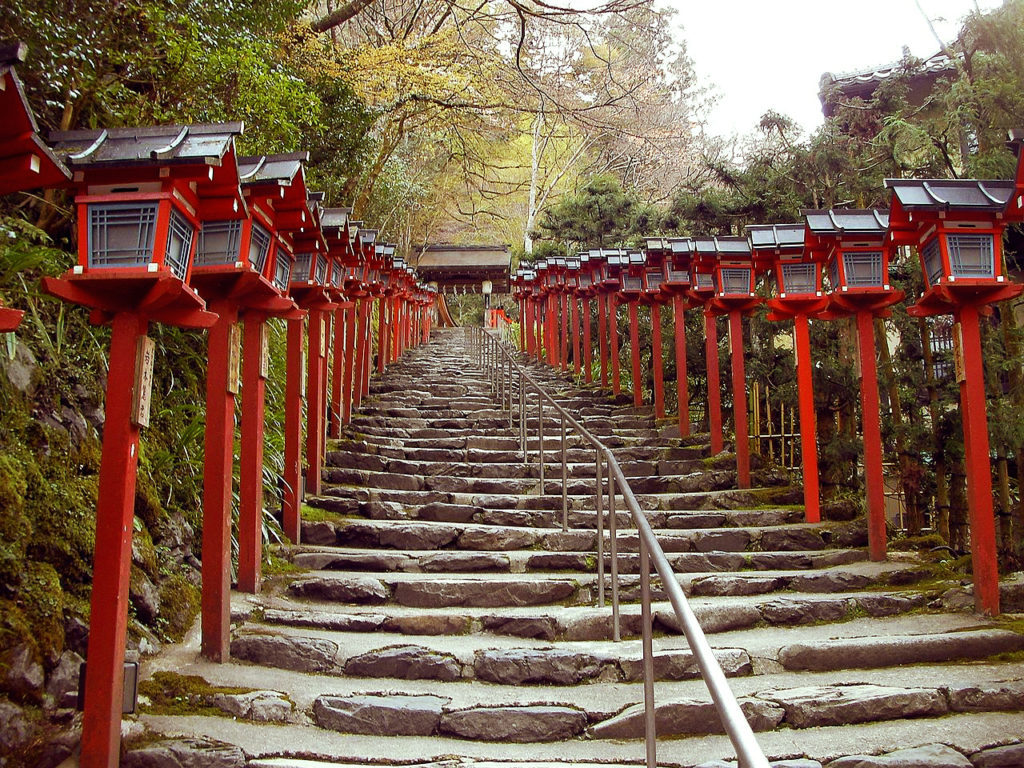 Kurama is a rural town in the northern mountains of Kyoto City. Kurama's main attraction, Kurama-dera, is a mountain temple with a long history and a unique atmosphere.
Locals believe that contains special spiritual energy. Over the years, many famous people have come here to meditate. People believe that Mt. Kurama is the birthplace of Reiki. Reiki is a type of "energy therapy" which utilizes spiritual elements.
This magical place gains a lot of its power from its brilliant natural setting. There is a path from the main hall which circles the mountain through groves of towering cedar trees which scent the fresh air. As you go nearer to the temple buildings, you can smell the incense in the air.
There are many places which afford you stunning views of the surrounding mountains. Whether you want to take the cable car or hike up the mountain, you'll be surrounded by beautiful nature. In verdant mountain forests where you may be able to spot some of the local wildlife.
Did we intrigue you in having such experiences in Kyoto yourself? Contact us for more info!
take me to kyoto